Restaurant review: 13East (13East精釀啤酒餐廳)
In recent years, Taipei's Xinyi District (信義) has become the city's most vibrant area, where the hottest restaurants, bars and clubs have been opening one after another. A new addition to the area is 13East, a gastropub that serves a variety of appetizers, salads, finger foods, cocktails and local beers.
Located near the Songshan Cultural and Creative Park, it is named after the Chinese character for its owner Leon Chen (陳文良): the left part of the character looks like "13" and the right part means "east" in Chinese.
As you enter, you see an enormous world map carved from wood and marked with the place of origin for the joint's beers. The wooden tables accommodate about 40 guests, along with 10 seats at the bar.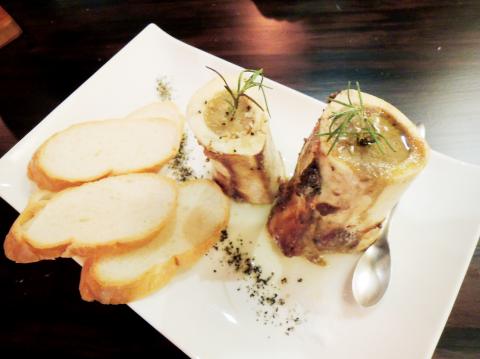 Grilled bone marrow with rosemary-lemon bruschetta is robust and savory.
Photo: Eddy Chang, Taipei Times
We started off the meal with the lightly battered calamari (酥炸中卷, NT$220). I've eaten calamari at several restaurants in Taipei over the years and the version at 13East was right on the money. It was complemented well with fresh lemon aioli made with garlic and olive oil mayonnaise.
Continuing on with the deep-fried theme, we order the "onion tower" (啤兒洋蔥圈, NT$180), which consists of six large onion rings coated in a beer batter and stacked like, well, a tower. Tucking in, it had an appealing hint of wheat beer.
Some other recommended options include "pepper quesadillas" (甜椒墨西哥薄餅, NT$220) featuring chicken, peppers, cheese and salsa, as well as "grilled bone marrow" (烤牛髓, NT$260) with rosemary-lemon bruschetta.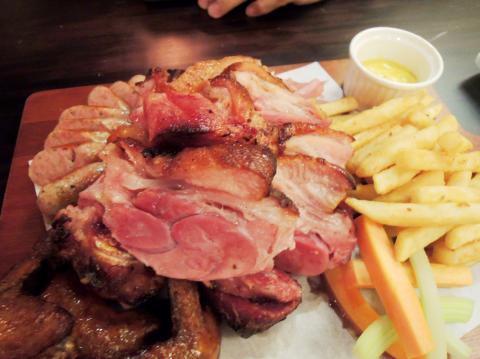 The fat farm platter packs a protein punch with its combo of roast pork knuckle, chicken wings, sausage and garlic fries.
Photo: Eddy Chang, Taipei Times
The "killer shrimp" (殺人蝦, NT$280) features a moderate amount of shrimp swimming in a spicy broth made from vegetables, chicken and shrimp heads. It is accompanied with French bread. The "fat farm platter" (肥沃農場, NT$980) packs a protein punch with its combination of succulent roast pork knuckle, chicken wings, sausages and garlic fries.
Chen recommends the "one time space man" (太空漫步, NT$220), a hamburger with a fried egg and various toppings on a beef patty, all placed between a toasted Krispy Kreme doughnut.
TAIWAN'S CRAFT BEER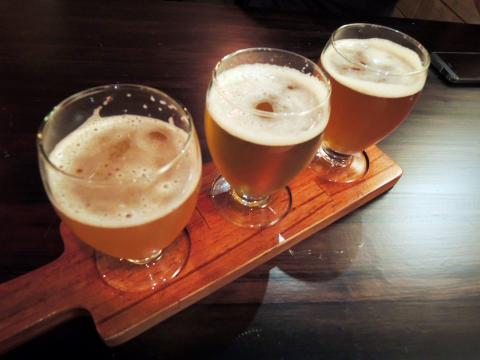 Three varieties of craft beers are shown in this photograph taken at 13East. Usually, seven to eight varieties of craft beer are on tap, with rotating selections from local breweries every few days. Warning: Excessive consumption of alcohol can damage your health.
Photo: Eddy Chang, Taipei Times
13East features a number of Taiwan-brewed beers. There are usually seven to eight varieties of craft beers on tap, which are rotated every few days with new selections from the nation's finest breweries.
Among the three varieties we tried, Summer Slam (NT$260) from Taiwan's Hardcore Brewery (哈克釀酒) was a refreshing wheat beer that boasts a fruit sweetness and honey aroma with a silky finish.
Sambar APA (NT$260), named after the Formosan sambar deer, is locally-produced with wheat and honey, and is slightly sweet and hoppy.
Hitachino Nest Dai Dai IPA (NT$260) from Japan's Kiuchi Brewery has distinctive mandarin orange notes and is hoppier than the other beers that we tried.
13East houses a great selection of bottled beers as well. Blanche de Namur Rosee Ale (NT$320) with 3.4 percent alcohol was one of my favorites. The award-winning Belgium beer with a subtle blend of raspberry juice has a clear fruit flavor and pairs well with lighter food.
The dinner for three cost us a little over NT$2,000. During the week, there is a happy hour between 4pm and 7pm, with a 50 percent discount on any second local beer that you order. Overall, 13East is a fun and cozy experience. Go and try the excellent craft beers. You'll love them.
Warning: Excessive consumption of alcohol can damage your health.
Publication Notes
13East
Address: 6, Alley 6, Lane 553, Sec 4, Zhongxiao E Rd, Taipei City (台北市忠孝東路四段553巷6弄6號)
Telephone: (02) 2766-5913
Open: Tuesdays to Sundays from 4pm to midnight
Average meal: NT$700
Details: Menu in Chinese and English; the waitstaff can speak English; 10 percent service charge; credit cards not accepted
On the Net: www.facebook.com/13EastPub
Comments will be moderated. Keep comments relevant to the article. Remarks containing abusive and obscene language, personal attacks of any kind or promotion will be removed and the user banned. Final decision will be at the discretion of the Taipei Times.