The magnificent 10: Restaurants that changed how the US eats
Paul Freedman was having lunch at Delmonico's — not the original, which opened in the early 19th century, but a relic of it in the financial district. Lobster Newburg was still on the menu, the meat napped with a brandy-spiked butter.
"But the sauce used to have much, much more brandy in it," Freedman said. "The style now is less severe."
Whatever the brandy content, this plush dish and its environs hardly seemed the stuff of revolution. But to hear Freedman tell it, Delmonico's fired the first real shot for American dining, giving rise to a huge, diverse industry that would thrive and adapt to every major shift in the nation's identity.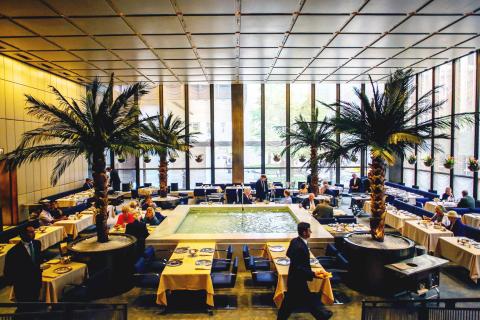 Patrons sit for lunch service in July at the Pool Room of the Four Seasons restaurant in New York. The Four Seasons, which historian Paul Freedman says established the idea of sophisticated American cuisine, closed after dinner service on in the same month.
Photo: Chris Goodney/Bloomberg
In his navy suit and thin-rimmed glasses, Freedman, a professor of medieval history at Yale University, doesn't look the part of a provocateur, either. But for his new book, Ten Restaurants That Changed America, he set out on a brash mission: culling through hundreds of thousands of restaurants, across a span of two centuries, to produce a list of what he believes were the 10 most influential.
The list is brief, but Freedman marshals deep research to map the changes each restaurant made to American culture.
FRANCHISING RESTAURANTS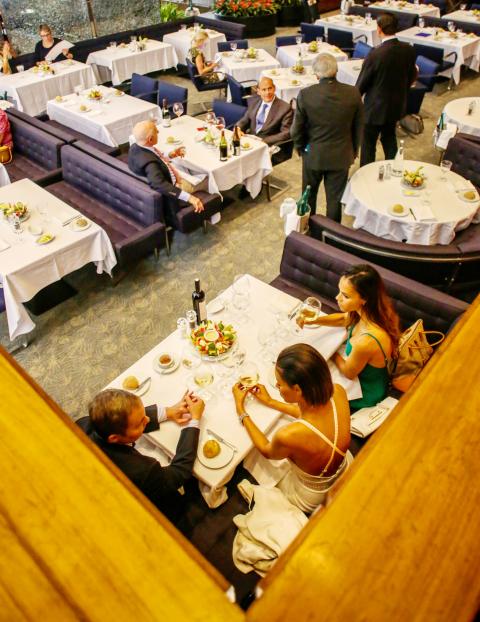 Patrons sit for lunch service in July at the Pool Room of the Four Seasons restaurant in New York. The Four Seasons, which historian Paul Freedman says established the idea of sophisticated American cuisine, closed after dinner service on in the same month.
Photo: Chris Goodney/Bloomberg
Howard Johnson's, the orange-roofed chain that still evokes nostalgia for the comforting sameness of its fried clams, was designed to be immediately recognizable from a moving vehicle: a wholesome, family-friendly restaurant for the growing, car-owning middle class. Until it became a fixture in the 1930s and '40s, Freedman writes, roadside dining options were mostly limited to truck stops that catered to men (salesmen and truckers) popping in on their own.
Though Howard Johnson's was not able to keep up with chains that followed in its footsteps, like McDonald's and Burger King, this was the restaurant that pioneered franchising as an expansion plan, strategically opening along highways and ushering in the era of big fast food.
"Uniformity in everything, not just food, was enforced by a manual," Freedman writes, "a 'Bible' of rules and procedures covering kitchen equipment, decor, maintenance, uniforms and cleaning."
CHINESE COOKING — US STYLE
Chinese restaurants had been in business here since the mid-19th century, after the California Gold Rush, but Freedman zooms in on the Mandarin, which opened in San Francisco in 1961. At a time when most Chinese restaurants were identified with a single dish, chop suey, the Mandarin showed off the cuisine's nuance.
Its owner, Cecilia Chiang, focused on Northern Chinese home cooking, creating a highly successful restaurant that doubled as a bid to broaden Americans' understanding of Chinese people and culture.
SOUL FOOD
Freedman devotes a chapter to Sylvia's, the restaurant that Sylvia Woods opened in 1962 in Harlem. Woods, who was born in South Carolina, was one of many black Americans who moved north in the early 20th century, and she built her business on the traditional Southern cooking she had known as a child.
Although in later years, Sylvia's would become world-famous, a shorthand for the very meaning of soul food, for decades it was a prime example of how a neighborhood restaurant could thrive as a social center. Freedman writes, "It developed a group of regulars, whom Sylvia Woods and her family called by their occupations: 'Coca-Cola man,' or 'Con-Ed man.'"
At Delmonico's, a jacketed waiter appeared ("Excuse me?") and asked to know if Freedman would care for some freshly ground black pepper for his pasta with lobster-cream sauce and peas.
NY'S RESTAURANT SCENE, A HISTORY
Freedman's book begins here. When Delmonico's opened, as a pastry shop in 1827, the restaurant scene in New York was wobbly at best. A hustle of street stalls specialized in cheap, fast oyster preparations. Rowdy taverns served a limited number of simple dishes to people at common tables. That was about it.
Americans ate at home, and rich New Yorkers ate and entertained at home. But within a few years, the ambitious Delmonico brothers, from Switzerland, had expanded their pastry shop into a serious French restaurant that modeled itself on Parisian-style fine dining. It was, as Freedman tells it, America's first true restaurant, in that groups could make reservations and order from a deep menu.
Schrafft's, a Northeastern chain, started as a candy store, but in the 1910s transformed itself into a lunch counter and restaurant for women and the expanding middle class.
In its early days, before it was considered a stodgy place for little old ladies, it was radical: a safe, affordable space for women to socialize on their own, in an era when women without male escorts were not welcome in restaurants. Schrafft's also hired many women, not only as waitresses, but also as cooks and managers, and offered maternity leave.
SOPHISTICATED CUISINE
Half a dozen of the restaurants in Freedman's book could be found in New York, though most are no longer around. The Four Seasons, which established the notion of sophisticated American cuisine in 1959, when French traditions still dominated, also brought in the era of seasonal fine dining.
It's hard to imagine today, but luxury dining up until then had been built on the notion of consistency throughout the year, and on shipping out-of-season ingredients, regardless of their quality. A menu that did not change was considered a luxurious menu.
Freedman made it to the Four Seasons before it left its space in the landmark Seagram Building in July, after an impasse with the landlord. (It plans to reopen a few blocks away.) But he missed the chance to experience other restaurants on his list, like Le Pavillon, the Midtown restaurant where Henri Soule influenced an entire generation of French chefs.
THE DINER
Freedman snubbed one of his choices on principle. "Everyone who lived in New York knew that Mamma Leone's was a tourist trap," he said.
It was also, as he explains in the chapter devoted to it, much more than that. A giant moneymaking machine, Mamma Leone's helped bring Italian cuisine and culture into the American mainstream, he writes.
Founded by Luisa Leone in 1906, it provided a model for the success of an immigrant-run restaurant on its own terms, expanding its clientele well beyond Italian-American diners.
Freedman rounds out his Top 10 with two restaurants that endure: Antoine's, which opened in 1840 in New Orleans, "the American city with the strongest roots and the longest run of culinary traditions," and Chez Panisse in Berkeley, California, where in 1971 chef Alice Waters championed the brand of new American cooking — local and seasonal — that reigns in restaurants today.
TODAY'S SCENE
Of the young, ambitious restaurants on the scene now, Freedman thinks a few may just be in the same league as his 10: Benu, in San Francisco, with its distinctly modern American aesthetic, comes up. So does Husk, in Charleston, South Carolina, and its ethos that goes far beyond farm-to-table, into reviving historical ingredients. The burger chain Shake Shack, Freedman notes, could be another contender, with its capacity for high-end and high-quality reproduction.
For dessert at Delmonico's, Freedman ordered a baked alaska. It wasn't just dessert, but a carefully preserved artifact from one of Charles Ranhofer's old menus: banana ice cream sandwiched in walnut cake, sticky with apricot jam, swaddled in a thick layer of spiky torched meringue.
One of the more remarkable things about Freedman's book is the way it shows how culinary history repeats itself.
By 1867, when Ranhofer served this dessert, Delmonico's was buying produce at local markets. "But for many years before that," Freedman pointed out, "the restaurant relied on its own farm in Williamsburg."
Yes, even America's first restaurant cycled through the Brooklyn farm-to-table thing.
Comments will be moderated. Keep comments relevant to the article. Remarks containing abusive and obscene language, personal attacks of any kind or promotion will be removed and the user banned. Final decision will be at the discretion of the Taipei Times.