Highlight: Global March for Elephants and Rhinos
People will be marching for the plight of elephants and rhinos in more than 100 cities across the world tomorrow — and Taipei is no exception, with a congregation set to meet in the morning in front of the Bureau of Labor Insurance.
The march coincides with the opening of the Convention on International Trade in Endangered Species of Wild Fauna and Flora, which will take place in South Africa this year. While the spotlight is on ending the ivory and rhino horn trade, marchers will also be calling on governments to end all wildlife trafficking through shutting down industries, adopting more punitive measures and combating corruption.
After the march, there is an optional outing to the Footprints Market (田裡有腳印市集) at the National Taiwan Museum's Nanmen Park (南門園區) site. The market showcases environmental and wildlife friendly farming methods and products.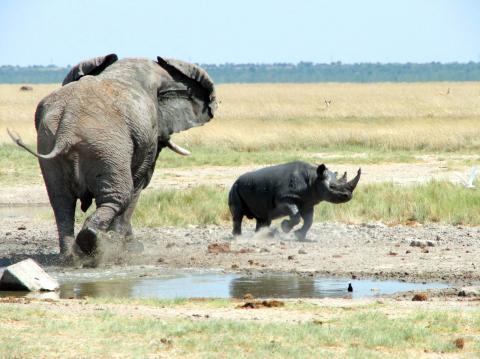 Elephants and rhinos may become extinct in a few decades due to poaching.
Photo courtesy of Wikimedia Commons
■ Marchers meet at 11 am at the Bureau of Labor Insurance, 4, Roosevelt Rd Sec 1, Taipei City (台北市羅斯福路1段4號). The march will conclude at the corner of Nanhai Rd (南海路) and Nanchang Rd (南昌路), which is right where the market will be taking place at 1, Nanchang Rd Sec 1, Taipei City (台北市南昌路1段1號)
■ Visit www.facebook.com/events/268931523493307 for more information (Chinese and English)
Comments will be moderated. Keep comments relevant to the article. Remarks containing abusive and obscene language, personal attacks of any kind or promotion will be removed and the user banned. Final decision will be at the discretion of the Taipei Times.