Yingge Town Artisan: The genuine article
Chen Cheng-ching painted quality ancient Chinese ceramic wares for a Yingge factory in the 1970s and 1980s. Many were sold to the lucrative fake antique market as authentic Chinese imperial wares
Chen Cheng-ching's (陳澄清) boss asked him whether he could imitate the decorative motif painted on the National Palace Museum's Ming 100 Deer Vase (百鹿尊). The Chinese like that one, he said. It symbolizes great wealth. Chen worked on the composition, and his co-workers copied it.
That was back when Chen worked for China Art (市拿陶藝), the first factory established in New Taipei City's Yingge (鶯歌) to produce imitation ancient Chinese imperial ware ceramics.
"The company was paying me NT$3,000 a month. They sold the vases for NT$50,000 each. They never told me," Chen tells the Taipei Times, without a hint of anger.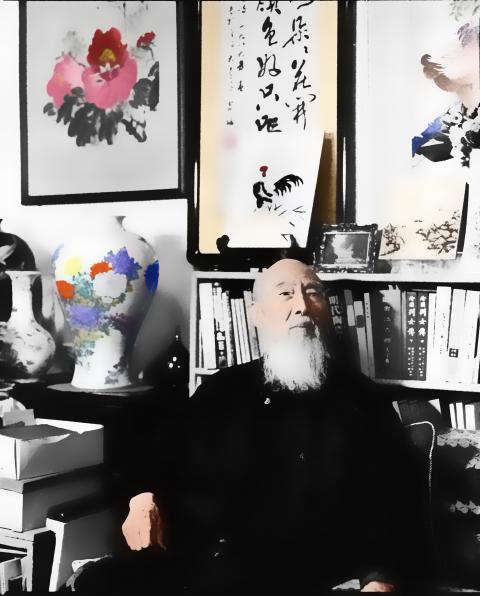 Chen Cheng-ching sits surrounded by examples of his work at his home in New Taipei City.
Photo: Paul Cooper, Taipei Times
"The museum's vase doesn't actually have 100 deer on it, but mine does. Even so, the museum's is the better vase," Chen says.
Chen, 92, sits surrounded by his work: paintings, plates and vases, including one of his 100 deer vases. There are hundreds of painted but unglazed and unfired plates and plaques stored around his apartment in New Taipei City. He has his own electric kiln on the balcony. Amassed notes, together with copies of his self-published book about his life and work, lie scattered on the table.
From 1972 to 1985, Chen was part of an assembly line in the factory, painting decorative motifs for imitation wares. Many of these imitations were sold to Hong Kong dealers for tens of thousands of New Taiwan dollars. These dealers would then sell them to unwitting collectors in the West and Japan as authentic Ming and Qing antiques for 10 times that amount.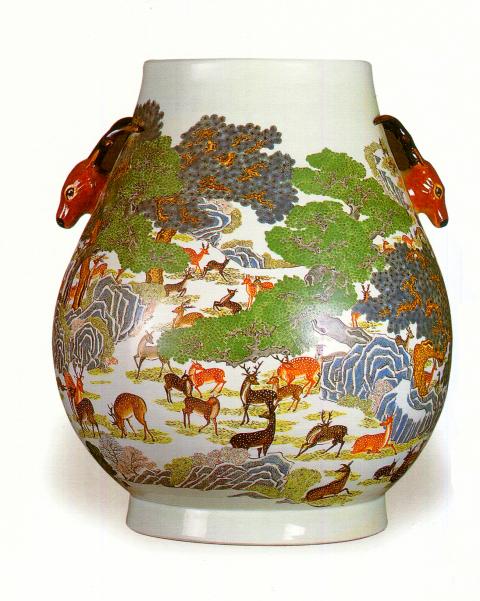 Chen Cheng-ching's version of the National Palace Museum's 100 Deer vase.
Photo courtesy of Chen Cheng-ching
"The Chinese-style vases Western and Japanese buyers were buying during the 1970s and 1980s were all exported from Taiwan," says Cheng Wen-hung (程文宏), head of the Educational Promotion Department of the New Taipei City Yingge Ceramics Museum.
"It was big money for Yingge. At the time, China Art was making the best work," Cheng says. "It was the first factory in Taiwan imitating ancient Chinese ceramics."
The workers, however, were paid low wages.
The market moved on in 1990, when China liberalized its market. People started buying vases from Jingdezhen in China, where official imperial wares for the Chinese court had been produced since the Ming. Imitation wares from there were not only cheaper, they were considered to be more authentic.
BUYER BEWARE
Individually, the imitation wares have an authenticity and intrinsic value of their own. Indeed, the production of imitations of fine pieces from previous dynasties, to replicate antiques favored by the emperors, was common practice in the Qing.
The question of authenticity only arises when the pieces are purported to be, and sold as, something other than they are: genuine ancient Chinese imperial wares, rather than high quality, authentically-produced imitation wares.
China Art would sometimes even sell pieces painted with the reign marks that were historically added to imperial wares made exclusively for the emperors, such as "Made in the Chenghua Reign of the Great Ming Dynasty" (大明成化年製) or "Made in the Qianlong Reign of the Great Qing Dynasty" (大清乾隆年製).
"Vases don't age," Cheng says. "If you use the same clay, the same pigments, the same painting techniques, glazes, firing techniques, the question of authenticity often just comes down to guess work."
Even experts find it difficult to differentiate authentic from fake. "How would you do that?" Cheng asks rhetorically. "From the decor? The decor is really easy to imitate, you just paint it the same way."
Cheng spoke of one collector who suspected 99 percent of his collection was fake. Even museum curators have to resort to researching the backgrounds of donated Chinese ceramics, he says.
"A vase would be donated by a wealthy family, from their grandfather, who was working in the military during the Qing dynasty, or as an ambassador in China, so they would have to trace the record of the donations," Cheng says.
RIGHT PLACE, RIGHT TIME
Chen was there right from the beginning, when the factory opened in 1972.
Born in Shaanxi Province, China, in 1924, Chen came to Taiwan with the Republic of China air force, retiring at the age of 46 in 1969. He was familiar with watercolor painting, but had no background in the techniques of painting ceramics. He was introduced to China Art's founder, Hsu Tse-jan (許自然), by Ho Wei-hsiao (何維孝), an elementary school classmate following a chance encounter in Taipei in 1969.
At China Art, he was trained in the painting techniques used in the Yuan, Ming and Qing dynasties by ceramics painting expert Zheng Ceru (鄭策如), whom Hsu had recruited from Hong Kong in 1969.
During Chen's stint, he became proficient in the painting techniques. In 1985, he retired, although continued to produce work on commission from former China Art customers. He stopped painting vases in 1988, when he realized that spending all his time creating work for others was little different from what he had left behind at the factory.
Chen then devoted his time to producing a book with examples of his own work, detailing techniques and the correct materials to use. It was published in 2007.
"If I hadn't written that book ... [h]ow would I pass this valuable information on to later generations?" Chen says.
His painting days are now behind him. His hands shake as he signs copies of his book. The electric kiln on the balcony sits idle. He no longer recalls how to use it.
Yingge Town Artisan is a monthly photographic and historical exploration of the artists and potters linked to New Taipei City's Yingge Town.
Comments will be moderated. Keep comments relevant to the article. Remarks containing abusive and obscene language, personal attacks of any kind or promotion will be removed and the user banned. Final decision will be at the discretion of the Taipei Times.