Restaurant review: Twinkeyz Tacos
Lately, the trend among huaqiao (overseas Chinese, 華橋) in Taipei's restaurant industry seems to be opening eateries that serve "authentic" cuisine. There is Spot's authentic New American-style chicken and waffles, the authentic Italian pizzas of Otto's Pizza Bar and last month saw the grand opening of Twinkeyz Tacos, an authentic Southern California taco joint near Sun Yat-sen Memorial Hall (國父紀念館).
The owners Parkson Shih (施振邦) and James Mao (毛加恩), who are also co-owners of Shrimp Daddy, have managed to re-create a breezy SoCal vibe with their restaurant's compact space. The walls and ceiling are painted in cheery, bright yellow and scribbled on one wall is a cute infographic about the history of various chilis and spices from around the world — a lot of which form the main ingredients in the tacos.
Customers place their orders at the counter. There are two types of tacos: the "street tacos" are Los Angeles-inspired — carnitas and chipotle chicken — whereas the "uptown tacos" are more of a fusion. For instance, there is the gua bao remix (Taiwanese pork belly buns, 割包) and Korean beef bulgogi.
Twinkeyz Tacos includes a range of classic SoCal-style tacos and fusion tacos like the "gua bao remix."
Photo: Dana Ter, Taipei Times
The street tacos are two for NT$200 or three for NT$270 and the uptown tacos are from NT$130 to NT$150 each. There is also a selection of "munchies" (NT$120 to NT$300) which are mainly wings, fries and nachos, many with a Korean twist.
Normally, I cringe at the mere mention of the phrase "fusion food," but I've always had a soft spot for Korean tacos and fries, which has been a fad in California for the last couple of years thanks to Roy Choi's food trucks. Perhaps it's the combination of a lot of meat and spiciness from both cuisines that make it work.
Besides a few teething problems expected of a new restaurant — a friend said that his taco shell cracked in two — the tacos are pretty darn tasty. On the numerous occasions that I dined at Twinkeyz, Shih was also walking around handing out tequila shots to customers. Apparently, every day is Tequila Tuesday, which isn't a bad concept.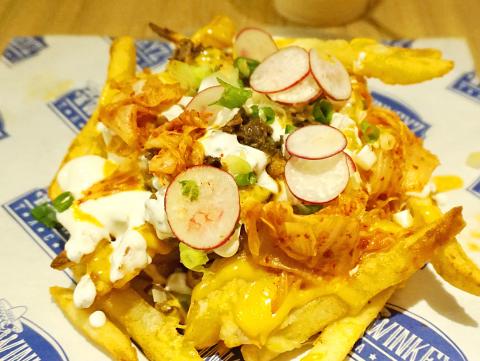 The fries with cheese, bulgogi and kimchi is reminiscent of what you would find at an LA food truck.
Photo: Dana Ter, Taipei Times
The tortillas are hand pressed downstairs. My favorite taco is the carne asada. Chef Robert Montano says the beef in the classic Latin American taco is made sous-vide, or sealed in an airtight plastic bag and left to marinate for 24 hours. The result is thinly shredded beef with a charred texture and smoky flavor — nearly impeccable. I appreciated the Mexican radishes and avocado which added a little crunch and creaminess to the mix.
Another contender is the Baja fish taco. Warm and crispy on the outside, and soft on the inside, the fillet paired well with the homemade sriracha aioli consisting of Spanish mayonnaise, garlic and avocado. The sweetness of the sauce was offset by toppings which included a good dose of spring onions.
Montano concocted the gua bao remix because it reminded him of a time when he used to eat the Taiwanese delicacy five times a week. The ingredients are similar: pork belly, pickled greens, onions, cilantro and chili.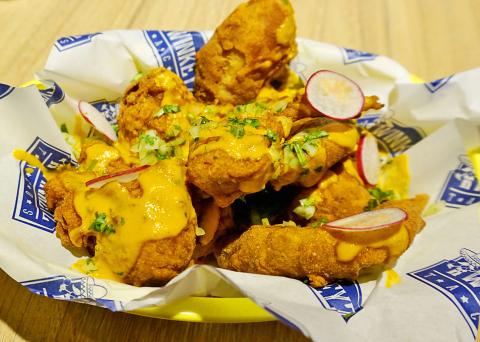 The bon bon chicken wings with homemade mango habanero sauce.
Photo: Dana Ter, Taipei Times
The meat is shredded and chopped into tinier pieces than in a traditional gua bao and instead of steamed bread, the ingredients are wrapped in a soft shell taco. As with the other tacos, the meat is delectably charred, though I was slightly thrown off by the savory flavor of the toppings which, at times, overpowered the meat.
The bon bon chicken wings (NT$250) are a spin off of Korean fried chicken, a popular snack in South Korea. Twinkeyz's rendition is not as greasy, which I preferred, and the skin is crispier. It is topped with Mexican radishes and Montano's homemade spicy mango habanero sauce. The wings were a little too spicy for most of my friends, though I found the mango bit of the sauce to be quite refreshing.
The most memorable "munchie" was the fries with cheese, bulgogi and kimchi (NT$300). This sinful dish is reminiscent of what you would find at an LA food truck, the real deal. As the name suggests, it's a mixture of ingredients and all the flavors — spicy, savory, tangy — complemented each other well.
It's best to pair your meal with a freshly-squeezed watermelon or pineapple juice, or a horchata, a refreshing drink made with rice and ground almonds and topped with cinnamon (drinks are NT$120). And if tequila shots aren't enough, perhaps try one of their many selections of North American craft beers.
Publication Notes
Twinkeyz Tacos
Address: 7-1, Ln 131, Yanji St, Taipei City (台北市延吉街131巷7之1號)
Telephone: (02) 2778-7707
Open: Tuesdays to Sundays from 6pm to 11pm
Average meal: NT$200 to NT$500
Details: Menu in English and Chinese, cash only
On the net: www.facebook.com
/twinkeyztacos
Comments will be moderated. Keep comments relevant to the article. Remarks containing abusive and obscene language, personal attacks of any kind or promotion will be removed and the user banned. Final decision will be at the discretion of the Taipei Times.