Taipei Watcher: Don't expect gender revolution under Tsai admin
The new Cabinet consists of 40 people, of which 4 are women — and it's 2016
On May 20, Democratic Progressive Party (DPP) Chairperson Tsai Ing-wen (蔡英文) made history by becoming Taiwan's first female president.
"I believe that this is a giant leap for gender equality in Taiwan," Tsai told an audience of young women at a forum on Women's Day in March. She said that Taiwanese seem to have the impression that only men can be great leaders.
"We are going to overturn that stereotype," she added, and pledged to build a "gender-friendly" Taiwan.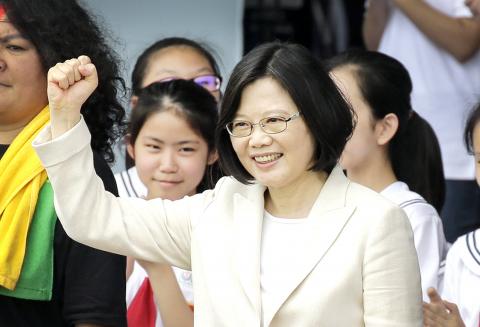 President Tsai Ing-wen makes a fist at her inauguration ceremony in front of the Presidential Office as she becomes Taiwan's first female president on May 20.
Photo: EPA
It is hard to imagine that Taiwanese women could not even go to college a century ago. In the past, they were expected to take care of families. This could be described by the saying, "A woman who lacks talent is virtuous" (女子無才便是德), and a woman president was beyond imagination.
SLOW BUT PROGRESSIVE
When the Chinese Nationalist Party (KMT) took over Taiwan in 1945, it established Taiwan Provincial Taipei Girl Teachers' School, the country's first junior college for women. Today, the number of women receiving higher education has grown to 4.19 million (or 48.4 percent of those being educated).
With the rise of Tawian's women's rights movement in the 1990s, more female talent entered the workplace, making a significant contribution to all professions. According to the National Development Council's data, the labor participation rate of women set a new high of 50.74 percent last year — thanks to the government's push for women's employment protection, including a two-year parental leave. The percentage is also slightly higher than that of Japan and South Korea.
"Tsai's election is a landmark for the women's rights movement in Taiwan," DPP Legislator and human rights lawyer Yu Mei-nu (尤美女) told AFP.
But sexist language during recent and past campaigns reminds us that chauvinism continues to pervade public discourse.
"How can someone in a skirt be commander-in-chief?" former senior presidential adviser Koo Kwang-ming (辜寬敏) said in 2006 in reference to vice president Annette Lu (呂秀蓮). "Can the DPP put its future on a single lady?" Koo later said about Tsai's presidential bid in 2012.
Former DPP chairman Shih Ming-te (施明德) even asked Tsai to reveal her sexual orientation before the 2012 presidential election, claiming that voters deserved "a clear answer" before voting for her.
In the recent campaign, People First Party Chairman James Soong (宋楚瑜) was forced to apologize over a post on the party's Facebook page."How can single women understand the needs of a family?"
That Soong's running mate, Republican Party Chairwoman Hsu Hsin-ying (徐欣瑩) was single too, didn't seem to attract his attention.
Similarly, New Party Chairman Yok Mu-ming (郁慕明) was slammed for accusing Tsai of being "dangerous" and "ruthless" because she is "single, without family burdens."
GENDER-FRIENDLY POLICY
Such gender bias exists in the workplace as well. A survey by 1111 Job Bank showed that women are paid 14.43 percent less than men, and their opportunities for promotion are limited. In addition, since male offspring are preferred, women often receive less inheritance — or decline their share outright. Changing this centuries-old patriarchal culture may be difficult for Tsai.
However, a good place to start was the DPP's "one-quarter policy," which began in 1997 and stated that at least one-fourth of Cabinet posts be held by women.
Astonishingly, only four (or 10 percent) of Tsai's 40 Cabinet members are women, including her own cousin, Minister Without Portfolio Lin Mei-chu (林美珠), a percentage that is the lowest in 20 years.
As a comparison, 28.5 percent of Ma Ying-jeou's (馬英九) 2008 Cabinet were women.
In response, women's rights groups protested at DPP headquarters before Tsai's inauguration.
"We have no honeymoon with you [Tsai] because you've really let us down," said Chi Hui-jung (紀惠容), executive director of the Garden of Hope Foundation, a Taipei-based NGO dedicated to helping abused women and girls.
Tsai's failure to appoint top female officials reminds me of a quote by self-appointed feminist and Canadian Prime Minister Justin Trudeau. When asked at a press conference why he chose a gender-balanced cabinet, Trudeau said with the now-legendary line: because it's 2015.
In other words, it's a no-brainer. What's so difficult for Tsai to promote outstanding female talent?
Comments will be moderated. Keep comments relevant to the article. Remarks containing abusive and obscene language, personal attacks of any kind or promotion will be removed and the user banned. Final decision will be at the discretion of the Taipei Times.