A long road traveled
Tashi Tsering came to Taiwan in 1998 to raise awareness about the plight of Tibetans. Eighteen years later, he is still at the forefront of the movement
Tashi Tsering (札西慈仁) used to tell Tibetans in exile that Taiwan was "not a good country" because the Chinese Nationalist Party (KMT) government regarded Tibet as part of the Republic of China (ROC). Even today, the Mongolian and Tibetan Affairs Commission still operates within the ROC framework and lays claim to Tibet.
"In Tibetan society, it was disgraceful for a Tibetan to say he or she came from Taiwan," the 44-year-old Tashi said during an interview with the Taipei Times earlier this month.
"For us, the Mongolian and Tibetan Affairs Commission is a dreadful thing. Its very existence means no sovereignty, independence and hopes for Tibetans," he adds.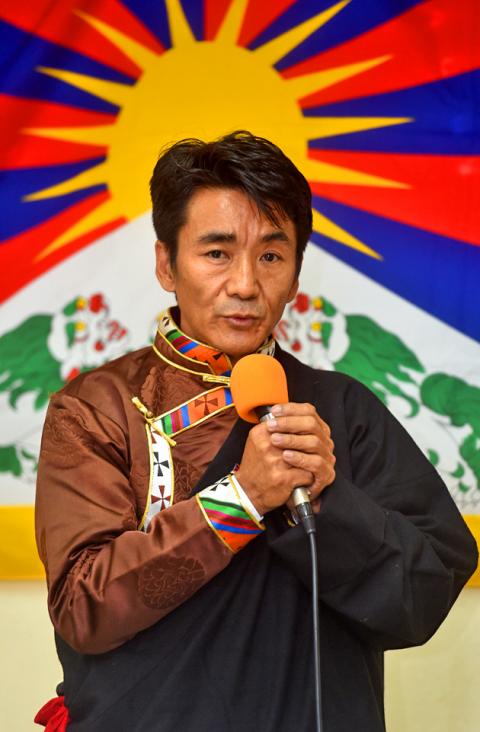 Tashi Tsering talks at an event last September to promote human rights in Tibet.
Photo: Chien Jung-fong, Taipei Times
RAISING AWARENESS
Today things are different. Every Wednesday morning, Tashi and several other riders cycle through the streets of Taipei. They pause at sites of political significance and tourist attractions where Chinese sightseers come in busloads.
The group hits the road for several weeks in the run-up to Tibetan Uprising Day on March 10, which marks the anniversary of a failed 1959 revolt against Chinese rule that led to violent crackdowns and forced the Dalai Lama into exile.
Tashi, who launched the "Cycling for a Free Tibet" campaign in 2011, is happy to see how the attitude of Chinese tourists has significantly changed over the years.
"Before, they would not come near us. Now they take photographs, read our pamphlets and listen to what we say. Yesterday, a tourist came up to me and told me he supported the independence of Taiwan and Tibet," Tashi says.
Undoubtedly, the India-born Tibetan Taiwanese has come a long way since he first arrived in Taiwan in 1998 with only US$500 in his pocket.
FROM SEVEN TO 30,000
Tashi was born and grew up in the exile community in Hunsur, India, after his parents were forced to flee Tibet into exile with some 80,000 others. As a teen, Tashi joined the Tibetan Youth Congress (TYC) determined that he and other exiles would return to a free Tibet one day.
The TYC, which Beijing has called a terrorist group, has over 30,000 members worldwide and is headquartered in Dharamsala, India, where the Tibetan government-in-exile resides.
However, after the Tibet Religious Foundation of His Holiness the Dalai Lama was established in Taipei in 1997 — the de facto embassy of the Tibetan government-in-exile in Taiwan — Tashi believed it was time to come to the country and help the people in Taiwan to understand Tibet's struggle for human rights and freedom.
The first few years were tough. Speaking no Mandarin and without legal documents, Tashi worked manual jobs to support himself while trying not to get deported.
In 2001, former president Chen Shui-bian (陳水扁) granted amnesty to Tibetans who did not have legal status. Shortly after, Tashi set up the Regional Tibetan Youth Congress' Taiwan chapter.
In 2004, Tashi initiated Tibetan Uprising Day in Taiwan, an annual march commemorating the uprising of 1959. Seven Tibetans turned up for the event. Twenty-six police officers were deployed to safeguard the walk.
"In our hearts we felt very lonely. We did not speak Mandarin, nor did we know any Taiwanese or organizations," Tashi says.
But Tashi and his fellow Tibetans were not alone for long. The Taiwan Association for Human Rights (台灣人權促進會) and other local NGOs joined forces, and Tashi started to give talks in colleges and universities, drawing attention to the issues facing Tibet. Tibetan advocacy groups began to emerge too, including Taiwan Friends of Tibet (台灣圖博之友會) and Students for a Free Tibet — Taiwan (台灣自由圖博學聯).
In 2009, some 3,000 supporters joined the march to commemorate the 50th anniversary of the Tibetan Uprising. Democratic Progressive Party (DPP) chairperson Tsai Ing-wen (蔡英文) showed up to show her support for Tibet's pursuit of autonomy.
"Taiwanese have changed a lot since I came here. At the beginning, they thought I was weird. Now they think people from the Mongolian and Tibetan Affairs Commission are weird," Tashi says.
LET'S SIT DOWN AND TALK
For the past 18 years, Tashi has organized and taken part in numerous activities advocating the Tibetan cause, including a one-man protest during the Nagano leg of the 2008 Summer Olympics torch relay in Japan, which resulted in 23 days detention.
His perspective has changed, however, after an incident taking place at an international forum on Tibetan issues held in Taipei six years ago.
"There was a Chinese student at the forum, really angry at all those professors criticizing China. But in the afternoon, she broke down in tears, saying there must be something wrong with her government and that she wanted to apologize," the activist says.
Since then, Tashi learns the importance of communicating with people from China face-to-face, and holds his temper even if the other party starts "insulting the Dalai Lama."
Taiwan is "strategically important," he says, because many Chinese come here to study and sightsee, presenting an opportunity to discuss issues silenced in China, such as the brutal suppression of protesters in Tibet and the reason behind the more than 150 self-immolations by Tibetans since 2009.
"If you organize an event in the US, it doesn't make as strong an impact. Here, you talk to Chinese tourists and they return homes within a few days, and maybe talk about what they saw and heard in Taiwan," Tashi says.
"I speak Mandarin now, so it is my responsibility to speak on behalf of Tibetans and talk to the Chinese people about what has been happening in Tibet. I may not be able to do great things, but at least I can talk to one Chinese a day," he adds.
RETURNING HOME
As a Tibetan who has grown up in exile, Tashi says the younger generations of exiles have retained their sense of urgency about preserving their identity and returning to their homeland. So far, the majority of exiles support the Dalai Lama's willingness to settle for "genuine autonomy" for the Tibetan people. Yet, younger Tibetan activists increasingly espouse the goal of complete independence for Tibet.
Tashi says the future is uncertain — especially after the Dalai Lama passes away.
"And when the pro-independence voice becomes louder, Beijing will face bigger problems than it does now, since Tibet will not be the only one that fights for independence," he says.
Striving to achieve independence, Tashi is under no illusions about the herculean task that lies ahead.
"TYC's uniform is ash-colored. It means that we will strive for independence until our bodies turn ashes," Tashi says.
Comments will be moderated. Keep comments relevant to the article. Remarks containing abusive and obscene language, personal attacks of any kind or promotion will be removed and the user banned. Final decision will be at the discretion of the Taipei Times.