It's a crapshoot
The good, the bad and the stinky of travel writing
My job is to travel around Taiwan and write about it. I get to surf with pros in Kenting, jam with Amis Aboriginal musicians in Taitung and get drunk with craft brewers while I help them "test" their new batch. I'm a really lucky girl.
Here is the side of my job that people don't see:
Last summer my Swedish "boy toy" and I were planning a romantic getaway. The plan? To stay in a remote B&B in the backwoods of central Taiwan where non-Taiwanese rarely venture. We found one in the mountains of Nantou County (南投) on booking.com with the name "fruit ranch" in it. We were sold.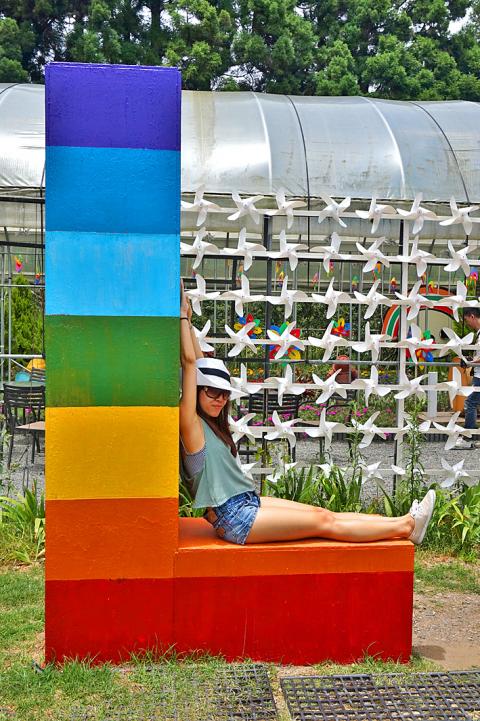 "Love" sculptures, like this one in Nantou's Little Swiss Garden, are abundant in areas surrounding Taiwan's guesthouses.
Photo courtesy of Johan Bothin
I should have known something was wrong when there was no fruit on the property. Instead, we found ourselves surrounded by faux European architecture in the form of barf-yellow Tudor-style homes made with flimsy wooden planks. Some of the area's B&Bs, which are more commonly known as guesthouses, looked like they might tumble down the mountain at any time. My fears were confirmed when I read another Taipei Times report stating that many of them were operating illegally ("Interior ministry to close unlicensed lodging in Cingjing," Dec. 6, 2013, page 3).
Then came the plumbing problem in our cabin. I took a huge dump. The toilet wouldn't flush. I tried and tried and the water in the bowl kept rising.
Closing the lid, I told my boy toy, "I don't think we should use the toilet today. We should just hold our pee in."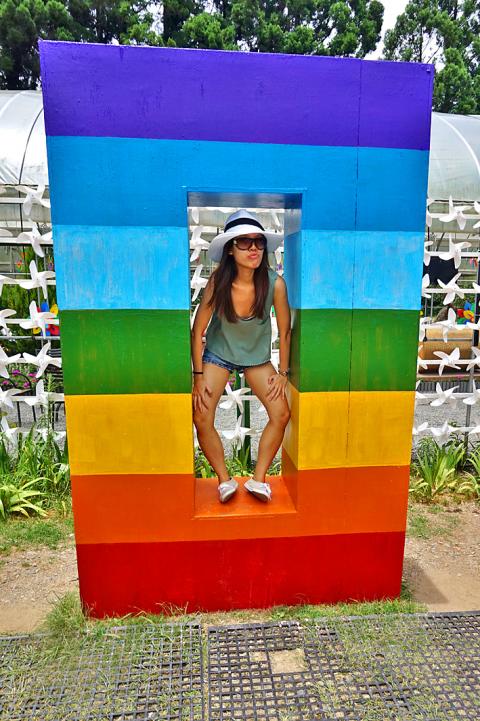 "Love" sculptures, like this one in Nantou's Little Swiss Garden, are abundant in areas surrounding Taiwan's guesthouses.
Photo courtesy of Johan Bothin
"What is it?" He asked.
"Uhh…"
"Oh my god. It's poop, isn't it?"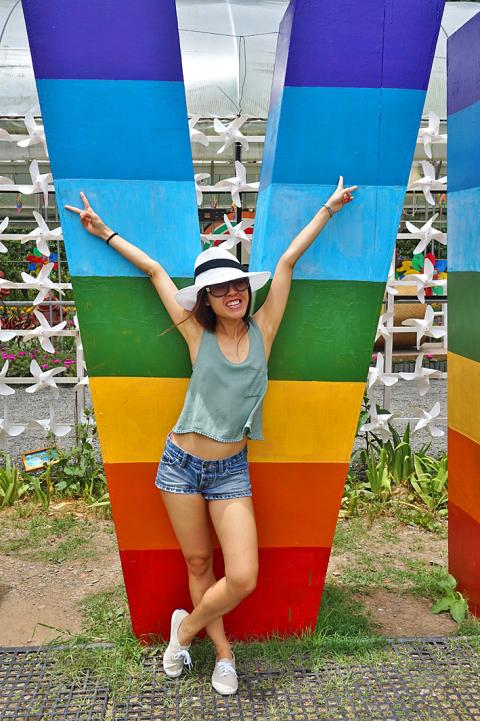 "Love" sculptures, like this one in Nantou's Little Swiss Garden, are abundant in areas surrounding Taiwan's guesthouses.
Photo courtesy of Johan Bothin
He went off about how I was not supposed to flush toilet paper down the bowl because it clogged the toilet. He's seen his share of poop, scrubbing toilets at the hostel he worked at in Taipei. Yet the thought of wiping my behind and throwing the paper in a bin for everyone to see was repulsive. I understand having to do it at a hostel. But at a "fruit ranch" that charged a whopping NT$5,000 a night? That's bullshit.
COPULATING TURTLES
In one year, I visited 11 of Taiwan's 13 counties. Guesthouses, hostels, hotels, hot spring hotels, leisure farms, love motels — they were all a real crapshoot. In fact, no hotel in Taiwan has ever made it to any "Top 50" list of best hotels in Asia. Just check TripAdvisor, Travel+Leisure or Business Insider. Southeast Asia and India dominate these lists.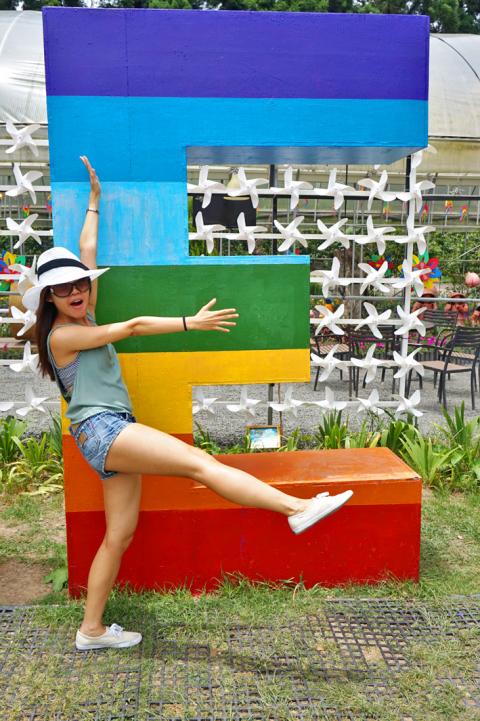 "Love" sculptures, like this one in Nantou's Little Swiss Garden, are abundant in areas surrounding Taiwan's guesthouses.
Photo courtesy of Johan Bothin
Besides international brand name hotels in Taipei such as the W Hotel or the Hyatt that cater to business travelers, I have yet to step into a hotel in Taiwan and be totally, utterly mind-blown.
Which is a shame. Taiwan is home to some of the most gorgeous, untouched landscapes I've seen, rivaling Thailand's beaches and Indonesia's mountains. But there are no Banyan Tree or Mandarin Oriental-style resorts with infinity pools nestled in the quiet rice fields of Taiwan's farmlands, as there are in Chiang Mai or Bali. Why hasn't Taiwan's hospitality industry capitalized on this?
It could be because a lot of owners simply do not have the proper experience. Often times, they've inherited land from their families and are looking to do something to pass their time or earn extra cash.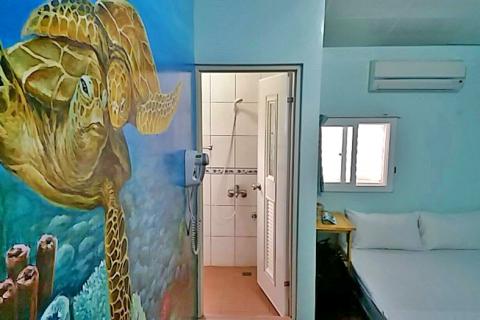 Copulating turtles are painted on the wall of a guesthouse on Siaoliouciou Island.
Photo: Han Cheung, Taipei Times
Plain bad taste and the influence of kawaii culture both play huge roles as well. French dressers, Balinese pots and other imported furniture are abundant in these guesthouses, yet they are not displayed in a way that is appealing. The result is either extremely gaudy rooms, or, for those who can't afford imported furniture, overly cute designs.
Usually, a grumpy 60-year-old man running the B&B throws me the keys to my room, and I'll open it to find lots of cutesy stickers of cartoon animals pasted on the walls. Other things I've seen: Santorini-themed or Alpine ski resort-themed rooms (seriously, why the skis in June?).
My colleague even stayed at a guesthouse on Siaoliouciou Island (小琉球) with copulating turtles painted on the walls of his room.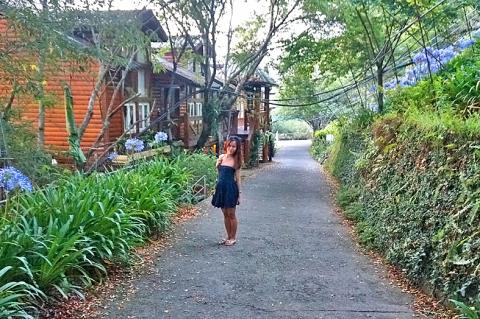 Outside the 'fruit ranch' in Nantou.
Photo courtesy of Johan Bothin
"The turtles are at least engaging in some sort of sexual activity," he texted me. I guess he wasn't.
I wasn't surprised to hear how, according to my colleague, this was the least tacky of guesthouses on Siaoliouciou.
The bad taste could be due to fact that the owners, many of whom hail from the countryside, have not traveled much outside of Taiwan.
The same can be said of the guests. For majority of people, international travel can put severe strains on the pocketbook. Guesthouse operators have simply played off their fascination with foreign things by implementing "bring Europe to Taiwan" marketing schemes.
Then, there's the problem of language access. Most of the text on the English-language Web sites (if there are any) are copied and pasted straight from Google Translate.
Here's a sentence from the Web site of a leisure farm in Tainan: "Musk pigs with black and white skin show S-shaped sexy bodies."
Also, figuring out how to take public transportation to an out-of-the-way destination can be a gargantuan feat if you don't speak Chinese. Business travelers, or non-backpackers for that matter, rarely venture outside of Taipei. Language might be an issue. But I also don't blame them when the choice is between a hostel or a kitschy guesthouse.
RENTER BEWARE
Whatever guesthouses lack in design, they make up for in hospitality. Well, some do, at least. Last spring, I traveled to Dulan Village (都蘭) in Taitung County (台東) by myself. Apparently, it's a super ballsy thing to do. Upon greeting me, the husband and wife who ran the place commended my bravery. They had never seen a young woman traveling solo.
It was high up in the mountains, buried behind layers of shrubbery that were home to wild dogs. I wanted to stay closer to the beach where I could surf. But there were only backpackers' hostels there.
The room was a bit gaudy — heavy drapes, gold ceilings and satin chairs — but the owners were ridiculously nice. The wife took pity on me. She drove me around, cooked for me (her crispy pork was delicious) and bought me stinky tofu (which I turned down). We still keep in touch today.
Other times, I wasn't as fortunate. While searching for a temporary place to stay when I first moved back to Taipei, I came across the Web site of a hotel/serviced apartment in Xinyi District (信義).
It was advertised for NT$50,000 a month as a 42-square-meter room with a hanging rooftop garden and a swimming pool, which seemed reasonable. My heart sank when I saw the room. It couldn't have been bigger than 16 square meters. The bathtub was teeming with spiders. I searched for the "hanging garden" and found two plants on the rooftop, their leaves hanging lifelessly. The pool was nowhere to be found.
I confronted the receptionist about the elusive pool.
"We have a pool," she said. "But there's no water and no lifeguard. So it might be too dangerous to swim."
Maybe that's an extreme example of a hotel deliberately bullshitting their guests and cutting costs to maximize profit. Certainly not all accommodations lie. But be forewarned: a "resort" is something with lots of cutesy decorations and tawdry designs.
Another popular design choice are wooden sculptures carved to form the word "Love." I've stopped counting how many "Love" sculptures I've seen.
It eludes me as to how these gimmicks are supposed to turn couples on, or how non-existent plumbing is supposed to encourage romance. My partner and I came across countless un-flushable toilets. As a result, we became really acquainted with each other's bowel movements. For months, we referred to each other as "poop boy" and "poop girl."
I like venturing to under-discovered places. My job pretty much requires me to. But at the end of the day, I would like to return to a hotel room that does not look like a fetishized version of Europe, take a swim in a pool that has water and not have to worry if the toilet bowl will overflow.
Comments will be moderated. Keep comments relevant to the article. Remarks containing abusive and obscene language, personal attacks of any kind or promotion will be removed and the user banned. Final decision will be at the discretion of the Taipei Times.