Making longevity sexy
Living longer doesn't have to be a slow slide into senescence and withered decrepitude, according to Alexander Zhavoronkov
Koschei the Deathless is a fairytale about a preternaturally old and ugly man with an eye for other people's wives. He cannot be killed, because his soul lies within a needle, inside an egg, in a duck and a hare, hidden in an iron chest and buried under an oak tree on the mythical isle of Buyan.
For Alexander Zhavoronkov, the co-founder and CEO of Insilico Medicine, one of the world's top companies specializing in the informatics of aging, the tale was part of his Latvian childhood in what was then the Soviet city of Riga. It was just one of many myths that had immortality as its theme, a particularly Slavic obsession, it would seem.
But no more so than for the young and idealistic Zhavoronkov, who set out in life with the idea of becoming a medical doctor, but then had a moment of illumination that set him off on a different path.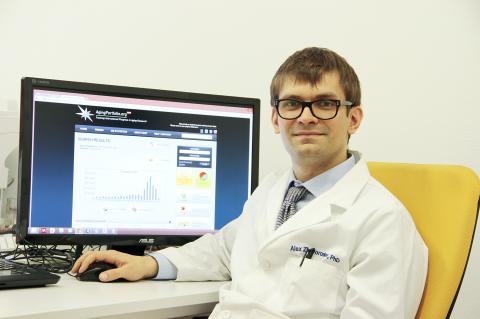 Alexander Zhavoronkov, the co-founder and CEO of Insilico Medicine, believes that with a healthy lifestyle, the right medicines and apps to track our health, we'll all be living way past 100 years.
Photo: Jules Quartly
"I realized that doctors don't really save lives, they just prolong death, it was an awakening," he says in a Skype interview from California.
"Aging research is the most altruistic thing. If you cure cancer, people will still die. Alzheimer's the same. If a doctor 'saves' 1,000 people, they are still going to die. If I can add one year to everyone's life, that is a lot more quality-adjusted life years."
After migrating to Canada as a child, he earned a bucket load of degrees and is now one of those big brains not averse to making money. He moves seamlessly between continents, keeping an eye on the company's researchers in the US, Poland, China and Ukraine. He's also an adjunct professor at the Moscow Institute of Physics, director of the Biogerontology Research Foundation in the UK and founder of the International Aging Research Portfolio.
The author of reams of academic papers, he has also managed to find time to write books such as The Ageless Generation: How Advances in Biomedicine Will Transform the Global Economy, which posits that recent biomedical advances should allow people to live well over a hundred years — and stay productive.
He "adores" Taiwan, saying it has the beauty of China, the advantage of North American manners and a unique culture. He used to visit regularly at the turn of the millennium in search of the graphic cards used for deep learning, which models abstract ideas based on big data. He even found love — at Carnegies — and says, "Well, I guess you know how that ended up." I'm pretty sure he's smiling at the memory.
Zhavoronkov also loves Taiwan from a professional viewpoint.
"It has one of the lowest birth rates and one of the most rapidly aging populations in the world," he says.
As a result, however, he believes that if the country doesn't extend the healthy, productive life of its elderly, then this will likely be compensated for by immigration from China.
"China doesn't need weapons to take Taiwan, it just needs to wait," he adds.
It's an interesting viewpoint, even more so because it's not part of the Blue-Green (Chinese Nationalist Party-Democratic Progressive Party) carousel of politics.
However, Zhavoronkov thinks that Taiwan could play an important role in aging research since it has a lot of top-notch scientists.
He says it's "really not a heavy investment — you just need lots of smart people with computers and it could play a big role in global development."
While an aging population is normally associated with a declining economy, Zhavoronkov believes that if you age healthily, then a great deal is saved in terms of healthcare costs. Jobs such as blogging, writing books and painting can be done from home, and therefore, "productive aging offers lifelong learning and unprecedented economic growth."
On another note, Zhavoronkov might just have solved the question of how to achieve world peace.
"The value of human life is, partly, that it's short. It's one of the reasons for our aggression. Raping and pillaging is a sign of our mortality. If people have a few hundred years ahead of them, the game changes ... With an unlimited number of interactions, we would naturally be more honest and altruistic."
And if you think longevity isn't sexy, think again. Insilico has partnered up with Youth Laboratories, and it has produced an app (free on Apple and Google Play) that will soon crown the world's first objectively-decided most beautiful man and woman — minus the bikini parade and dumb questions about how to save the planet.
"The First International Beauty Contest Judged by Artificial Intelligence" crowd sources the global population and uses a robot jury to evaluate youthfulness, facial symmetry, skin color and other factors to find the world's most beautiful man and woman according to age, race and gender. It's a beauty-is-skin-deep approach, but the hope is that researchers can derive information from portrait photos to develop a set of algorithms that can evaluate perceptions of allure and facts about health. This could mean that in the near future, machines will be able to derive vital medical information from just a photo.
Another crowd pleaser is the Kickstarter campaign for Rynkl, which aims to cheat the aging process and help people look healthy and attractive. Again, the final product will be an app that offers a set of tools to harness the power of modern anti-aging research. It provides an impartial assessment, and will be able to dynamically track facial changes and evaluate lifestyle effects on your skin.
The idea, partially, is to objectively determine if cosmetics and moisturizers actually do their job. For instance, take Product X for three months and the app will tell you if there has been an improvement. You might think this is bound to frighten the beauty industry somewhat, but then again if you have a product that really does work, the manufacturer would have an interest in proving it.
For Insilico, the benefits are more scientific. Since there is presently no credible set of aging biomarkers, Rynkl can provide them, as the face is even more accurate as a marker than blood tests. That done, Insilico can thereby advance its research on aging at the level of organs, tissues, cells and molecules.
There has, however, been a reaction against such thinking, admits Zhavoronkov. Some people, apparently, love their wrinkles. "Many people are against it. They think aging is good. It's a kind of fatalistic thinking. It's primarily middle-aged women who are comfortable with aging and are trying to convince themselves that we should accept this."
He adds that many people these days have the perception that "natural" is beautiful. As such, they don't see anti-aging interventions as natural.
"Actually, nothing is natural any more. Twenty thousand years ago we were in caves and natural lifespans were 30, if you were lucky, and reproduction started at 12. That was a natural life. What's so good about that?"
Zhavoronkov, by the way, plans to live to 170.
Comments will be moderated. Keep comments relevant to the article. Remarks containing abusive and obscene language, personal attacks of any kind or promotion will be removed and the user banned. Final decision will be at the discretion of the Taipei Times.