Taiwan heats up climate change conference
Despite being banned from direct participation at the UN Climate Change Conference in Paris, NGOs from Taiwan have made their voices heard
Taiwan's government representatives may not have been allowed to participate in the negotiation process at the Paris Climate Change Conference, but civic society organizations made their presence felt.
A number of committed climate activists from Taiwan, along with environmental groups and researchers, represented the nation at the 21st UN Climate Change Conference of Parties (COP 21), which took place from Nov. 30 to Dec. 11.
Because Taiwan is not a member of the UN, activists had to use other means to garner international support in order to gain entrance.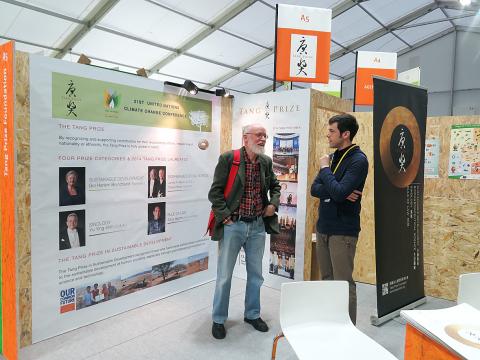 The Tang Prize Foundation was one of the few larger NGOs to have a booth at the UN Climate Change Conference in Paris.
Photo: Jason Pan, Taipei Times
"We represent young people in Taiwan who are concerned about global warming and its effects," said William Cheng (程泫尹) who spoke on behalf of an environmental organization from Canada.
Cheng's organization is classified as part of the "Youngo" (Young People's Organizations) — non-state entities given observer status.
Other non-state entity groupings include "Engo" (Environmental Organizations), "Tungo" (Trade Union Organizations) and"IPO" (Indigenous Peoples Organizations), among others.
Lindsey Wu, an environmental activist from Taiwan, who fell under the "Engo" category, has participated in climate change meetings in the past.
"It has been very difficult for someone from Taiwan to attend these UN climate forums because the Taiwanese government is excluded from the process, and this also precludes effective participation by us NGOs," she said.
Wu added that at times, it was frustrating to see many small Third World nations entering COP 21 venues and engaging in climate negotiation.
"It's like the world has invited everyone to a big party, but when mentioning that we are from Taiwan, the door is slammed shut to keep us out in the cold."
Wu believes Taiwan should forge stronger bonds with its Pacific allies such as Kiribati, the Marshall Islands and the Solomon Islands — all who were well-represented at the COP meetings.
Ghazali Ohorella, an executive of Pacific Island Youth Network, said: "Taiwan is part of the global community, and they are suffering from the effects of global warming, just like other nations; Taiwan and its NGO representatives should be allowed to participate as an equal member in the COP 21 process."
Instead, Taiwan's government was only allowed to send a delegation of 50 people headed by the Environmental Protection Agency (EPA) to Paris. However, they tried to make the most out of the circumstances. On Dec. 10, a press conference was held at the Representative Office of Taiwan to discuss future goals such as gaining observer status at upcoming COP 21 events.
In addition, the government delegation has co-sponsored programs and seminar talks at venues of the official COP 21 site.
While smaller NGOs fought tooth and nail to participate at COP 21, larger organizations, by contrast, filled up most of the booths at COP 21's NGO halls; they included the Tzu Chi Foundation, the Tang Prize Foundation and Delta Electronics Inc.
Comments will be moderated. Keep comments relevant to the article. Remarks containing abusive and obscene language, personal attacks of any kind or promotion will be removed and the user banned. Final decision will be at the discretion of the Taipei Times.