Surviving in the dark
Esther Veronin shines as the lead in The Lab Space's staging of 'Wait Until Dark,' a play about a blind woman who has to outsmart some con artists looking for drugs
Playwrights write; directors direct; actors act; and audiences watch. But what if you are blind? To survive you must learn to operate in the dark. Such is the world of Susy Hendrix, the central protagonist in the Lab Space's version of Frederick Knott's Wait Until Dark, a play well staged and directed by Brook Hall and Ting Kao (高詩婷).
As the play opens, con men Mike Talman (Dan O'Shea) and Carlino (John Brownlie) have been lured to the apartment of Susy (Esther Veronin) and her husband Sam (Andrew Chau) when they are out. They have been brought there by a ruthless Harry Roat (Stewart Glen) to help find a heroin-stuffed doll that Sam inadvertently brought home without Susy's knowledge. But now the doll is missing and Roat and company seek to keep Sam at a distance and con the recently blind Susy into helping them find the doll. So the game begins.
SUPERB CAST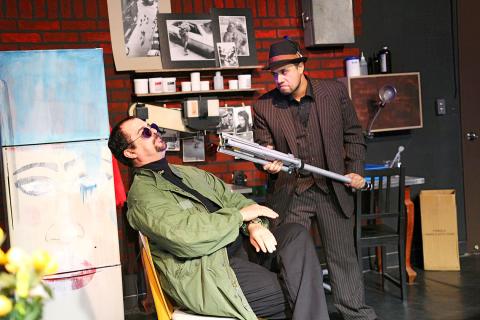 Carlino, right, played by John Brownlie, threatens a ruthless Roat, played by Stewart Glen, as both seek a heroin stuffed doll.
Photo courtesy of Michael Lao
Veronin shines in the challenging lead role, where she must play to the voices of the other characters and project her own voice with a mixture of credible vulnerability and strength, so as to outwit the deadly con artists.
Matched well against Susy are three diverse heavies, the gruff Carlino, a smoother Talman and the sinister Roat who will stop at nothing to win. Susy can out-psyche Talman, but Roat is a different matter. You would not want him as a neighbor. Helping Susy is the petulant girl next door, Gloria (played in alternate performances by Angelina Chen (陳冠如) and Danielle Beuker), who at first complicates the con, but helps Suzy in the end.
Set designer Yang Chih-yi (楊之儀) makes excellent use of the venue's flexible space to create a basement apartment, which adequately contains the action while still suggesting additional dimensions with an outside streetlight and the hint of a back bedroom.
Jenna Robinette (costumes) and Adam Dupuis (specialty props) embellish a strong 60s feeling while Anton Botes adds his intriguing and original sound track.
Staged in cooperation with the Taipei City Government's Department of Cultural Affairs, this is a dramatic show well worth seeing.
Publication Notes
Performance Notes
WHAT: Wait Until Dark
WHEN: Tomorrow, Saturday and Sunday, and Dec. 18 and Dec. 19 at 8pm; Dec. 20 at 2:30pm, with Q&A after the show
WHERE: The LAB Space (實演場), 3F, 9, Beitou Rd Sec 1, Taipei City (台北市北投路一段9號3樓)
ADMISSION: NT$600, available through www.accupass.com/go/dark or at the door
Comments will be moderated. Keep comments relevant to the article. Remarks containing abusive and obscene language, personal attacks of any kind or promotion will be removed and the user banned. Final decision will be at the discretion of the Taipei Times.