Passage to India
The LAB Space's performance of 'A Perfect Ganesh,' the story of two middle-aged women who take an unorthodox vacation, is well worth the price of admission
Terrence McNally's A Perfect Ganesh proves to be the most ambitious and challenging play that LAB Space has undertaken this year.
Director Brook Hall admits to seeking the challenge, showing how LAB Space's black box theater can do a play involving multiple scene and costume changes as well as including the intriguing exoticism of India.
A different challenge comes from McNally himself who pairs two stereotypical middle-aged Connecticut women. They are friends, but each has her secrets. Together they have foregone another "boring" vacation in the Caribbean to take on a personal and spiritual "passage to India."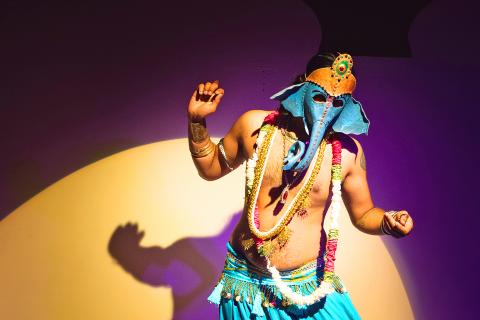 Manav Mehta as the Indian god Ganesh in a scene from A Perfect Ganesh, which continues at the LAB Space this weekend.
Photo courtesy of Fabian Hamacher
McNally frames the play as a situation comedy, but he also has other thematic goals in mind such as gay acceptance, AIDS, personal loss and redemption.
The play's successful denouement depends on a better understanding of the origin and role of omni-present Ganesh, the god of wisdom in the Hindu pantheon.
Stephen Rong, who plays the character Man, comes through in a role that requires much diversity as he plays many separate supporting parts.
The two women face separate secret demons as they bond. Margaret (Sue Desimone) must overcome a buried past, hidden behind a brassy front. ("I've had my day.") Katherine (Sharon Landon) grieves at not being able to tell her "imperfect gay" son that she loved him before he passed away. ("All I have left is my anger.") The women work well including a number of humorous moments as they attempt to handle the diversity of India.
The script, however, is lengthy and creates too much of an ambivalent challenge by further playing this against each woman's separate redemptive pathos. EM Forster found it best not to mix sit-com with seriousness. This might be why McNally didn't receive the Pulitzer for the work, though it nominated.
The Taiwan-born Manav Mehta, completes the cast. He wears the challenging Ganesh mask and conveys the compassionate acceptance of life's diversity.
All in all, Hall continues to build a solid group of actors in Taiwan. The opening night had a few kinks with sound and props, but that did not alter the solid performances.
Jen-Jacques Chen, whose brief puppet animation cleverly explained Ganesh's origin, deserves mention.
A Perfect Ganesh, partially sponsored by Taipei's Department of Cultural Affairs, is worth seeing and LAB space is worth supporting.
The play continues tomorrow through Sunday with all shows beginning at 8pm. Tickets are NT$600 and can be bought through www.accupass.com/go/ganesh
For more information on the theater troupe and directions to get there, go to: www.thelabtw.com.
Comments will be moderated. Keep comments relevant to the article. Remarks containing abusive and obscene language, personal attacks of any kind or promotion will be removed and the user banned. Final decision will be at the discretion of the Taipei Times.