Sounds from the permafrost
A New York-based Taiwanese artist will present on Sunday an audio performance based on an artists residency to the Arctic Circle
Just before visual artist Shih Yun-yu (施昀佑) embarked on his trip to Svalbard, an archipelago some 640km north of Norway, someone broke into his car and stole all his photography equipment and hard drives.
Since the two-week journey was part of an Arctic Circle artist residency, he couldn't delay his trip. All he had was his cell phone and some audio recording equipment loaned to him by another artist.
After arriving, Shih looked into local the history.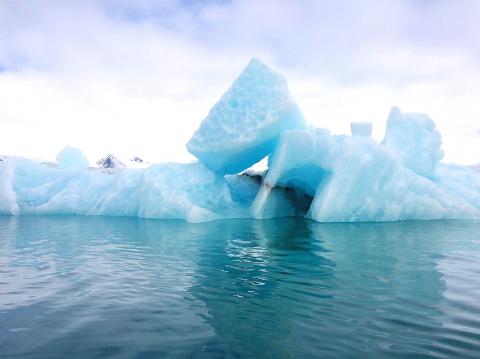 A photo of a glacier Shih Yun-yu took with his mobile phone in the Arctic Circle.
Photo courtesy of Shih Yun-yu
"A major theme of Arctic stories is failure," he says, referring to the harsh conditions and the many disastrous European expeditions to the area. "There aren't many things you can control, and often what you hope for doesn't happen. That's kind of like what I experienced."
Shih said everything worked out for the better, and he completely discarded his usual medium and went with sound.
"The environment there is too stunning, almost overwhelming," he says. "What artists can add to such a visual image is very limited, so I didn't even bother borrowing a camera."
Based in New York, Shih is visiting Taiwan and has planned a 60-minute pure sound performance based on his trip titled Echo from the Perpetual Day (永晝回聲) Sunday afternoon at Insomnia Cafe (睡不著咖啡).
North pole noise
The performance includes audio Shih recorded in the Arctic — of glaciers calving, water flowing, the rhythmic drip of melting ice, eerie bird and seal calls along with travel commercials for the North Pole.
There's also a spoken word part in Chinese which takes up about 20 minutes of the performance, on Swedish explorer S A Andree's 1897 attempt to cross the North Pole from Svalbard to either Russia or Canada in a hot air balloon. The balloon crashed on an island just two days after departure and the crew died as winter descended. The group's fate remained a mystery until its final camp was found in 1930 where Andree's diary was retrieved.
"It's interesting that [Andree] and I pretty much saw the same things," Shih says. "Yet, I didn't have the fear he had. I felt the unfriendliness of nature, but I didn't experience it like he did. But my notions of safety were overturned."
Shih kept this idea that the Arctic isn't a welcoming place in his mind when he collected his sound samples.
"Some sounds can make you feel uncomfortable," he says. "I wanted to use some of these as material to describe the violence of nature … and show the relationship between nature and humans, but not in a romanticized 'humans are so insignificant way.'"
Shih also includes some pleasant sounds such as breaking waves. "I'm not trying to drive the audience crazy," he says.
Shih later translated Andree's diary into Chinese. His friend Henry Lee (李仁豪) will read parts of the diary during the performance. In the past, Lee has portrayed Chinese Opera figure Lin Chong (林沖), who leaves his prestigious post to become an outlaw. Lee is also a marathon runner. Shih says these two qualities of failure and pushing one's limits would make Lee an ideal narrator.
Shih says the audio project is part of a book he is working on of both personal and informative essays based on his Arctic experience, notes he took and letters he wrote, his research on Andree and a timesheet of all the glacial calving he heard during the entire trip. He plans to publish it in both Chinese and English.
Publication Notes
Performance Notes
What: Echo from the Perpetual Day Arctic Sound Project (永晝迴聲北極圈聲音計畫)
When: Sunday, 2:30pm to 4pm
Where: Insomnia Cafe (睡不著咖啡), 8, Taishun St, Ln 60, Taipei City (台北市大安區泰順街60巷8號)
On the Net: www.facebook.com/events/
771203596326041
Comments will be moderated. Keep comments relevant to the article. Remarks containing abusive and obscene language, personal attacks of any kind or promotion will be removed and the user banned. Final decision will be at the discretion of the Taipei Times.