Dominating the diamond
Taiwan ruled the world of youth baseball in the 1970s, and in 1974 claimed the Little, Senior and Big League World Series for the country's first 'triple crown'
Taiwan in Time: Aug. 17 to Aug. 23
The 1970s was a glorious decade for Taiwanese youth baseball, with the country claiming seven Little League (ages 11 to 13), eight Senior League (ages 13 to 15) and five Big League (ages 16 to 18) World Series Championships.
The most memorable year was probably 1974, the first time all three teams made a clean sweep of the series.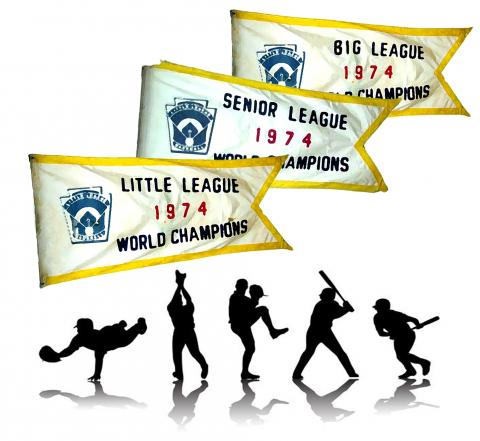 Illustration: Constance Chou
Taiwan already had considerable success with its Little and Senior League teams by 1973, but, according to One Hundred Years of Baseball in Taiwan by historians Hsieh Shi-yuan (謝仕淵) and Hsieh Chia-fen (謝佳芬), the general sentiment was that Big League-age players weren't strong nor fast enough to compete with their European and American counterparts.
Nevertheless, a team was put together in 1974 for the Big League World Series in Fort Lauderdale, Florida. They easily won their first match with 13 strikeouts on Aug. 12 against Puerto Rico, 5-0. The team kept advancing and finally claimed the World Championship on Aug. 18 on its first try.
On the same day, the Meihe (美和) team from Pingtung County defeated North Carolina's Charlotte team to claim the Senior League World Series championship.
On Aug. 25, regional Little League champs Lide (立德) from Kaohsiung defeated California's Red Bluff team, and Taiwan completed a sweep of all three world series. Firecrackers exploded on the streets as the nation celebrated.
This is known as the first of six "Triple Crown" (三冠王) victories for Taiwan (1977, 1978, 1988, 1990, 1991), and the players became national heroes. The Senior and Big League champs were welcomed by government officials and a huge public parade when they returned home on Aug. 26, with a similar reception for the Little Leaguers on Sept. 4.
NATIONAL PRIDE
This victory instilled a sense of national pride among Taiwanese and showed them that their country was still internationally relevant despite losing its UN membership to China three years previously.
The fervor was apparent: historian Hsu Tsung-mao (徐宗懋) writes in his book Triple Crown Dreams Come True (三冠王之夢) that local electricity usage surged in the mornings when the games were broadcast, with 90 percent television users watching.
The "Triple Crown" craze also made for various commercial opportunities. For example, the Hilton Hotel changed the rename of one of its banquet rooms to the Triple Crown Room, and Sony came out with a limited-edition Triple Crown television set.
Yet, the success was not well received in the US. Lance and Robin Van Auken write in their book Play Ball! The Story of Little League Baseball that negative headlines appeared in newspapers, such as "Break Up the Taiwan Monopoly" in the San Bernardino Sun-Telegram.
"For the rest of the decade — and in the 1980s and part of the 1990s — fans and journalists wondered whether Taiwan was cheating," Van Auken writes.
Little League went as far as to announce that the international regions would conclude their play at the regional level, reserving the 1975 World Series to only US teams. Taiwan went ahead and claimed that year's Senior and Big League World Championships anyway. The decree was reversed in 1976, and Taiwan ruled the Little League from 1977 to 1981.
Though Taiwan's youth teams would continue to find success until the 1990s, Hsieh and Hsieh write that public fervor never reached the level of the summer of 1974.
"When Taiwan won the triple crown again in 1978, it was no longer as strong as a uniting force at was before," they write. "Also, the Ten Major Construction Projects (十大建設) and its promise of economic prosperity provided another source of confidence for Taiwanese."
Yet, the baseball craze that these teams generated laid down the foundation for adult and professional teams of the 1980s and 1990s.
Taiwan in Time, a column about Taiwan's history that is published every Sunday, spotlights important or interesting events around the nation that have anniversaries this week. Each edition features a main story with other noteworthy tidbits.
Comments will be moderated. Keep comments relevant to the article. Remarks containing abusive and obscene language, personal attacks of any kind or promotion will be removed and the user banned. Final decision will be at the discretion of the Taipei Times.