Film Review: 'The Arti: the Adventure Begins' and 'Lion Dancing 2'
Taiwanese culture shines on the silver screen during the Lunar New Year
Who would have thought that Taiwanese puppet theater would one day wed with 3D animation, and that it would give rise to an immensely popular television show that is made into not one, but two movies.
The Arti: the Adventure Begins (奇人密碼-古羅布之謎) is a technically polished, feature-length animated film that combines puppetry with computer animation.
Peng Chia-chia (澎恰恰) and Hsu Hsiao-shun (許效舜), two of the country's most beloved comedians, join forces again to spice up the Lunar New Year with Lion Dancing 2 (鐵獅玉玲瓏2), a comedy that takes its cue from the duo's real lives.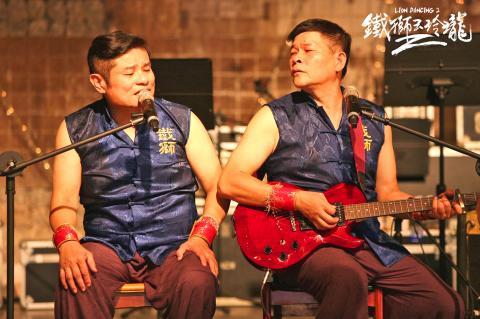 Taiwanese comedians, Peng Chia-chia and Hsu Hsiao-shun, lead the cast of Lion Dancing 2.
Photo courtesy of Puppetmotion Entertainment and Good Day Films
The story tells of their aspiration to bring Iron Lion Jade Dragon (鐵獅玉玲瓏), their most iconic variety show inspired by the traditional art of liamkua (唸歌) — a traditional Taiwanese performance art form that interweaves talking and singing — back to the stage.
LET THE ADVENTURE BEGIN
Originating in China, hand puppet theater has long become a distinct part of Taiwan's cultural heritage. Generations of puppeteers have been experimenting with new performing styles and larger puppets, constantly updating the art to bring it into the mainstream.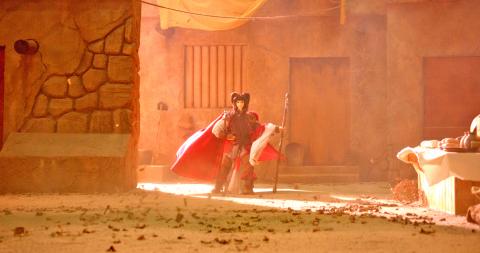 The Arti: the Adventure Begins is the first of its kind that ingeniously fuses Taiwanese puppet theater with 3D animation.
Photo courtesy of Puppetmotion Entertainment and Good Day Films
In line with the original Taiwanese puppet theater tradition, The Arti is the latest achievement by the Huang family, the nation's most prominent puppet family which includes the late Huang Hai-tai (黃海岱).
Seamlessly fusing computer animation with elaborate sets and delicately carved puppets dressed in sumptuous costumes, the film follows Zhang Mo and his younger sister and swordswoman Zhang Tong. The two take ARTI-C, a humanoid robot left by their father, who was killed by villagers afraid of the man-made creature, onto a journey to Loulan (樓蘭), a kingdom on the Silk Road that is believed to have been swallowed up by sand in the 4th or 5th century. In real life, ARTI-C is a wooden puppet that weights 50kg and requires five puppeteers to maneuver at the same time.
While on a quest to find a power source for ARTI-C in Loulan, the trio encounter Han Chinese settlers and a Loulan prince trying to develop the country but are constantly harassed by fighters from the mysterious Lop Tribe. Only when they encounter the tribe in a densely-wooded forest, do they realize that the Lop people live in harmony with nature and are the protectors of the Tree of Life.
Though not without flaws — the latter half is reminiscent of Avatar — the film signals a promising start to propel Taiwanese puppet theater to a global audience. It has an interesting story, fine production value and fully developed characters — including a furry sidekick as seen in Disney cartoons.
The character of Cheeky Ducky is worth special mention. As the only fully animated role in the film, the chatty duckling is dubbed by Huang Wen-tse (黃文擇), the chairman of Puppetmotion Entertainment (偶動漫娛樂), who has done the voices for more than 3,000 puppet characters during his decades-long career as one the country's most prominent puppeteers.
An ambitious project by Taiwan's Puppetmotion Entertainment and Pili International Multimedia (霹靂國際多媒體), the film is made entirely by local talents and envisioned as the beginning of a successful movie franchise. A sequel is already under way, with shooting reportedly starting in July.
THE SHOW MUST GO ON
Also aimed at holiday crowds, Lion Dancing 2 puts together an appealing cast including comedians Hung Teng-hui (黃鐙輝) and Tsai Chang-hsien (蔡昌憲). Entertainers like Jacky Wu (吳宗憲) and Mickey Huang (黃子佼) also make cameo appearances.
The main stars, however, are long-term performing partners and close friends Peng and Hsu. Starring as themselves, the movie is about their struggle to bring Iron Lion Jade Dragon, a popular television program in the early 2000s, back to the stage.
In the film, they have little money and support as they they seek out past crew members and recruit new ones, striving to put on a show at a cultural festival in Xiamen, China, to promote Taiwanese folk art and entertainment.
Opening with a series of scenes that parody several popular Taiwanese movies such as You Are the Apple of My Eye (那些年,我們一起追的女孩) and Black and White: The Dawn of Justice (痞子英雄:黎明再起), the Lion Dancing 2 starts out with an episodic feel. It gradually builds up a narrative flow dotted with humorous interludes and comedy sketches.
It is to the credit of Peng, who also directed the film, that the movie isn't just about good laughs. There's a genuine sense of warmth and consideration for the characters trying to fulfill their dreams amid pitfalls.
Apart from The Arti and Lion Dancing 2, the Lunar New Year will see veteran entertainer Chu Ko Liang (豬哥亮) returning to the big screen with The Wonderful Wedding (大囍臨門), a comedy about a couple and their families, one from Beijing and the other from southern Taiwan. The movie is slated to open in Taiwan on Wednesday and in China on March 6.
Film notes:
The Arti: The Adventure Begins (奇人密碼-古羅布之謎)
Directed by: Huang Chiang–hua (黃強華)
Language: In Hoklo and Mandarin with Chinese subtitles
Running time: 104 minutes
Taiwan release: In theaters
Lion Dancing 2 (鐵獅玉玲瓏2)
Directed by: Peng Chia-chia (澎恰恰)
Starring: Peng Chia-chia as himself, Hsu Hsiao-shun (許效舜) as himself, Lee Chien-na (李千娜) as Nana, Bryant Chang (張睿家) as Tungpo
Language: In Mandarin and Hoklo with Chinese subtitles
Running time: 110 minutes
Taiwan release: Wednesday
Comments will be moderated. Keep comments relevant to the article. Remarks containing abusive and obscene language, personal attacks of any kind or promotion will be removed and the user banned. Final decision will be at the discretion of the Taipei Times.