Getting the boot
Expats can usually take the stage in Taiwan without fear of being deported. But there are exceptions and the law doesn't favor those who do
Scott Ezell is as calm and laid-back in real life as he sounds in his bluesy, drifty studio recordings. Wearing horn-rimmed glasses, the California-born experimental folk musician looks more bookish than the type who would seriously jam out — which makes sense since he's also a poet as well as the author of the forthcoming memoir A Far Corner about living in the remote village of Dulan (都蘭) in Taitung County (台東) with a community of Amis Aboriginal woodcarvers and musicians.
As we wander the back alleys of Taipei in search of low-key experimental music venues, Ezell tells me that it is his first trip back to the city since his deportation in 2004 for performing without a permit at the Dulan Sugar Factory.
After 10 years of traveling around Asia and the US while compiling research on Taiwanese history and anthropology, Ezell is back in Dulan doing an artist residency. In fact, he is currently living a few miles north from his old recording studio which he built from driftwood and analog tape machines.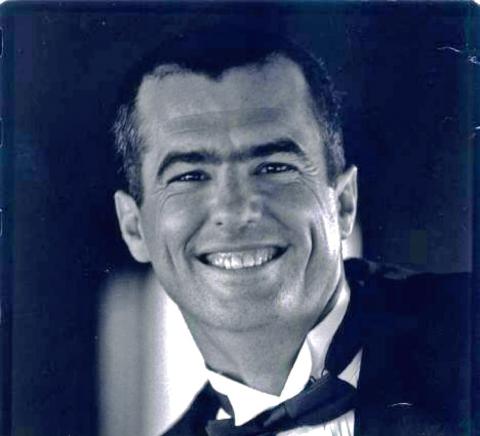 A headshot of actor Stewart Glen during his Vancouver days. He is now represented by V&L International Models in Taiwan.
Photo Courtesy of Stewart Glen
"When I returned, one of my friends said, 'we've been waiting so long for you to come home!'" Ezell says.
HOME, SWEET HOME?
Ezell's story, while intriguing, is not that unique. There are many expat performers who, for various reasons ranging from the country's thriving artistic scene and its friendly people to the inspirational natural environment, have made Taiwan their home. They've learned Mandarin and integrated with local communities — and it's through singing, dancing or acting that they are able to share and make sense of their hybrid experiences.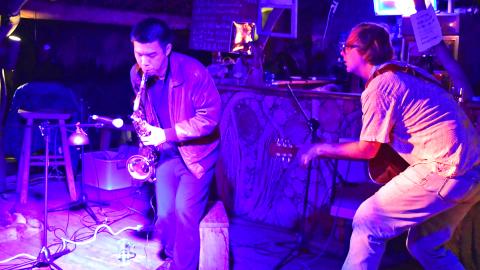 Scott Ezell, right, performs with Brooklyn-based saxophonist Gao Jia-feng at the Dulan Sugar Factory in Taitung County last month.
Photo Courtesy of Mayao
The only difference with his case, Ezell says, is that a local cop with a known antagonism for foreigners reported his actions to his superiors who had no choice but to open an investigation. What could have been settled with some minor paperwork and a fine, snowballed into a national media maelstrom. A deportation order was issued, but with the help of a lawyer, he won the right to stay in Taiwan during the appeal process — though he chose not to.
"I made a free choice to end my residence in Taiwan," Ezell says. "In many ways, I had an idealistic life in Dulan … I had an old farmhouse, my rent was NT$2,000 a month, the best community in the world was here and yet, I felt like my creative life had plateaued a bit."
It was a convergence of different factors that influenced his decision to leave — including a failed relationship and the death of his dog — but the thought of living under constant surveillance and threat of deportation sealed his decision.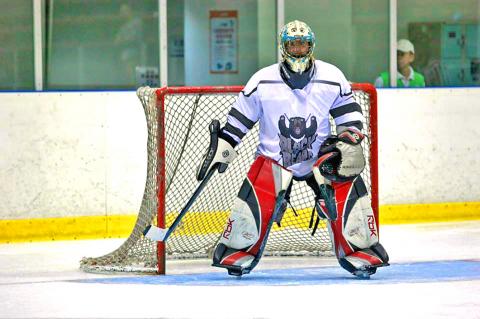 Stewart Glen, here tending goal, says that non-Taiwanese who want to pick up a guitar or act in play use an agency to avoid legal hassles.
Photo Courtesy of Chantal Liao
"This was the only place that was home in the world," Ezell says about Dulan.
Although Ezell has family in the US, it was in Taiwan — and specifically with members of the Open Circle Tribe, most of whom are Amis — where he had fermented long-lasting friendships and evolved as a musician. Ezell's time in Dulan sparked his interest in Aboriginal issues like questions of identity, land rights and reconciling ancient tradition with the modern industrial economy. All of this is evident in his music which contains inflections of earthy tones infused with lyrics that hint at social issues.
Recalling his departure, Ezell says, "I had to disconnect from the people here in order to leave so I stopped seeing my friends; I wasn't going to be able to get out of here if I saw them and they asked me what was going on."
And so, Ezell left with a whisper rather than on a bang.
SNITCHY, SNITCHY
Ten years later and much of the situation surrounding foreign performers in Taiwan has remained nearly unchanged. The show goes on unless someone, usually an individual with a personal score to settle, reports to the police on a performer. A criminal investigation usually results.
Actress Mandy Roveda, who recently returned to Canada to work in Toronto's arts scene after living in Taiwan for over seven years, says all the foreign performers she knows "would happily follow the rules and do things legally if they could, but the process now is next to impossible for performers to complete," without an alien permanent residence certificate (APRC) or spousal visa.
Roveda, who also co-founded the Taipei Players, an English-language theater company in 2008, says she stayed in Taiwan all these years because she enjoyed being part of a great artistic community. The spunky actress is known for throwing lively cabarets where she brings together musicians, actors, comedians, magicians and burlesque dancers.
"Many people made friends and other 'acts' were born because of it," she says.
Live entertainment like this is under threat if laws regulating foreign performers are not relaxed a little. Roveda adds, "Most performers don't receive financial gain or anything other than pure joy … I think this is something that people, ie the government, do not understand."
As actor and singer Brandon Thompson says, "Foreign musicians are just the pawns in a much bigger game that is being played by live house owners and angry neighbors or landlords."
Thompson, who has a spousal visa and is the lead singer of the five-man band Adoga (阿逗仔), whose members hail from five different countries, adds that the police only seem to care "when the person who issued the complaint is relentless in hurting the venue and the musicians."
Fellow actor and professional ice hockey player and APRC-holder Stewart Glen agrees.
"The government doesn't move until someone snitches," he says.
Glen, who is represented by V&L International Models recalls the weekly jam sessions his friends held at Citizen Cain restaurant (now called Fourplay) in the early 2000s. Friendships were solidified and bands like Blind Acid Date (迷幻的瞎眼約會) were later created as a result of such gatherings. The musicians eventually had to take the jam underground though, moving their sessions to various friends' houses when irritated neighbors complained about the noise level.
Both Thompson and Glen say this problem has been going on for a while with sporadic checks every couple of years.
Glen suggests that young foreign artists who want to tell a joke or play a guitar for one night go through an agency like V&L International Models. He says it also boils down to the venues — some bars or restaurants couldn't be bothered to go through the convoluted application process. Nevertheless, Glen says, "I encourage people to go to an agency."
However, the process of constantly reapplying for a permit has proven too tedious for some.
"I was definitely not encouraged to stay," Roveda adds, echoing similar concerns Ezell did a decade ago.
UNITE, NOT DIVIDE
To say that foreign talent is being driven out would be an exaggeration. Positive but perhaps mundane everyday stories tend to fly under the radar simply because it's the sensationalized stories that sell papers and generate the most clicks.
Glen says that the art scene is mostly "collaborative and friendly — which is a huge contrast to the deadly politics you find in office culture in Taiwan." He attributes this to the young generation's ability to break free from the traditional mentality of rote-memorization and to think creatively and artistically.
There has certainly been collaboration between locals and expats in the entertainment industry in the past. Ezell's entire experience integrating and producing music with the Aboriginal community in Dulan is a prime example. Performances at the Sugar Factory, Ezell says, were "a convergence of diverse peoples, cultures and musicians, fusing into a unity of what I would call common human values embodied in songs, rhythm and dancing."
Thompson adds that he loves singing Mandarin songs for local audiences. If there is a divide between local and expat musicians, it's not necessarily language but more because of personal preference.
"Some of the most interesting people I meet are local metal lovers," he says. "Live houses and music remind me that we are all the same," he says.
Essentially, being a part of the entertainment scene has enabled many long-term expats to foster a sense of community and belonging while getting to know the local culture better. Fixating the discussion solely on a crackdown by law enforcement on foreigners performing only serves to pit Taiwanese against foreigners, when the reality is far from that.
What's wonderful about Taiwan's live entertainment scene is that it's all about the art. Artists perform because they love to create and share their art. Foreigners happen to be a part of the scene and there is (usually) no twisted or conniving plot beyond having a good time.
"The most luminous performances still happen in local bars, at people's houses, or on the beach, far from any microphone or commercial agenda," Ezell says.
We should also focus the discussion on these positive anecdotes because this way, others can learn just how rich and diverse Taiwan's arts and entertainment scene is — something totally underrated from an international standpoint where all the "juicy" news seem to revolve around delicious night market food, crazy political shenanigans or Taiwan's passive-aggressive relationship with China.
There's honestly no time for petty finger-pointing because at the end of the day, a house divided against itself cannot stand.
Comments will be moderated. Keep comments relevant to the article. Remarks containing abusive and obscene language, personal attacks of any kind or promotion will be removed and the user banned. Final decision will be at the discretion of the Taipei Times.