CD reviews
Broke With Expensive Taste, Azealia Banks, Caroline
A long public back story shouldn't eclipse the pleasures of Azealia Banks' debut album, Broke With Expensive Taste, which she released suddenly online on Nov. 6. Yes, she has been announcing the album since 2012. Yes, she has been signed to and dropped from a major label, Interscope, along the way. Yes, she has gotten into more than enough pointless squabbles on Twitter and in interviews. But for once in an era of celebrity via clickbait, notoriety doesn't stand in for substance. "I don't see no limits so I strive and I shine twice," she raps in "Ice Princess" — a wordplay extravaganza juggling diamonds, cold and coolness — and it's a boast she earns.
Since Banks made her first splash with the single 212 in 2011 — a song mingling confidence and career worries, which returns on this album — she has shown outsize skills as both a rapper and a singer, hurling breakneck rhymes between sultry choruses. She has also placed herself at a junction of hip-hop and dance music that understands both from the inside. Banks doesn't merely swap in the electronic dance music beat of the moment behind a hip-hop hook. She also hears the cultures behind them: ambitious, pugnacious, fashion-mad, campy, romantic and polymorphously raunchy. Punky, too.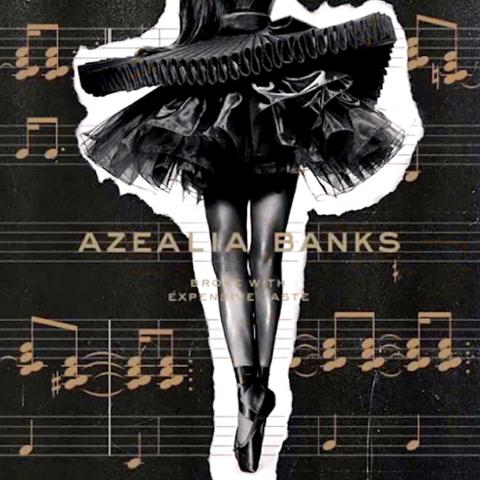 Broke With Expensive Taste, by Azealia Banks.
Most of all, she understands rhythms — house, trap, soul, techno, Latin — and she slings rhymes and melodies that fully engage them. If that carries her, at times, to the far fringes of intelligibility, all the merrier. In Idle Delilah, which breezes through various Caribbean-flavored house grooves, she rattles off: "They loving the mixed flavors, lift ya pink and clink/Something to sip, savor, made ya blink and think./Stay puffin' the piff, paper-making-hits ain't cheap!"
Banks leans toward pop on Chasing Time, a trance-tinged kiss-off that has her blithely singing, "I feel like spending my nights alone," and on Soda, a crisp house song about loneliness — I used to be your girl — and druggy consolations. But she has other concerns scattered through her lyrics: fame, globe-hopping, one-upping her amorous or musical competition, the job market and the designer labels she can't help mentioning (along with references, in two songs, to Anna Wintour of Vogue). She is also a savvy collaborator, whether she uses a lot of a borrowed track — as in the crisp, jazzy English garage of Desperado, with MJ Cole — or just the right snippets, as she does in the explosive buildup of BBD.
Broke With Expensive Taste (Caroline) culls Banks' pre-album releases. Along with 212, it includes Luxury from her 2012 mixtape Fantasea; Gimme a Chance, a reworked, merengue-tinged song from an earlier mixtape that has her singing and rapping in both Spanish and English; BBD, a brittle, trap-driven song that mentions both the R&B group Bell Biv DeVoe and what "bad bitches do"; and the brash 2013 single Yung Rapunxel, which stomps and screams and vows, "I wanna be free." She is.
Faith in Strangers, by Andy Stott.
— Jon Pareles, NY Times News Service
Faith in Strangers, Andy Stott, Modern Love
The flow of information in dance music is bottom-up: dancers, by the millions, are the teachers, and musicians, far less numerous, are the students. That results in strong rules for an art form — not millions of rules, but a much smaller number, consensual and sometimes tyrannical.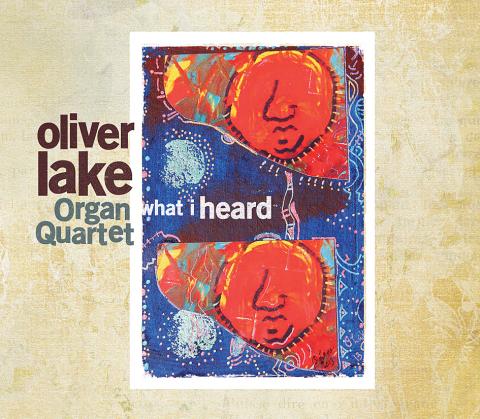 What I Heard, by Oliver Lake Organ Quartet.
But great things can come from stylishly forgetting the rules. Andy Stott, the electronic artist from Manchester, England, organized his template for forgetting two years ago with the album Luxury Problems, which pushed house music into slow, scratchy, smoky, spooky, vanguardist territory, with reverb and decay and infinite qualities of ugly beauty; it used the voice of his former piano teacher, Alison Skidmore, as a kind of muse. In general, his tracks build, but in strange directions, toward distortion or erasure. They pay off, but sometimes in currency you don't recognize.
On his new record, Faith in Strangers, the details are different but the achievement is similar. Skidmore is back, her voice both more beautiful and more decontextualized, almost disembodied. Soothing and rattling elements alternate or combine without warning. This is ambient techno, more or less, with the depth and weirdness of dub as a kind of background philosophy, or a code of mischief. But it's nice how inadequate all of those descriptors are for the sum of it.
The album begins with six minutes of multitracked long tones played on euphonium; it continues on a track called Violence with slow trap beats over various filterings to make Skidmore's confiding performance sound smudged and indirect. This is a weird, enticing netherworld sound, a land without markers.
There are analog drum machines, sampled industrial noises, a mellow repeated line played on bass guitar, the hiss from an analog mixing console. Deep into the record, hyper-syncopated house and jungle rhythms arrive and develop, over-modulated and curdling, for minutes at a time, with nothing much to frame them. What's going on? Why isn't the music changing or diverting? And here the listener receives another surprise: the realization that this is dance music after all, not necessarily an argument against it.
— Ben Ratliff, NY Times News Service
What I Heard, Oliver Lake Organ Quartet, Passin' Thru
Alto saxophonist and composer Oliver Lake has had a lot of experience wrangling avant-garde practice into an accessible product: It's one part of what he did in the late 1960s as a founder of the Black Artists Group, and an even bigger part of his mission with the World Saxophone Quartet, which he helped establish in 1977.
The conventions of the Hammond B-3 organ combo (a format still associated, by default if not by fiat, with the grit and grease of soul jazz) might seem too far a bridge for Lake to cross without disarming the pointed tensions in his style. But over the last decade or so, he has engaged those conventions on his own expressive terms. And without easing up on his other outlets — notably the collective Trio 3, which put out a strong album this year, and his big band, which had one last year — Lake has made the organ combo a core concern.
What I Heard is his third and best album to feature the perceptive young organist Jared Gold, who has an obvious connection to the Hammond B-3 legacy of Larry Young. Working with Freddie Hendrix, a trumpeter given to controlled combustion, and Chris Beck, an agile and assertive drummer, they manage to combine the robust energies of soul jazz with a more digressive, pugnacious and unsettled approach.
But of the album's nine compositions, all originally intended for use with a spoken-word poetry element, only a few muscle into the terrain of free jazz: notably Cyan, featuring a combative interplay between Lake and Hendrix, around which the drums and organ churn like so much ocean current. More common is the slant of a tune like Human Voice, with a restive melody tightly arranged for both horns, and a beat that shifts subtly underneath, or moves in lunges.
The opening track comes with a title, 6 & 3, that hints at some additive rhythmic concepts. The title track presents an even clearer illustration of that idea, with what feels like a swinging 11/4 meter, in alternating bars of 5/4 and 6/4. Lake isn't courting complexity for its own sake, and the same could be said of his interest in groove: Etc has hints of jaunty Caribbean rhythm, but it's still the sort of tune to keep every musician on his toes. That's a stance Lake has nearly perfected, and his partners here meet him well.
— Nate Chinen, NY Times News Service
Comments will be moderated. Keep comments relevant to the article. Remarks containing abusive and obscene language, personal attacks of any kind or promotion will be removed and the user banned. Final decision will be at the discretion of the Taipei Times.