Live Wire: Life Saver
"Music saved my life." It's been said so many times that it almost seems trite these days. Is it a statement of truth, or just a soundbite that looks good in a press release? We live in skeptical times, so when a musician utters those four oft-spoken words, the usual reaction is one that accompanies a shrug of the shoulders or a quizzical air.
But "music saved my life" doesn't have to ring true in the absolute literal sense, as in "music stopped me from killing myself," or "music got me off the streets and stopped me from catching a bullet." No, sometimes music saves lives by making those lives everything they were supposed to be, taking them out of whatever mire they may have been damned to wallow in, and pulling them toward a much different destiny.
That is how music saved the life of beatboxer and "Humanelectro" artist Ryo Fujimoto. The Kobe, Japan native endured the tragedy of losing a parent at a very young age, and it was a chance encounter, if there really is such a thing, with the medium of expression that would become his life that helped ease him from his unimaginable grief.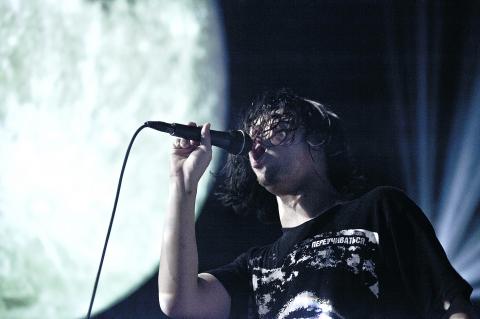 For beatboxer Ryo Fujimoto, music has had a transforming effect on him, and vice versa.
Photo Courtesy of Rina Kim
"When I was 14 years old, I watched some beatboxing with a cappella music on a TV program after my father died," he says of his first exposure to the art of making music with nothing more than man-made sounds. "Music saved my life. So, I start beatboxing since then."
Since he began delving into self-made sounds over a decade ago, Fujimoto has evolved into a beatboxer of an entirely different breed, incorporating electronic elements into his live and and recorded performances. His is a sound born of pure experimentation undertaken anytime, anywhere, regardless of his surroundings. The passion, it's safe to say, was and is all-consuming.
"I searched [for] sounds for a whole day," says Fujimoto of his early daily attempts to find his signature style. "I opened my mouth and practiced it all the time, everywhere. On a street, in a bedroom, in a restroom."
Most beatboxers keep things traditional in the sense that they simply use their mouth and speech organs to create your basic hip hop beats. It's an amazing feat as it is, but Fujimoto takes things several steps further, something he has done ever since his childhood days.
"I've liked adding different tastes to normal things since I was child. I beatboxed with a harmonica, folk instruments, a didgeridoo, a zampona, a paper cup. This is a very natural thing for me."
Of course he didn't stop there. Over time, Fujimoto's sonic fusion has leaped from the analog to the digital realm to the point where he has even developed his own custom-made electronic hardware which he incorporates into his live performances. That hardware is essentially comprised of various sensors attached to his body via nodes, and even a MIDI glove of his own design. Utilizing Leap Motion technology, the sensors track Fujimoto's natural electric signals, such as his heart rate and the movements of his muscles and digits. Those signals are then converted into both audio and visuals that pulsate along with the man-made and electronic music. The design of the MIDI glove and the subsequent Sigma Project in which it made its debut came about astonishingly quickly, Fujimoto says.
"Since I was successful in the expansion of the beatboxing, I next tried to extend the physicality and the human body with electronics. When I published a live Leap Motion performance on YouTube, Eddie Lee, who is an official developer of Leap Motion, contacted me. After that I called Takuma Nakata and Tsubasa Nakata, a hardware designer and a director. We created this work in a week."
Given his predilection to rapid change and advancement, it's no surprise that Fujimoto decided to switch up his surroundings in 2011, relocating to Berlin in search of more fertile creative ground. The year previous, he spent just a few days in the city, performing at a festival there. That was enough, however, to convince him that Berlin was where he needed to be.
"After I stayed a week in Berlin, I decided to emigrate. That's my intuition. I came back to Japan and got a flight ticket and visa immediately because I could feel good positive power in this city. I still live in Berlin and have many special experiences and meet good people. But my most important thing here, I could focus on creating."
Now Fujimoto is in the midst of a tour of Asia that will take him back to his homeland, and also to Taiwan for a series of shows in Taipei, Greater Taichung and Greater Kaohsiung. The visual spectacle alone, the chance to watch a man create music that really is a product of innovation in the truest sense of the word, is worth the price of admission alone. The obvious question he leaves behind is, what is he going to do next?
"My new project is working underwater," he says as as though the answer is standard musician boilerplate. After music has already saved your life, maybe you owe it a trip to some strange new places.
■ Ryo Fujimoto performs tonight at Revolver, 1-2, Roosevelt Road, Sec 1, Taipei City (台北市羅斯福路一段1-2號). Tickets are NT$400 at the door. Doors open at 7:30pm and the show begins at 8pm.
Comments will be moderated. Keep comments relevant to the article. Remarks containing abusive and obscene language, personal attacks of any kind or promotion will be removed and the user banned. Final decision will be at the discretion of the Taipei Times.