Walking old town Taipei
Taipei Walking Tour offers visitors and locals alike an opportunity to delve into the capital's history through a number of themed tours and workshops
In the midst of bustling Taipei lies a historical oasis where clusters of shops and homes are a reminder of what was once "the most important port in northern Taiwan." What might be a little-known piece of history to non-Taiwanese is set to change with a series of walking tours introducing the region that is offered in English and Japanese.
The tours are held by Taipei Walking Tour in the Dadaocheng (大稻埕) and Dalongdong (大龍峒) districts, about 10 minutes north of Taipei Railway Station by car. Throughout May and June, a number of themed tours and workshops on topics such as Taiwan's puppet culture, Xiahai City God Temple's (霞海城隍廟) daytime and nighttime processions, and a roadside banquet on Dihua Street (迪化街) will be offered for NT$200 and NT$400. The tours and workshops are held mostly on the weekends leading up to the festival at Taipei Xiahai City God Temple, beginning on June 8.
In the past two years, veteran interpreter Joey Ho (何良正) has witnessed a growing interest among young people in Taiwan's history.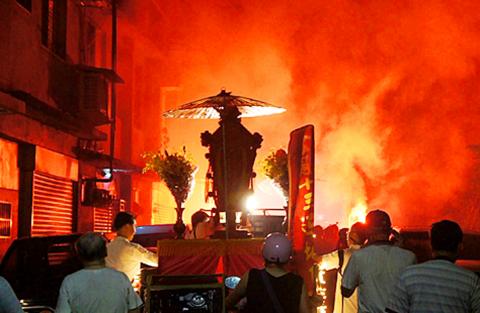 Believers carry a palanquin through the streets of Dadaocheng in this file photo.
Photo courtesy of Taipei Walking tour
"It could be the Internet that attracts young people to come and listen. Before, it seemed like young people weren't interested in history. But through our efforts, they are starting to be concerned about this place, Taiwan's history, its relics and old streets."
With roughly 20 people following tour guide Johnny Cheng (程華生), the Dadaocheng heritage tour began with a stroll under the red arcade facade reminiscent of European architecture. Many of these former shops were built in the late 19th century, which coincided with Japanese occupation of Taiwan from 1895 to 1945. As a result of the marriage of European-Baroque, Japanese and Minnan (Southern Fujian) architectural styles, the buildings lining the streets are distinctly unique to Taiwan.
Prior to the tour, Kelly Hsiao (蕭凌雲) said she knew little about Dadaocheng's history as a prosperous riverside town. Hsiao runs a hostel and was looking for recommendations to travelers other than the usual shopping and night market experience.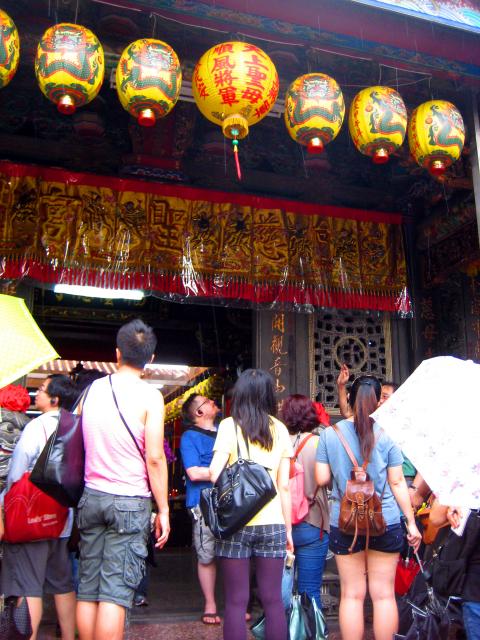 People on the Dadaocheng walking tour stand outside Ci Sheng Temple.
Photo: Jenny Peng
"When you visit Europe [and] stay in a hostel, they provide so many free tours or walking tours... [B]ut in Taiwan... we don't have so many local activities to join for foreigners."
Hsiao doesn't know any other English-language walking tours available, and she thought it was "sad" that Taiwan's history wasn't easily accessible to non-Taiwanese.
One of the surprise stopovers was a tour led by a descendant of Lin Lan-tian (林藍田), one of Dadaocheng's first settlers. Lin's residence, built in the mid-1850s, is an example of Minnan architecture, designed for doing business. It's unusually long depth is broken up into three sections. Supplies would arrive in the rear, while living corridors were in the middle and the front was a shop.
"It's a legacy," said Scott Lin (林宗志). "The spirit and wisdom of that legacy is something we're trying to pass on to future generations."
Although Scott Lin's ancestors made a living selling mixed goods and offering fortune telling services, the shop has become a modern tea house, hinting at Dadaocheng's past as a renowned tea processing center. Today, however, dried goods and Chinese herbal medicine are the two most common businesses in the neighborhood, according to Cheng.
The two-hour tour also included stopovers at Ci Sheng Temple (慈聖宮) and Xia Hai City God Temple.
Though attracting non-Taiwanese was the original goal of organizers, the majority of participants on Sunday were Taiwanese.
Yang Jei (楊乃傑) said he enjoyed the tour.
"I am Taiwanese, but I never knew this part of our history."
For comprehensive information about the tours in Chinese, Japanese and English, visit: www.taipei-walkingtour.tw.
Comments will be moderated. Keep comments relevant to the article. Remarks containing abusive and obscene language, personal attacks of any kind or promotion will be removed and the user banned. Final decision will be at the discretion of the Taipei Times.