Sports theater
To celebrate the opening of its first theater, Guts Improv Theater has put together a series of shows that turns theater into a competition
Two opposing teams take the stage, ready to compete. A player from one team steps forward, seeking suggestions from the audience for a scene in which a death is involved.
"I hear mental hospital. I hear sex scene. Okay, I will take the mental hospital," the player says, and proceeds, along with her team to create a 60-second show, which draws considerable laughter from the full-house audience. They won the round.
It was one of the several improvisational skits performed by actors from the Guts Improv Theater (勇氣即興劇場) last Friday at the company's newly opened theater. This type of performance is called Theatersports, an invention of Keith Johnstone, a British pioneer of improvisational theater, which combines the format of a competition with theatrical performance.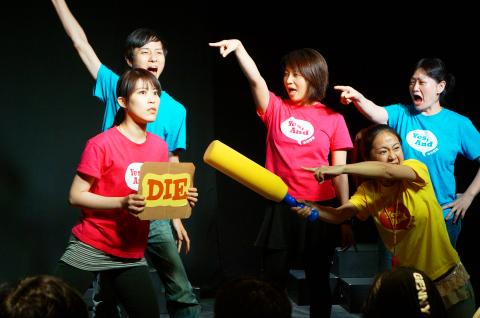 Improvisers compete at games of Theatersports.
Photo courtesy of Guts Improv Theater
There are several ground rules: no props and costume. Players need to make up stuff and create scenes spontaneously based on audience suggestions. There are also rules for each improvisational game. For example, one of the games played last Friday saw the players weaving together a story using disconnected lines suggested by the audience, including "come here, you," "these problems are not real problems" and "under the banyan tree by the road."
Like a sports game, audience engagement is also highly valued. Ways to participate include rating performances by clapping or yelling "die" to eliminate a stammering player from a game that involves members taking turn to compose a story by adding sentences.
"When I first encountered theatersports, I thought it was great fun and it challenged my theater experience. You see a group of actors on stage trying so hard to connect with those in the audience. It is spontaneous and amusing," says Wu Hsiao-hsien (吳效賢), founder of Guts Improv Theater, which is a member of the International Theatersports Institute and holds a license to produce games of theatersports.
Setting up the company in 2004 shortly after returning to Taipei from her internship at BATS Improv, a center for improvisational theater based in San Francisco, Wu held workshops to teach improv skills before producing the troupe's debut show in 2006. One reason is that improv theater is a little-known genre in Taiwan. Even trained actors need to learn the skills of improvisation.
"Given a prepared script, character and direction, an actor's main responsibility is to act accordingly; on the other hand, as improvisers, our job is to act, direct and script at the same time. And we must create the characters, dialogue, action and the story collaboratively with other improvisers on stage," Wu explains.
For Wu, improv is a form of theater that reflects life itself, unpredictable, ever-changing and without a script; its guiding principles can easily go beyond the circle of performing art and into everyday life.
"In Taiwan's education, there is little emphasis on team work. We take tests and are taught that results are what matter. We don't do well when it comes to helping each other out. At workshops, we use various improv games and training to emphasize processes during which failures are treated as new possibilities. It is about accepting, supporting and relying on each other. To me, it is a wonderful thing," she says.
Apart from theatersports performance, the troupe also produces improvisational musicals as well as short-form and long-form works of improvisation. For those interested in learning improvisation, various types of workshops are on offer on a regular basis. More information can be obtained at the company's Web site at www.gutsimprov.com.
Publication Notes
Performance notes
What: Theatersports
Where: Guts Improv Mainstage (勇氣即興主舞台), 3, Ln 139, Chengde Rd Sec 2, Taipei City (台北市承德路二段139巷3號)
When: Tomorrow, Saturday, April 25 and April 26 at 8pm, April 27 at 3pm and 8pm
Tickets: NT$400 in advance, available at NTCH ticketing outlets and online through www.artsticket.com.tw; NT$450 at the door
On the net: gutsimprov.com
Comments will be moderated. Keep comments relevant to the article. Remarks containing abusive and obscene language, personal attacks of any kind or promotion will be removed and the user banned. Final decision will be at the discretion of the Taipei Times.