Shaping history into legend
Wei Te-sheng talks about 'Kano' and his view of Taiwan's history
A box-office hit that's broken the mark of NT$200 million since it opened three weeks ago, Kano has generated as much enthusiasm as heated debate over its story about a ragtag baseball team composed of Japanese, Han Chinese and Aboriginal boys in Chiayi overcoming odds to earn honors and respect at Japan's prestigious Koshien championship in 1931. While supporters praise its rosy portrait of multiethnic harmony during the period of Japanese colonial rule, a piece of Taiwan's history suppressed under the early Chinese Nationalist Party regime, some critics are irked by what they call a glorification of the Japanese benevolence, embodied by the characters of Japanese coach Kondo and the avuncular Yoichi Hatta, a Japanese architect who built the Chianan Irrigation System (嘉南大圳).
To Wei Te-sheng (魏德聖), who co-wrote and produced the film, Kano does not encourage viewers to espouse a political viewpoint, but urges them on to rediscover and reconcile with the past.
"When we face our past, we often choose to flee, so as to conceal our inferiority complex. But it is not our fault that we have experienced that era. Should we be critical of our ancestors because they lived through that particular point in history?" Wei asks rhetorically. "My thinking is that, hopefully through history, I can learn more about myself."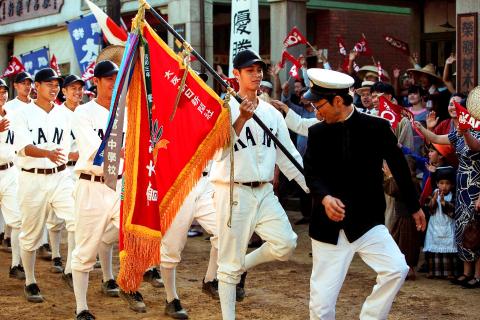 Umin Boya, Kano.
Photo courtesy of ARS Film Production.
ON TAIWANESE IDENTITY
As a director, Wei is no stranger to big emotions and historical grandeur.
From Cape No. 7 (海角七號, 2008) to Warriors of the Rainbow: Seediq Bale (賽德克巴萊, 2011), Japan's half-century of colonial rule from 1895 to 1945 provides the backbone and inspiration for Wei's oeuvre that centers on individuals and how their lives are shaped by the particular moments in history they live in. It is in this context that Kano, while beautifully directed by Umin Boya (馬志翔), is viewed by critics as the latest installment of Wei's cinematic exploration of the country's colonial roots.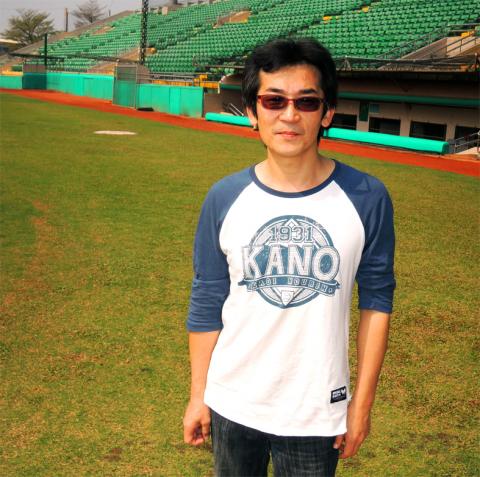 Wei Te-sheng, producer and co-writer of Kano.
Photo: Ting Wei-chieh, Taipei Times
Based on a true story that Wei came across when researching the 1930 Wushe Incident (霧社事件) for Seediq Bale, Kano is set one year after the Seediq Aborigines' bloody uprising against imperial authorities. The two films can in fact be read as a complementary pair, as they look at different aspects of the colonial experience. On the one hand, Japanese colonialism represents a destructive force to the Aboriginal tradition and way of life; on the other, it brings the benefits of modernity to its colonial subjects.
Wei says it is not his intention to build up a series about the Japanese era, but agrees that the films, when put together, offer a relatively complete profile of that time in history.
While the Wushe Incident is a tragic product of hatred and oppression, Kano speaks of a rather stable time when the society started to open up to Western ideas and culture and "people learned to wear suits and dresses, drink coffee, listen to music and dance."
"It was Taiwan's teenage years. What is its rebellion? And what is its passion? We will have to understand that in order to understand each other and ourselves," he muses.
ON BUILDING A FILM INDUSTRY
Wei is a man who dares to dream big and who has the determination and acumen to make it happen. The director had put NT$50 million, most of which came from a personal loan, into making Cape No. 7 when there was virtually no market for local productions. He also started shooting Seediq Bale, which cost NT$700 million to produce, before securing funding.
Asked what he thinks is the biggest impact he and his team have made on Taiwan's film industry, Wei says it is the spirit of breaking limits, in terms of budget size and technical complexity.
"We have done what others don't dare to do. People say we [the industry] are not mature enough so we shouldn't attempt to do something so enormous and complicated. But we have to get started and get our hands dirty in order to grow and become mature. If we lack skills and capability, we learn through actually making films."
The director also points out that his production crew, small and disorganized on the set of Cape No. 7, grew to become an expert team of over 300 members during the making of Seediq Bale. Many crew members went on to work on the set of Ang Lee's (李安) Life of Pi in Greater Taichung and came back to make Kano with the experience of collaborating with professionals from Hollywood. Such training and working experiences are an important step toward a sound film industry, the 45-year-old director notes.
But an industry also needs a market to thrive.
"We need to make more effort to let Taiwanese audience accept Taiwanese films and see that they are polished and refined," he says.
However, audiences probably won't see another film about Japanese rule come from Wei again.
"If I do one more, I will be labeled a traitor. It seems that every time [I] talk about it [the colonial past], it is all about glorifying Japan," he jokes.
GOING BACK TO THE BEGINNING
The specter of Japan will indeed recede in Wei's next project — a trilogy, to be exact. The filmmaker's gaze will move further back in time to the early 17th century, when the Netherlands and Spain established control of an island where Aborigines once freely roamed, heralding a succession of rulers including Ming general Cheng Cheng-kung (鄭成功), the Qing Empire, Imperial Japan and Chiang Kai-shek (蔣介石).
The inspiration comes from Dao Feng Nei Hai (倒風內海), Taiwanese writer Wang Chia-hsiang's (王家祥) 1997 novel that looks at 17th-century Taiwan through the eyes of a Siraya Aboriginal hunter.
Wei stumbled across the book during his research for the Wushe Incident. Two years after putting the story of Seediq Bale into words in 1999, he finished the script for the trilogy, which is told from the different perspectives of Siraya Aborigines, the Han Chinese and the Dutch. Much more epic in scale than anything the director has previously done, the project is something that Wei feels propelled to do and is determined to realize.
"I want to talk about Taiwan's infancy, about the moment it was born, what it looked like, how it cried and felt the pain of coming out of the womb, and the joy of discovering a new world," he says.
Comments will be moderated. Keep comments relevant to the article. Remarks containing abusive and obscene language, personal attacks of any kind or promotion will be removed and the user banned. Final decision will be at the discretion of the Taipei Times.