What's up pussycat?
Grumpy Cat, Keyboard Cat and other felines are helping cats (and their owners) build careers on and off YouTube
The economy of internet cat videos? Yes, it's a real thing. The Internet Cat Video Festival? Another real thing. A "meme manager" whose job is to build online brands for Keyboard Cat, Nyan Cat and Grumpy Cat? Oh yes, he's real too.
Funny cat videos were a thing long before YouTube, but cats of all shapes, sizes and degrees of grumpiness have become one of the defining content categories on Google's video service.
A panel session at the SXSW conference (film, interactive, and music festivals) in Texas, last weekend dug into some of the business aspects around this phenomenon, helmed by Scott Stulen, curator of the Internet Cat Video Festival — a traveling jamboree of feline videos which sold 11,000 tickets at last year's Minnesota State Fair — 3,000 more than Depeche Mode.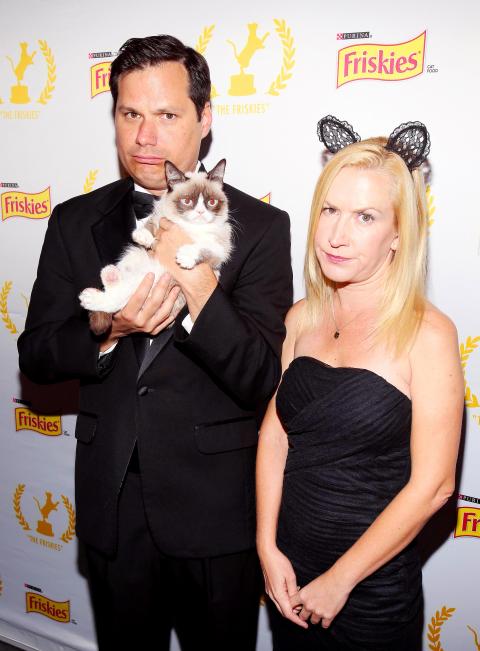 Michael Ian Black poses with Grumpy Cat at The Friskies 2013 at Arena NYC last October in New York City. Netizens are going nuts over videos posted on YouTube of cats doing goofy things.
Photo: AFP
The festival has since toured the US, and popped up in Vienna, Jerusalem and Derry. "At each of these events, people showed up their passion for cat videos," said Stulen, who stressed that the festival itself is a "break-even" event. "It basically just pays for itself, and that's been the intent from the beginning."
Stulen was joined on the panel by Will Braden, creator of YouTube channel Henri le Chat Noir, a series of moody "existential" videos shot in black and white which has notched up more than 7.2 million views, plus another 10.9 million views for the first two videos on Braden's personal channel.
"In no way did I ever think this was going to be a career, or any money was going to come out of it," said Braden, who posted the first Henri video six years ago.
"I just thought how exciting it was that I was getting millions of views for this video."
Braden makes money in two ways: from advertising revenues on YouTube, and then income from spin-off products including a book — subtitle: The Existential Musings of an Angst-Filled Cat — and an online merchandise store.
The book was pitched to publishers using a combination of analytics from YouTube and Facebook. "Now, a lot of the guesswork is taken away: you can come to a publisher and say I have this many followers, here's where they live, here's how old they are, all of that," said Braden.
"It changes the way a publisher has to take a risk on a book. If one percent of all of the people who are your friend on Facebook buy this book, we make our money back."
Henri's Facebook page has more than 153,000 Likes at the time of writing, while mugs with his most popular slogans on are doing good business from his official store. "God knows why people want to take a mug into work saying 'I'm surrounded by morons.' That seems a little antagonistic to me," chuckled Braden.
MONITISING THAT PUSSYCAT
He went into more detail on the economics of Henri's popularity on YouTube, noting that it is "a smaller part of the revenue than people think, but also incredibly complex."
He noted that many cat videos that have gone viral — even those with 100 million views or more — make no money at all unless their creator has a "monetized YouTube account" to place ads around their videos and make money from them. The next tier of financial reward comes from securing a YouTube partner account.
With a monetized account "you might get a dollar or two dollars per thousand views, but if you have a YouTube partner account you can easily double that, and get up to six maybe," said Braden, before showing analytics suggesting that because Henri attracts a disproportionately female audience compared to general YouTube viewership, the channel is more valuable.
"Henri goes all the way up to US$10 on a CPM. This is really high. It doesn't mean I'm rich, but compared to a lot of things on YouTube, this is a very select and very specific audience," he said, while warning that success has been a matter of trial and error.
"There really is no blueprint in a lot of ways to make something like this work. All of us, every success we have or every mistake we make, we're collecting data for the next guy or gal."
Remember that "meme manager" mentioned earlier? That's Ben Lashes, who switched a job as a professional musician for a role managing the careers of a number of cat brands and other YouTube characters. His first client was musical mog Keyboard Cat and its owner Charlie Schmidt in 2010.
"He calls me up and says 'I don't know what to do, I've got this video that's blowing up the internet'," he said. "So we talked about it for an hour straight. I'm a pop culture geek, and saw Keyboard Cat as like any musician that had recorded a song and woken up with a hit song on the radio."
That original video has been watched nearly 34.6 million times, while the dedicated channel launched by Schmidt and Lashes has accumulated another 58 million views since 2007, leading Lashes to his second client, Chris Torres — creator of the Nyan Cat meme, which started life as a YouTube video in 2011.
"It hit this new level of mainstream where all of a sudden a new level of people were understanding what cat videos were. The calls we were getting from merchandising were on a different level," he said. "We had a legit toy company come and make Nyan Cat toys."
Grumpy Cat followed in 2012: a kitten who shot to internet fame — initially on Reddit and subsequently on YouTube — on the strength of its naturally unimpressed face. Its official channel now has just under 155,000 subscribers and 25.4 million views.
As with Henri, the real money has been generated offline, including a spin-off book, public appearances and endorsements — including the announcement this week that Grumpy Cat is the face of cat-food brand Friskies' latest seafood product.
The book? "This week it's in its 10th week on the New York Times bestseller list, almost nine months after it came out," said Lashes. "The second one comes out in July and Grumpy could care less."
He suggested that the audience fuelling this demand is large but also diverse. "It isn't just the crazy cat ladies, although they're there in droves. It's the six year-olds chanting the name of their favorite cats. It's the hipsters there smoking cigarettes, hip-hop dudes, country dudes it is the kind of thing where you have to learn to make everybody happy," he said.
"There's an evolution of the crazy cat lady," agreed fellow panelist Grace Suriel, director of social media for TV channel Animal Planet, which has been eagerly joining the cat videos bandwagon in recent years. "From all walks of life, people have cat dresses, cat tattoos it's a whole new breed of cat person."
A GENEROUS BREED
There's a strong charitable aspect to many of the businesses built around cat videos, from Stulen's festival raising "tens of thousands of dollars" for animal charities, through to Friskies donating meals to cat shelters every time people tweet its promotional hashtag during SXSW this week.
"The audience is not only very generous, but very aware of problems with feral cats, and the money needed for shelters and things like that," said Braden. "Charity is not just the ethical thing to do, it's good business. Every time I was able to say '10 percent of X product goes to charity' you'd sell 20 percent more."
The SXSW session included a clear demonstration of the appeal of internet cat video stars — at least to an audience attending a panel discussion of internet cat videos — when Grumpy Cat appeared with her owner.
Cue a quarter of the audience (at least) scrambling into one corner, smartphones or tablets in hand for shareable shots while the panelists tried to continue holding the attention of the rest of the room with a key question: what is it about cats that has made them so popular on YouTube?
"Everybody just loves cats," said Braden. "I just think it has a particular niche and a particular power, because it harnesses such a lot of what people like online. It's funny, but it also has the 'aw that's cute' thing."
"I almost see it as a reaction culturally against all the stuff that people have been feeding you for years, now that the power is in the masses' hands," added Lashes. "You don't have to listen to Warner Brothers any more. 'I'm into this cat, so suck it!' It's almost like sticking it to The Man. 'I'm going to buy a cat shirt.'"
Stulen warned that what doesn't work are videos that are too self-consciously trying to go viral, before asking his fellow panelists what the future holds for this particular category of online content.
Suriel predicted evolution as more television brands get involved. "Will there be a cat video channel someday? I can definitely see that happening," she said. "It's just going to keep moving."
"What's been incredible is the people. Really incredible people to work with, and that's what's behind anything good like this: people whose intentions are genuine," added Stulen. "The future is bright as long as those things are in place."
Meanwhile, Lashes warned doubters that cat videos are unlikely to fall out of fashion in the near future. "With cat videos or Justin Bieber records or a movie that comes out next week, there's always that question: 'is this going to be cool tomorrow, is this going to be the hot thing next week?'" he said.
"Sometimes you keep asking these questions and realize hang on, that was 10 years ago we started asking that question. As long as you keep it legit and keep fans happy, that can go on forever."
Comments will be moderated. Keep comments relevant to the article. Remarks containing abusive and obscene language, personal attacks of any kind or promotion will be removed and the user banned. Final decision will be at the discretion of the Taipei Times.