Review: Dancing on the safe side
Last Saturday's Dance Round Table and 'Spring Ritual · Eulogy' were pretty, but lacking in verve
I was only able to catch one of the Dance Round Table/New Asian Inspiration (圓桌舞蹈計畫/亞裔新思維) programs at Huashan 1914 Creative Park over the weekend, which was disappointing because there were three very different shows on offer.
The program I saw — Round Table Dance Project II at 5pm last Saturday — featured works by up-and-coming choreographers Wally Hsu (許程崴), a graduate student at the Taipei National University of the Arts; National Taiwan University of Arts student Chen Yi-en (陳逸恩) and graduate Huang Huai-te (黃懷德).
Chen's piece Count to 3 featured dancers Lin Hsiu-yu (林修瑜), Hung Pei-yu (洪佩瑜) and Wang Chu-hua (王筑樺).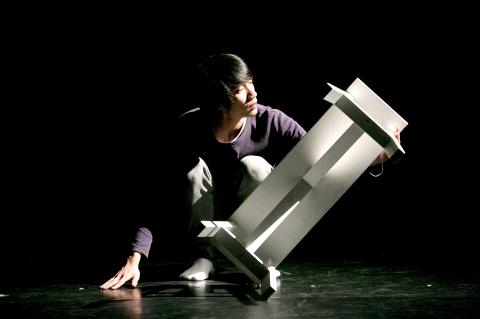 Young Taiwanese choreographer Huang Huai-te was among the artists featured in Dance Round Table/New Asian Inspiration at Huashan 1914 Creative Park last weekend. Huang performed his solo, I Had a Chair.
Photo courtesy of T.T.C.Dance
Hsu's A Wonder Place was a duet that he danced with Wu Ping-cheng (吳秉錚) and that included a nice solo for himself.
Huang's I Had a Chair actually saw him paired with a small white wooden bench and was the briefest of the lot, though he packed a lot in. It reminded me of the sly humor associated with the all-male troupe Horse (驫舞劇場), which Huang has worked with.
The three pieces were well-done and ably danced, but their creators played it too conventional and safe. For a forum that was billed as a chance for choreographers of different nations and generations to interact and collaborate, I expected to see work that was a little more experimental, a little more outre.
Nice, but safe would also sum up the Hong Kong Dance Company's (香港舞蹈團) Spring Ritual · Eulogy (蘭亭‧祭姪).
Saturday night was the company's second performance at Novel Hall and it drew a rather large crowd.
Choreographed by the troupe's acting artistic director, Yang Yuntao (楊雲濤), the production is a tribute to two of the most celebrated Chinese calligraphers and their most famous works. The first half, Spring Ritual, was inspired by Wang Xizhi's (王羲之) Preface to the Orchid Pavilion (蘭亭集序), and Yuan Shenglun (袁勝倫) danced the role of Wang Xizhi, getting tipsier as the piece went on, appropriately for a poet writing about an evening spent drinking and composing poetry with friends.
The second work, Eulogy (祭姪), drew on Yan Zhenqing's (顏真卿) Eulogy for a Nephew (祭姪文稿), with Huang Lei (黃磊) — complete with long gray hair and beard — dancing the role of Yan.
Both leads were great, though Huang had the meatier role, and the company is filled with fine dancers. However, it seemed that Yang often relied on beautiful trailing robes (the first dance) and melodramatic music and lighting (the second) to keep the audience's attention.
Large black rocks also played a key role as set decoration, with Spring Ritual opening with seven dancers posed on top of a rock and then gracefully moving around it, while for Eulogy, a huge boulder — perhaps the same rock — hung menacingly above the front of the stage before being slowly lowered during the denouement.
The show won this year's Hong Kong Dance Award for Outstanding Achievement in production, and I hope that was a tribute to its set designer, who filled the white backdrop of the first half with beautiful images of characters, some as faint as a wispy cloud before dissolving, while the second, doom-laden piece features lots of dark lighting, and pages of blackened paper drifting down from the eaves to convey the death and destruction of war.
Comments will be moderated. Keep comments relevant to the article. Remarks containing abusive and obscene language, personal attacks of any kind or promotion will be removed and the user banned. Final decision will be at the discretion of the Taipei Times.