Triumph of the 'zhainan'
The nerd gets the girl in a romantic comedy with an offbeat ending
Nerdy, homebound and unpopular, a zhainan (宅男) is given a chance to strike back in Campus Confidential (愛情無全順), a romantic comedy about a computer nerd who gets the girl of his dreams. For the most part, the film follows the conventions of a good-natured, fun and innocent romance. It suddenly surprises at the end, however, with a revelation of the manipulative side of love that reads like a premise for a totally different movie.
Narrated by protagonist Kiki Liang (Ivy Chen, 陳意涵), a pretty college girl who everybody adores, the film opens with Kiki declaiming her dislike of zhainan, providing a good introduction to the stereotypical traits of zhainan for those unfamiliar with the Taiwanese version of the Japanese otaku. They are obsessed with solitary pursuits such as computers and online games, devoid of the ability to relate to other people and have problems with personal hygiene, as Kiki proclaims on her Facebook page. The messages go viral, turning her goddess status in the zhainan circle into that of the nerds' common enemy.
But Kiki could care less, for she has a perfect boyfriend named Chang Sheng (Chiang Kang-che, 姜康哲), who is a straight-A medical school student and an ace athlete.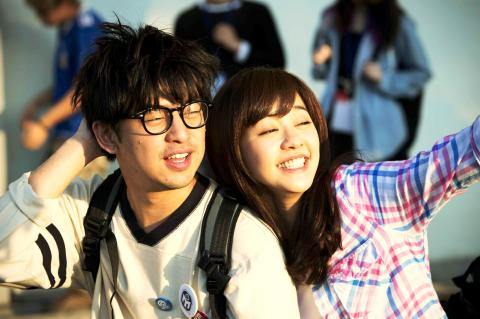 Campus Confidential has a well-chosen cast including pop idols Ivy Chen, right, and Chen Bo-li.
Photo courtesy of Vie Vision Pictures
One day, Kiki walks past a lake on campus, and as if by the freakish act of nature, the water suddenly dries up. She slips in the mud and collides into Lucky Wu, played by the almost unrecognizable Chen Bo-lin (陳柏霖), an introverted computer genius who embodies not one but all characteristics of zhainan. The next day, everybody on campus has learned about the legend of Lake Ju, which foretells that if a man and a woman meet on the day when Lake Ju mysteriously dries up, they are destined to fall in love with each other.
Refusing to believe the prophecy, Kiki decides to carry out her own investigation into the legend with the help of her roommate Mei-shue (Kuo Shu-yao, 郭書瑤), but all facts point to the conclusion that she should not fight against her destiny and accept her fated true love. Meanwhile, the divination seems to be working as the girl starts to bump into Lucky everywhere she goes; gradually, she discovers and falls for the zhainan's kindness and inner beauty. The belle and the zhainan are finally together and live happily ever after — that is, until the heroine realizes that their tale of true love is all part of an elaborate scheme made possible by a brilliant scientific mind.
Technically smooth and with a well-chosen cast, Campus Confidential provides a 100 minutes of entertainment filled with breezy humor that plays off stereotypes about nerds and makes them cute and endearing. As their filmic representative, idol Chen Bo-lin hands in a likable performance as a withdrawn nerd with glasses and acne. But the trouble arises when he is uncovered as the mastermind behind the manipulative scheme to win the heart of the young woman. This outcome is something completely out of character for both lovers and comes as an unexpected, last-minute revelation — an afterthought left underdeveloped and unexplained.
In other words, the attempt to inject something new and different into the worn-out genre is good, but the filmmakers fail to weave good ideas into a coherent story.
As for the girl, she has learned her lesson about not judging people by their appearance and realizes that the fairy tale of finding one's destined true love is well, a fairy tale. For now, she is willing to settle in a manipulative relationship called love.
Publication Notes
Film notes
Campus Confidential
(愛情無全順)
Directed by Lai Chun-yu (賴俊羽)
Starring: Ivy Chen (陳意涵) as Kiki Liang, Chen Bo-lin (陳柏霖) as Lucky Wu, Kuo Shu-yao (郭書瑤) as Mei-shue, Chiang Kang-che (姜康哲) as Chang Sheng
Running time: 101 minutes
Language: Mandarin with Chinese and English subtitles
Taiwan release: Today
Comments will be moderated. Keep comments relevant to the article. Remarks containing abusive and obscene language, personal attacks of any kind or promotion will be removed and the user banned. Final decision will be at the discretion of the Taipei Times.