Big brother is watching
Activists throughout Taiwan are concerned that the NSB is keeping tabs on them with a list similar to that used for hardened criminals
Lala Lin (林羿含) says she has never stolen anything in her life and always obeys traffic laws. But thanks to a police officer's slip of the tongue, she recently found out that she is on a "risky offenders" watch list, the kind used to monitor Taiwan's most dangerous criminals.
Lin says the police officer in question visited her family home in Greater Tainan's Sinying District (新營) a month ago. "My dad answered the door, and a police officer, seemingly clueless, asked if he knew what I did because I was on their watch list," says the 25-year-old rock singer, who wasn't home at the time.
According to the Police Duties Enforcement Act (警察職權行使法), convicts who commit major crimes — murder, rape, kidnapping or robbery — are listed as risky offenders (治安顧慮人口) for a certain period of time after they are released from prison so that local police can keep tabs on them.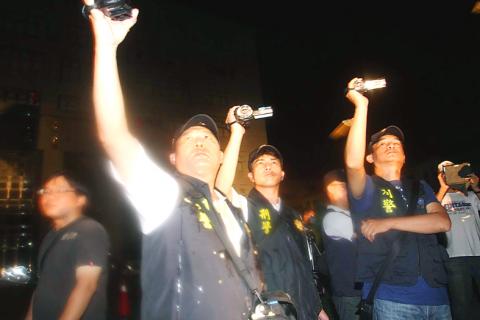 Police officers film a protest in front of the Miaoli County government on Aug. 18.
Photo: TT
So what exactly did Lin do wrong?
She isn't too certain, but it could have something to do with a rally she attended and performed at in front of the Miaoli County Government on Aug. 16 to protest the forced demolition of private homes in Dapu Borough (大埔), as well as other development projects across the country. A month earlier, she was arrested for filming three other protestors splashing paint on the residence of Miaoli County Commissioner Liu Cheng-hung's (劉政鴻) in Houlong Township (後龍), after the politician unexpectedly sent in police-escorted demolition squads to tear down four houses in Dapu. The four activists were accused of defamation of a government institution and destruction of private property.
The charges were later dropped.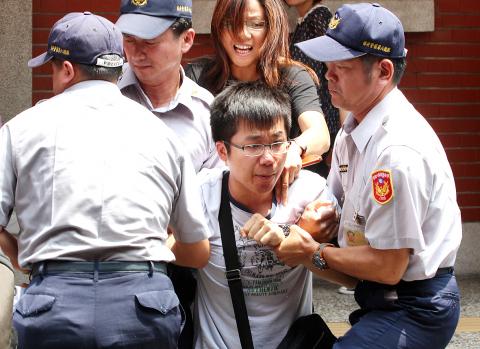 A protester is escorted away by police — an all too common sight in Taiwan over the past three months.
Photo: TT
"I am scared, but I chose to come forward since it isn't just about me. Many people are monitored by the government," Lin says.
INTIMIDATION
Lin is not the only one who has been visited by police. Having participated in the Dapu protests and against wind turbines in Yuanli Township (苑裡), Miaoli County, university student Hsu En-en (許恩恩) says that last month a police officer went to her parent's home in Fengshan (鳳山), Greater Kaohsiung, and told her mother that she had participated in demonstrations and had previously been arrested. Hsu wasn't home at the time.
"The officer told my mom that she should contact my school and pay more attention to what I have been doing," says Hsu, who studies at National Taipei University in New Taipei City.
But the police officer didn't have the correct facts. While he told Hsu's mother that her daughter was arrested for protesting in Dapu in May, she was actually arrested for attempting to stop the construction work of wind turbines in Yuanli in April.
Hsu feels the visit by the police is meant to be a warning.
"My mom had an emotional breakdown ... I am afraid to go home still," she says. "I have stopped doing things that are dangerous or provocative."
GOVERNMENT RESPONSE
Days after the officer visited the Lin household, Democratic Progressive Party (DPP) Legislator Chen Chi-mai (陳其邁) and other lawmakers held a joint press conference. They alleged that hundreds of students, academics and activists involved in protests over land expropriation in Dapu have been monitored by the National Security Bureau's (NSB, 國家安全局) third department (第三處), which is in charge of the nation's homeland security and intelligence work.
In response, the NSB issued a brief press release denying the accusations. Deputy Director-General Lin Kuo-tung (林國棟) of the National Police Agency (NPA, 警政署) also denied that Lala Lin was listed as a "risky offender," justifying the visit to her home as part of efforts by police to reach out to the public through "direct communication" (熱線接觸).
However, when asked by the Taipei Times, Chen's assistant, Chiang Chao-kuo (江肇國), said that "direct communication" was part of the police's surveillance duties during the Martial Law era, and no longer exists today.
When asked about their visit to the musician's home, the Tainan City Government Police Bureau's (台南市政府警察局) regional office in Sinying said they wouldn't "reveal the reason why Lala Lin is on the watch list" — the existence of which is denied by the NSB — for fear of violating the Personal Information Protection Act (個人資料保護法).
But she is not a risky offender, the office stresses, adding that it is also part of the police's duties to regularly visit households that have missing persons, high-school drop-outs and senior citizens who live alone. But Lala Lin is not one of these people.
The office also says Lala Lin is not a "special case." The officers simply followed the "standard operating procedure which is the same nation-wide" by visiting her household after receiving "data from the NPA," without knowing beforehand her involvement in the Dapu protests.
Central government agencies, meanwhile, are keeping a tight lip. When contacted by the Taipei Times, the NSB and the NPA declined to comment if there is a watch list for protesters.
For legislator Chen, there are very few, let alone effective, ways to stop intelligence services from conducting unlawful surveillance operations.
"Anything related to intelligence and national security usually operates behind closed doors. You ask for information from them. They have it at hand, but they will tell you no, they don't have it," he says.
THE LIST
Chen told the Taipei Times that Lala Lin's case represents only a tiny fraction of a broader surveillance project that was initiated after the forced demolition in Miaoli on July 18 triggered a wave of street protests against President Ma Ying-jeou (馬英九), Vice President Wu Den-yih (吳敦義), Premier Jiang Yi-huah (江宜樺) and commissioner Liu. He added that he hasn't seen the list of those under surveillance, but knows who is on it from an anonymous source.
The legislator believes that the order to compile the watch list comes from "high above," since the NSB is under the supervision of the National Security Council (國家安全會議), which is under the direct command of the president.
Chen, who served as deputy secretary-general of the Presidential Office in 2007 and 2008, says he is familiar with "how things are done" at the Presidential Office.
"People often protested [when the DPP administration was in power], but we never kept students under surveillance ... It is not that you can't monitor people. What matters is whom you monitor and using what means. And is it legal?" Chen says.
The lawmaker says it is standard practice for the intelligence services to collect information, compile lists of individuals who may pose a security threat to the president and other high-ranking government officials when they travel domestically. He said gangsters and other "suspicious individuals" are examples of those who can be monitored by law enforcement.
"But the list has now expanded to include students, activists and other protestors. It [the NSB] transgresses the law by denying the public's freedom of speech and right to assembly," Chen says.
YOU ARE BEING WATCHED
Government surveillance of activists and protesters is considered an open secret among activists, though they lack concrete evidence to prove it. Ask around at any of the demonstrations that have been taking place throughout the nation over the past six months, and protesters will tell you they never discuss important matters over the phone or on Facebook. "Targeted" activists always hear static, echoes, hissing and other noises on their mobile phones prior to and after big events and demonstrations. Reception is often poor and their phones are easily disconnected.
"Everybody is used to being under close observation by the police. Everyone can feel it. For example, if we change a protest location, the police will somehow find out and deploy officers to the new venue immediately," Lala Lin says.
Hsu echoes Lala Lin's concern that students and activists have been under observation by the police.
"One day a friend of ours said on Facebook he would come to Yuanli. When he walked out of the train station, a police officer was already there waiting for him," Hsu says.
For seasoned activist Frida Tsai (蔡培慧), the fear is not knowing what the watch list might contain and how authorities will use it.
"It is the lack of transparency that makes me uncomfortable. You don't know where the boundary lies — whether they tap your phone or know where you are at any given moment. And you don't know by what legal right they can do what they do," Tsai says.
"With criminal charges, at least I know which law I have broken and what evidence is being used against me," Tsai adds.
As spokeswoman for Taiwan Rural Front (TRF, 台灣農村陣線), Tsai has been accused of multiple criminal offences for organizing demonstrations against government land policies and expropriations.
Having been engaged in social movements since 2005 — when he fought to preserve Losheng (Happy Life) Sanatorium (樂生療養院), TRF research staff member Hsu Po-jen (許博任) recalls how he and other participants in the Losheng preservation movement, mostly university students, were under tight surveillance. The experience, he says, changed how he thinks and acts.
"I have learned not to talk business in public and discourage my colleagues from doing so in restaurants and cabs ... It is absurd when you come to think of it. It is not like I am a spy or anything," Hsu Po-jen says.
Comments will be moderated. Keep comments relevant to the article. Remarks containing abusive and obscene language, personal attacks of any kind or promotion will be removed and the user banned. Final decision will be at the discretion of the Taipei Times.