Restaurant review: Longtable
Longtable, which has recently opened up in a leafy enclave hidden behind the stern office buildings along Songren Road at the eastern fringe of the Xinyi cinema and shopping district, provides something that is in very short supply in Taipei's cost-conscious restaurant environment, namely a big, comfortable and airy space to eat and chat.
Walking through the door, this spaciousness is the first thing you notice, quickly followed by the warm tones imparted by an interior decorated mostly in natural wood tones. The high ceiling and the long bar are inviting, though on a fine day, the patio seating, looking onto a paved courtyard overhung with trees, is likely to be in high demand.
The ambiance is somewhere between a fashionable cafe and a bistro. This provides a welcome alternative to the predominantly American diner establishments that dominate in this area. The menu, instead of going for burgers and steaks, offers something a little more European. While aiming for a casual dining experience, Longtable also takes some trouble over providing elegance and refinement at the same time.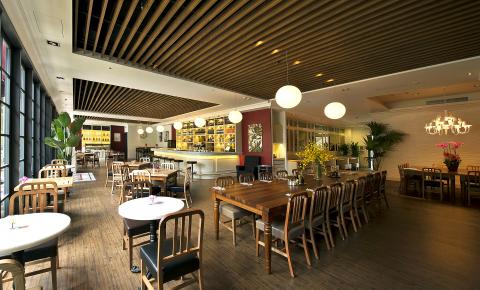 Longtable provides a spacious environment to enjoy a relaxed meal.
Photo courtesy of Longtable
According to restaurant proprietor Serdar Gayir, the menu aims to be inclusive, drawing in food from all along the Mediterranean coast. Italian, with a bit of generic European, dominate the menu at the present time, but Gayir said that once the restaurant is on track, he will begin including more exotic choices, including food from North Africa and even his native Turkey. Currently, his home country is represented by a rice pudding (NT$220). This has a luscious creaminess of homemade comfort food with lovely presentation, but lacks a little something to make it really distinctive.
Looking through the menu, one gets the feeling that Longtable wants to make a break from the drab, predictable fast foods that are the mainstay of establishments such as TGI Fridays and Chilis, but also desperately wants to remain family-friendly and inoffensive to even the most timid eater. The fried chicken wings (NT$290), the Caesar salad (NT$360), the spaghetti Bolognese (NT$370) and the grilled sirloin steak (NT$930) are all resolutely international staples, with no clear regional affiliation, and this gives the menu a slightly jejune air.
This is no reflection of the standard of the cooking, which is above average, and a simple dish like the pan-fried salmon fillet (NT$590) was attractive and tasty. The presentation was modern, but the portion generous, and the risotto on which the salmon was served was judged to perfection. The grilled lamb chops (NT$830), also served with risotto, also came in a generous portion, three thick chops very well trimmed, but flavor-wise again playing a little bit too safe for my taste. I regretted the lack of a bit of crispy fat and found the sauce, a tasty, red wine reduction, a bit too dominant, smothering the meaty flavor of the lamb.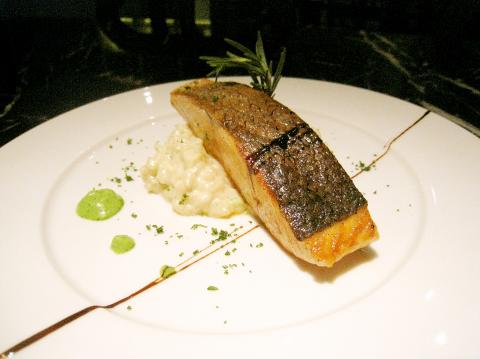 Longtable's tastefully presented pan-fried salmon fillet.
Photo: Ian Bartholomew, Taipei Times
Longtable offers a selection of pizzas, and the pepperoni pizza (NT$430) I tried was well topped with a very thin crust dough, which sadly had not been crisped up quite enough.
Longtable aspires to be a place where people can come together to eat and drink at leisure and its solid menu of drinks, both alcoholic and nonalcoholic, are likely to make it a popular gathering place, both for weary office workers and for families on a weekend outing. Gayir said that Longtable is also planning on providing breakfast/brunch through the week, and a comprehensive offering of coffees and teas make it a great place to visit any time of day. For the festive season, Longtable offers a five-course set menu (with coffee or tea) for NT$1,390.
The grilled lamb chops are generously portioned but lack oomph.
Photo: Ian Bartholomew, Taipei Times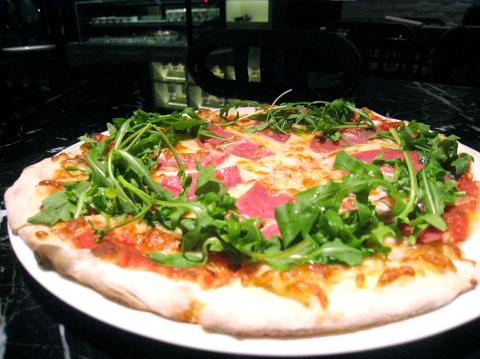 Longtable's pizza crust is thin, well-topped and undercooked.
Photo: Ian Bartholomew, Taipei Times
Publication Notes
Longtable
Address: 91 Songren Rd, Taipei City (台北市松仁路91號)
Telephone: (02) 2345-0953
Open: 11am to 11pm (kitchen closes at 9:30pm); opens 9am on weekends, with breakfast served until 2pm
Average meal: From NT$600
Details: English menu, credit cards accepted
On the Net: longtable.com.tw
Comments will be moderated. Keep comments relevant to the article. Remarks containing abusive and obscene language, personal attacks of any kind or promotion will be removed and the user banned. Final decision will be at the discretion of the Taipei Times.