Restaurant review: Love Lovely
Opened less then four months ago, Love Lovely is a unique addition to the East District's increasingly crowded selection of cafes. Located in the lanes between Dunhua South Road and Guangfu South Road, Love Lovely bills itself as an "antique brocante and cafe."
While there are now several cafes in Taipei (including Cafe Trouve (找到咖啡) and the VVG group's establishments) that showcase vintage decor, Love Lovely puts its own spin on the genre with a subtle Gothic Lolita twist. Old anatomical posters are proudly displayed, cases are lined with a large selection of paper-mache doll heads and 19th century cabinet cards are available for sale. A well-fed street cat nicknamed Niu-niu makes regular appearances at Love Lovely's door (and is rewarded with food served in a tiny fish-shaped ceramic dish).
Even the wait staff's black and slate blue uniforms are carefully calibrated to emphasize Love Lovely's aesthetic. Waitresses wear carefully tailored pinafores, while waiters are decked out in suspenders, knickerbockers and argyle socks. It's a style combination that has the potential to go horribly wrong, but Love Lovely's servers manage to make the outfit look jaunty.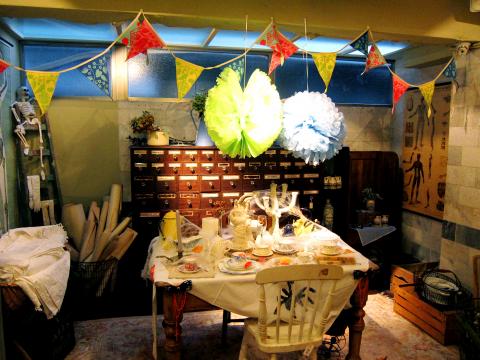 Love Lovely offers an offbeat ambiance and tasty food.
Photo: Catherine Shu, Taipei Times
Fortunately for diners, Love Lovely's focus on atmosphere does not mean it skimps on serving tasty food and drinks, many of which are whimsically presented. The cafe's fresh tropical fruit iced tea (NT$220), for example, is served in a tall decanter topped with a tumbler filled with diced pieces. You can either mix the fruit into the black tea and drink the beverage from the decanter with a straw or pour some of it into the smaller glass for daintier sipping.
Several afternoon tea sets are available. The cafe gourmand (NT$290) features a three-tiered stand stocked with Belgium chocolate and sweet baked goods. For diners who want to share a heartier snack, an oven pancake with caramelized apple is available for NT$320. Several sets are geared toward single diners, including the cupcake and tea (NT$220). I had high hopes for Love Lovely's red velvet cupcake, but it was the most disappointing item I tried. The cream cheese frosting was delicious, but the cupcake itself was dry and crumbly.
I fared better with Love Lovely's scone set (NT$290). The two plump, buttery scones are served with a selection of spreads and toppings. I chose raspberry jam and lemon curd. The latter was a bit creamier in texture than traditional lemon curd, but was still suitably tart and mouthwatering.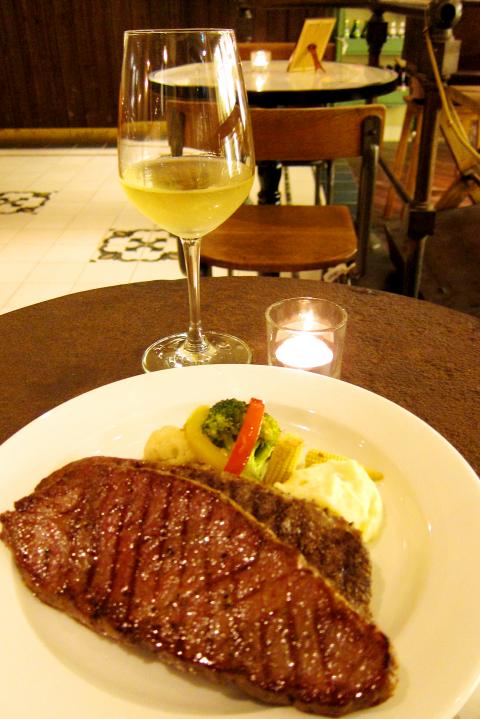 Love Lovely offers an offbeat ambiance and tasty food.
Photo: Catherine Shu, Taipei Times Photo: Catherine Shu, Taipei Times
For dinner, I ordered boneless short ribs and mashed potatoes (NT$380) as part of a Paris set meal — for an extra NT$100, you get your choice of red or white wine. My serving of the crisp white wine was smaller than I expected, but the size of my entree made up for it. Two large slabs of tender, juicy beef were plated with steamed vegetables and creamy mashed potatoes. There was so much meat that I had enough leftover for an extra meal.
Love Lovely enjoys brisk business on weekends and reservations are highly recommended. On weekday afternoons and evenings, however, it is a relaxing place to linger for a leisurely tea with friends. The cafe also hosts regular art classes (including a watercolor course); for more information: class@lovelovely.com.tw.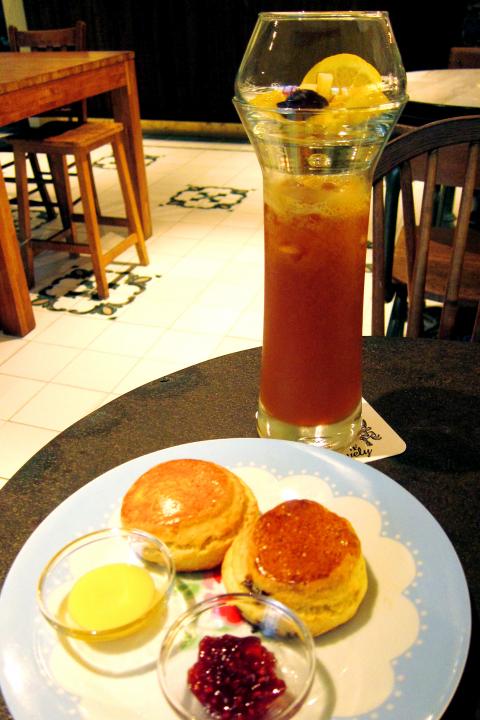 Love Lovely offers an offbeat ambiance and tasty food.
Photo: Catherine Shu, Taipei Times
Publication Notes
Love Lovely
Address: 3, Alley 4, Ln 345, Renai Rd Sec 4, Taipei City (台北市仁愛路四段345巷4弄3號)
Telephone: (02) 2771-3800
Open: Tuesdays to Thursdays and Sundays noon to 10pm, Fridays to Saturdays noon to 11pm
Average meal: NT$250 to NT$500
Details: Chinese and English menu, credit cards accepted. Visit www.lovelovely.com.tw for more information.
Comments will be moderated. Keep comments relevant to the article. Remarks containing abusive and obscene language, personal attacks of any kind or promotion will be removed and the user banned. Final decision will be at the discretion of the Taipei Times.