Art exhibition listings
ArtDen presents Garden of the Gods (諸神的花園), a joint exhibition of work by Min-tse Chen (陳敏澤) and May Chao (趙梅). Both artists incorporate natural scenery into their oil paintings. Chen's large format canvases are inspired by the lush colors of Turkish landscapes.
■ ArtDen (藝研齋), 3F, 309, Xinyi Rd Sec 4, Taipei City (台北市信義路四段309號3樓), tel: (02) 2325-8188. Open Mondays to Fridays from 11am to 5pm, Saturdays from 10am to 6pm.
■ Opening reception on Saturday at 3pm. Until Sept. 29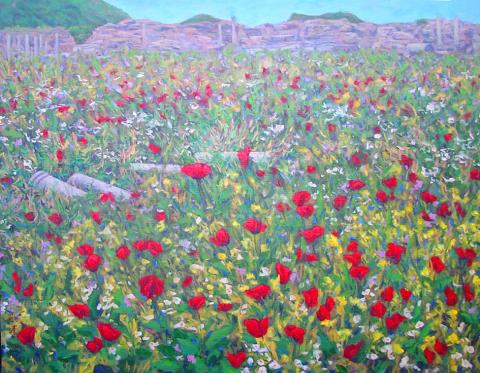 Min-tse Chen, Garden of the Gods, (2012).
photo courtesy of Artden
Digiark's exhibition A Dialogue with the Space and Time attempts to create a discussion about the storage and re-presentation of images. Artists from Taiwan and abroad were invited to have a "dialogue" with the gallery space, which focuses on digital and multimedia art. Through their work, Digiark's collaborators explore how "on the one hand, images help demonstrate the endless continuity of time; on the other hand, it reverses the linear narrative of space and time."
■ National Taiwan Museum of Fine Arts in Taichung (國立台灣美術館), 2, Wucyuan W Rd Sec 1, Greater Taichung (台中市五權西路一段2號), tel: (04) 2372-3552 ext. 708. Open Tuesdays to Sundays from 9am to 5pm
■ Until Nov. 11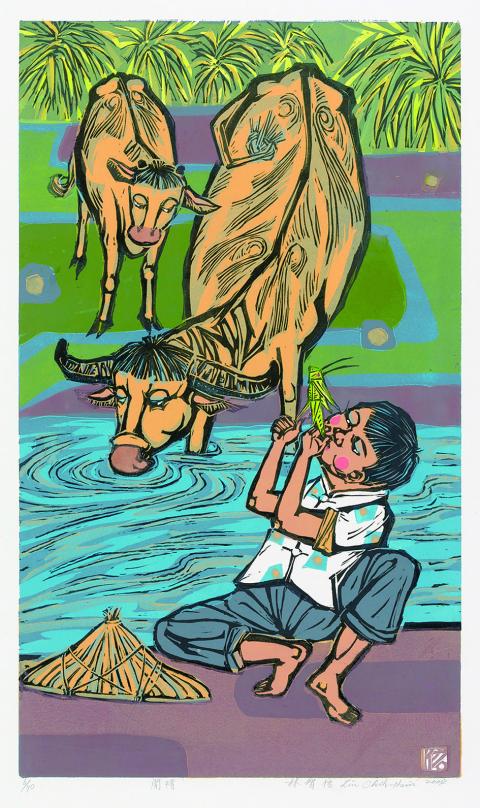 Lin Chih-sin, Leisure (2004).
photo courtesy of NMH
In cover , artist Nat Niu Chun-chiang (牛俊強 ) turns the exhibition venue into one work that explores the meaning of "disappearance" in a man's existence. Inspired by changes in his love life, family and physical conditions, Niu invited 18 participants to talk about a profound experience in their lives, which are presented through objects, photographs and films. By confronting the temporary "disappearance" and exploring an outcome that has various possibilities, Niu searches for new perspectives and new approaches.
■ Taipei Fine Arts Museum (TFAM, 台北市立美術館), 181, Zhongshan N Rd Sec 3, Taipei City (台北市中山北路三段181號), tel: (02) 2595-7656. Open Tuesdays to Sundays from 9:30am to 5:30pm and until 8:30pm on Saturdays. Admission: NT$30
■ Until Sept. 30
Made in Taipei, which opened Thursday and closes tonight, is the result of a collaborative process between Spanish artists Arantxa Echarte and Bibiana Crespo. During their stay in Taipei, they engaged with places and people by immersing themselves in situations specific to life in the city. Some of the subjects covered by the installation piece include Taipei's identity, tradition, food culture, textiles and codes (such as street codes).
■ Studio 401, Taipei Artist Village (台北國際藝術村百里廳), 7 Beiping E Rd, Taipei City (台北市北平東路7號), tel: (02) 3393-7377. Exhibition open from 1pm to 6pm.
■ Until tonight
The National Museum of History is hosting an exhibition of prints by artist Lin Chih-sin (林智信). Featuring strong, lively lines and vivid colors, Lin's woodcuts are inspired by Taiwanese rural life, with depictions of farmers at work and children riding water buffalos.
■ National Museum of History (國立歷史博物館), 49 Nanhai Rd, Taipei City (台北市南海路49號), tel: (02) 2361-0270. Open Tuesdays to Sundays from 10am to 6pm. General admission is NT$30
■ Until Oct. 11
In Aging, artist Yu Ling (俞綾) explores mortality and the inflexibility of time with black and white photos of flowers and plants in different stages of decay.
■ Fotoaura Institute of Photography (海馬迴光畫館), 2F, 83 Chenggong Rd, Greater Tainan (台南市成功路83號2樓), tel: (06) 200-8856. Open Wednesdays to Sundays from 1pm to 8pm
■ Until Sept. 13
Comments will be moderated. Keep comments relevant to the article. Remarks containing abusive and obscene language, personal attacks of any kind or promotion will be removed and the user banned. Final decision will be at the discretion of the Taipei Times.