Pop Stop
The exciting action in the gossip press this week came from the reporters themselves.
For several years, the paparazzi have been trying to nail down photographic evidence of a romance between director Leon Dai (戴立忍) and actress Guey Lun-mei (桂綸鎂). The couple (if they really are an item, that is) have strictly maintained a low profile when it comes to their personal lives.
Popular speculation is that they are staying mum on the romance because of their age difference: Dai, a venerated actor and director, is 45; Guey, Taiwan's quintessential girl-next-door actress, is 28.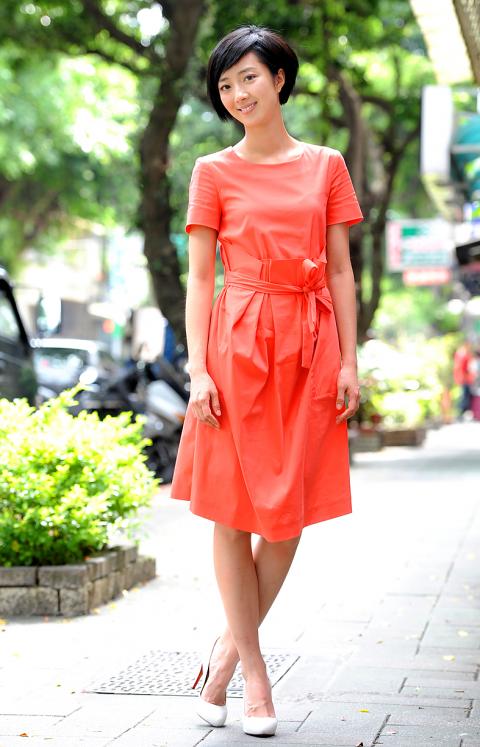 The paparazzi race to get a photo of actress Guey Lun-mei with alleged boyfriend Leon Dai led to fisticuffs last week.
Photo: Liberty Times
Our sister paper, the Liberty Times, came close to getting photos of the two together last week, but wound up having to apologize for a physical altercation between one of its reporters and a garage mechanic.
The paper's gossip reporters spotted Guey, who had just made an appearance at a promotional event for her latest film Girlfriend, Boyfriend (女朋友.男朋友). They followed Guey, who got into a chauffeured Lexus and was driven to a car garage, where Dai happened to be waiting.
The pair were spotted sitting at a table inside the garage, "talking and laughing" with the owner and his family, who were apparently friends of Dai. But the reporters only got a brief glimpse — a mechanic spotted them and closed the front shutter door.
Naturally, that didn't deter one of the reporters, who climbed on top of a car parked just outside of the garage to catch a peek through a crack in the roll-down metal door. The garage owner, identified only by his surname of Wu (吳), caught on and came out to confront the reporter (whose name wasn't given), after which a confrontation ensued.
The rest of the story falls into a murky rehashing of back and forth accusations between the reporter and Dai, speaking on behalf of the garage owner on Facebook — the reporter says Mr. Wu injured his arm and demanded that he hand over his camera; Dai says Mr. Wu's "oily hands" didn't allow him to get a grip on the reporter. The police both stepped in to settle the dispute, which ended on a note of "good will," in the words of a lawyer hired by the Liberty Times reporter.
Still, both sides fired off parting shots. Dai wrote on his Facebook page that he regretted dragging the garage owner and his family through such trouble, all for the sake of an "unscrupulous" reporter.
In its article reporting the incident, the Liberty Times defended the reporter, who was "loyal and dutiful in the pursuit of the facts and had to face conflict," and asked why Dai had not bothered to acknowledge that Guey was there with him in his Facebook post. After all, the article intoned, enquiring minds had a right to know.
It's not a good week to be a Taiwanese corporate executive, at least for Far Eastern Airlines (遠東航空) president Chang Kang-wei (張綱維), who has found his name plastered all over the entertainment pages instead of the business section.
Chang has reportedly been having an affair with a flight attendant from his own company. Why did this garner hits in the gossip corners of the Web? Chang has left in the cold his actress/model girlfriend Rachel Shen (沈韋汝). They have a one-year-old son, who Chang hasn't even seen in six months, according to Shen.
Shen offered an understandably bitter comment after the Apple Daily (蘋果日報) published photos of Chang and his new flight attendant "friend" having dinner and visiting a massage parlor together. "A bar girl wearing makeup isn't worth waiting around for. He'll be back to see his child," she said.
Comments will be moderated. Keep comments relevant to the article. Remarks containing abusive and obscene language, personal attacks of any kind or promotion will be removed and the user banned. Final decision will be at the discretion of the Taipei Times.