Pop Stop
The big news last week in entertainment was the Golden Melody Awards (金曲獎), which hand out gongs to the best and brightest members of Taiwan's music industry. The award ceremony has appeared slightly shopworn in recent years, and TV ratings for the televised live event have been nothing to shout about. This year, the Golden Melody awards have made a bit of a comeback. Now in its 23rd iteration, the ceremony hosted by Micky Huang (黃子佼) and busty actress Tien Hsin (天心), garnered an audience estimated at 533,000, and ratings of 5.77, the highest overall score for this event in 12 years. In 2009, ratings for the high profile event dropped to just 3.83, despite the presence of veteran hosts Momoko Tao (陶晶瑩) and sexy news anchor Patty Hou (侯佩岑).
The popularity of the show was enhanced by the return of S.H.E, a girl group that had a massive presence in the last decade, and whose members Selina (任家萱), Hebe (田馥甄) and Ella (陳嘉樺) have all embarked on successful solo careers since. Selina, who suffered terrible burns during an on-set accident in China, has brought the group back into the limelight, and their performance of Super Star was an emotional high point in the ceremony.
Another bit of effective nostalgia was the return of Fong Fei-fei (鳳飛飛) to the stage. A megastar whose career spanned almost three decades, Fong, who died in January this year, appeared on stage as a 3D hologram to perform I Am A Cloud (我是一片雲) to the delight of the audience.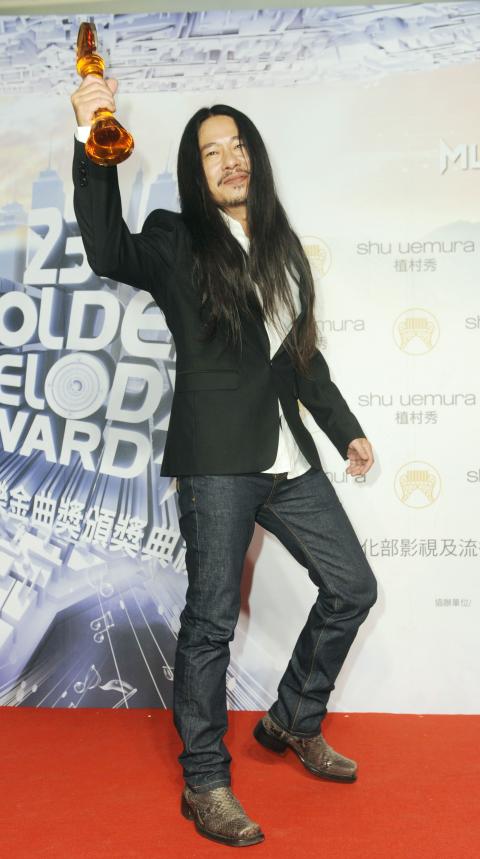 A-Hsiang of Luantan hits the jackpot at the Golden Melody Awards.
Photo: Taipei Times
The big winner at this year's event was May Day (五月天), who took away six awards. There have been various veiled suggestions that the group might be splitting up, with Ashin (阿信, aka 陳信宏) saying at the ceremony that their award winning album Second Round (第二人生) would be their third to last as a band.
At a recent event where the band visited schools to promote environmental causes, bassist Masa (瑪莎) said: "We are not about to all go solo, but everyone is living on their own, and everyone has a different direction they want to develop their careers. We all have different personalities, and want to do different things." He suggested that band members might go their separate ways, and after a period of development, regroup as a stronger lineup than ever. Of May Day's six awards, Masa picked up Best Composer.
In the battle for the much coveted best female singer (Mandarin), the competition was between veterans A-Mei (阿妹) and Tanya Tsai (蔡健雅), both of whom have three wins in this category. At the end of the night, it was Tsai who took the prize. Speaking about the results, music industry commentator Andy Wang (王介安) suggested that some of A-Mei's recently released songs did not fit her singing style. He added that while Tsai had not been in perfect form this year, even the faults in her singing style were beautiful in their own way. Responding to these comments, A-Mei's manager Chen Cheng-chuan (陳鎮川) said that "while some of the songs may not at first appear to suit A-Mei, they were attempts by the singer to explore new territory."
The best male singer award was picked-up, in a huge upset victory, by A-Hsiang of Luantan (亂彈阿翔), who beat off a horde of pretty boys including the Chairman himself, Jay Chou (周杰倫). After failing to pick up the best song award for his hit single Perfect Landing (完美落地), A-Hsing said that he had indulged in a few drinks and was preparing to go home to bed when his victory in the best singer category was announced, catching him unprepared. This was another victory for rock'n'roll over Mando-pop crooners, who tend to dominate the mainstream pop charts.
Pop Stop would not be complete without a little bit of romantic news, so its delightful to discover Edison Chen (陳冠希) is once again on the prowl for beautiful women. He has been posting a variety of yearning, burning posts on Sino.com's micro blog lauding the desirability of Chinese actress Wei Tang (湯唯). "I just love her so much," he wrote. "Will someone tell her that for me." Many of Tang's fans have already responded, asking the notorious lothario to give Tang a break and leave her alone, and suggesting that he has been watching Lust/Caution and wants to make a sequel with himself as the star.
Comments will be moderated. Keep comments relevant to the article. Remarks containing abusive and obscene language, personal attacks of any kind or promotion will be removed and the user banned. Final decision will be at the discretion of the Taipei Times.