Back for more
For its second tour of Taiwan, The Hsu-nami has teamed up with Kou Chou Ching, The Chairman and Three Sheet
Following a successful tour last year that climaxed with a performance in front of a screaming crowd at Spring Scream, The Hsu-nami is returning for second helpings. But this time the group has joined forces with Taiwan's Kou Chou Ching (拷秋勤) and The Chairman (董事長樂團), and Canadian live hip-hop band Three Sheet.
The first show of the Hello Taiwan Tour is this Wednesday at The Wall (這牆) in Taipei, which will be followed by performances in Taichung, Kenting (at Spring Scream), Taitung, Kaohsiung and Tainan before The Hsu-nami returns to Taipei for a finale gig on April 13.
Jack Hsu (許正杰), front man of the post-rock hardcore group, plays the erhu (二胡), an instrument used in traditional Chinese music. It makes a discordant, wailing noise that is as emotive as a human voice. The rest of the band comprises guitarist Brent Bergholm, Derril Sellers on bass, Dana Goldberg on keyboard and drummer John Manna.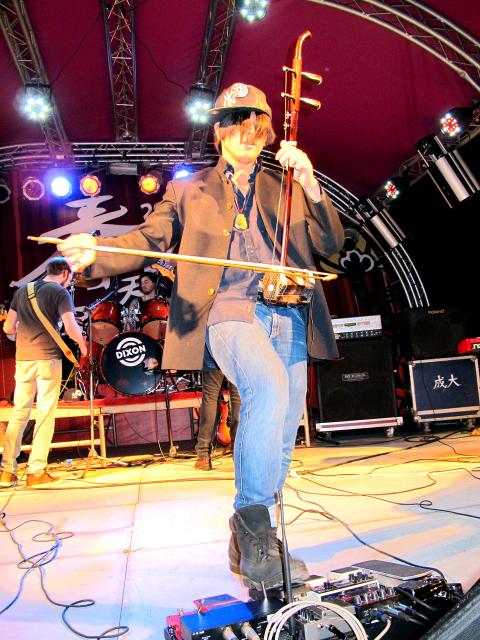 The Hsu-nami's Jack Hsu making the erhu sound new at Spring Scream last year.
Photo: Alita Rickards
"I feel like Taiwan's music scene is a big community," Hsu, 28, said in an interview with the Taipei Times. "All the musicians know each other like a big family, unlike the music scene in New York where nobody knows who you are if you are a indie band. "
As the showcase coordinator for the Passport to Taiwan festival, an annual showcase of Taiwanese culture that takes place in New York, Hsu often finds himself organizing shows for visiting bands and artists.
He first hooked up with Kou Chou Ching in 2005 on Myspace while looking for bands that also use Chinese instruments to make contemporary music. He found "a hip-hop group that happens to be from Taiwan who uses Taiwanese traditional instrument as samples in their songs." Hsu contacted the group on the social networking Web site, where they kept in touch until finally meeting in 2008 after Kou Chou Ching picked up an indie music award in Nashville and passed through New York.
During last year's tour of Taiwan, Fan Chiang (范姜) from Kuo Chou Ching introduced Hsu to Taiwanese alternative band The Chairman (董事長樂團), which also makes use of the erhu. After they played together at Toronto's Taiwanfest, a carnival that started in 1990, the three groups decided to plan a tour.
"It made sense for us to do the tour because of the style of music [is] all influenced by traditional Taiwanese culture," said Hsu. "And it doesn't hurt that we are all good friends."
Three Sheet, a Canadian live hip-hop group that has won numerous awards, including Nova Scotia Artist of the Year, got involved after seeing a poster in Halifax for a show featuring Taiwanese bands.
Guitarist Ryan O'Quinn had lived in Taipei previously and "was pumped to even see the name Taiwan on a poster," he said. "I rallied up a gang and went and watched four bands from Taiwan perform." One of them was Kou Chou Ching.
They hung out after the show, and when O'Quinn heard Kou Chou Ching was returning a year later, he had a former student make a Chinese translation of a tour proposal and took a mock concert poster with Three Sheet and Kou Chou Ching on the bill to the band's show in Halifax.
"Surprisingly, they remembered us from a year before," O'Quinn said. "I showed them the poster and the proposal and they loved it and were all cute and Taiwanese and all flattered and polite. It was great."
Kou Chou Ching invited Three Sheet on tour. O'Quinn responded by calling his manager and adding the band to the lineup with Three Sheet at a concert at the University of Fredericton in New Brunswick.
"It was wild to see what Canadians thought of a Chinese-rapping hip-hop band," he said. "At first people were slightly sarcastic, clapping [but] almost laughing. By the end of the set everyone was on their feet, fists pumping in the air."
Performance Notes
What: The Hello Taiwan Tour with The Hsu-nami, Kou Chou Ching (拷秋勤), The Chairman (董事長樂團) and Three Sheet
When: Wednesday from 8pm to 11pm
Where: The Wall (這牆), B1, 200, Roosevelt Rd Sec 4, Taipei City (台北市羅斯福路四段200號B1), tel: (02) 2930-0162
Admission: NT$500 (NT$400 in advance). Tickets can be purchased at The Wall or online at www.thewall.com.tw
On the Net: www.facebook.com/2012HelloTaiwan and www.facebook.com/HsuNamiRock
Additional performances: 7pm Thursday at Sound Live House (迴響音樂藝文展演空間), B1-1, 429, Henan Rd Sec 2, Situn Dist, Greater Taichung (台中市西屯區河南路二段429號B1-1), tel: (04) 2451-1989. On the Net: www.soundlivehouse.com; 10pm April 6 and 11:40pm April 7 at Spring Scream, Rock Monkey Stage. On the Net: www.springscream.com; 5pm April 8 at Tiehua Village (鐵花村音樂聚落), 26, Ln 135 Sinsheng Rd, Taitung City (台東市新生路135巷26號), tel: (089) 343-393. On the Net: www.facebook.com/tiehua; 10pm April 11 at Brickyard, 507 Jhongshan 2nd Rd, Greater Kaohsiung (高雄市中山二路507號), tel: (07) 215-0024. On the Net: www.brickyard.com.tw; 9pm April 12 at The Checkered Record Club, B1, 314, Simen Rd Sec 2, Greater Tainan (台南市西門路二段314號B1), tel: (06) 222-3238; time to be announced, April 13 at Revolver, 1-2, Roosevelt Rd Sec 1, Taipei City (台北市羅斯福路一段1-2號), tel: (02) 3393-1678
Comments will be moderated. Keep comments relevant to the article. Remarks containing abusive and obscene language, personal attacks of any kind or promotion will be removed and the user banned. Final decision will be at the discretion of the Taipei Times.