The year in review: Best restaurants
Amore Pizza
Address: 215, Xinhai Rd Sec 2, Taipei City (台北市辛亥路二段215號)
Telephone: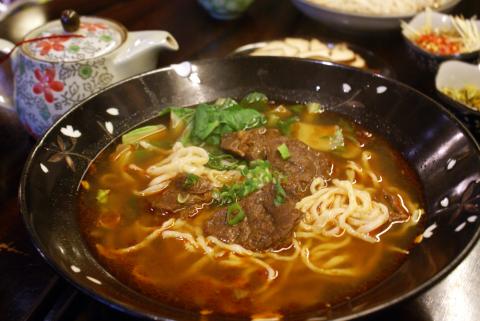 Photo: Noah Buchan, Taipei Times
(02) 2738-4969
Open:
Daily from 11am to 9pm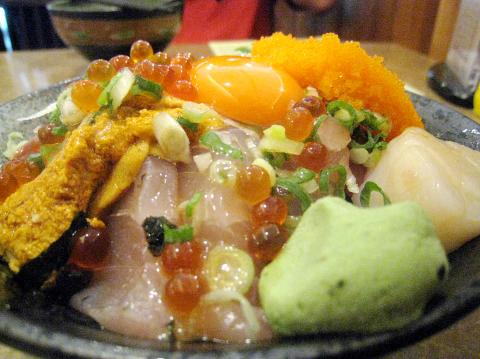 Photo: Ian Bartholomew, Taipei Times
"Best Stromboli you ever have!" reads the catchy heading of Amore Pizzeria's menu. I'd never before eaten a stromboli, but after one bite of the fragrant, moist and meaty concoction, I was hooked.
Stromboli is a turnover pizza similar to a calzone, but its dough is thicker and the filling is made with mozzarella instead of ricotta. The base is a vegetarian combination of onion, green pepper, tomato sauce and cheese, to which I added pepperoni and sausage (NT$320). Generous slices of slightly spicy pepperoni and peppery sausage were evenly placed throughout the inside, so every bite contained a meaty morsel.
Owner James Chen (陳建堂) uses extra virgin olive oil in his dough (which he blesses, Catholic style, before quartering it off and rolling it up) and in his Caesar salad dressing, which had a rich anchovy and caper finish. He makes the sausage, meatballs and pasta sauces himself from scratch.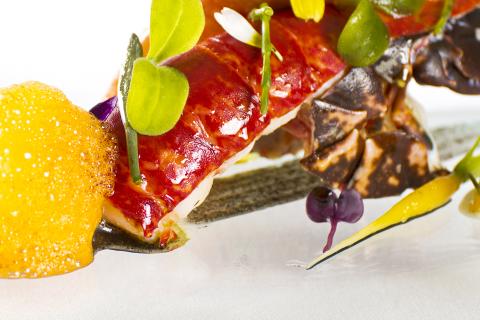 Photo: Catherine Shu, Taipei Times
— Noah Buchan
Chintai (金泰食堂)
Address: 34, Ln 121, Jiuzhong Rd Sec 2, Taipei City (台北市舊宗路二段121巷34號)
Telephone: (02) 8792-8167
Open: Tuesday to Friday from 11:30am to 3pm and 4:30pm to 9pm, and Saturday and Sunday from 11am to 9pm. Closed Mondays
If location is the key to success in the restaurant business, then Chintai (金泰食堂), situated in the no man's land between the Sun Yat-sen Freeway (中山高速公路) and Tiding Boulevard (堤頂大道) in Neihu, should have closed down long ago. As it is, it is virtually impossible to get a seat without queuing, and the restaurant's signature dish, ultimate seafood on rice (無敵蓋飯), priced at NT$630, has become something of a holy grail for fans of seafood.
Chintai is not cheap, but its portions are generous, even verging on the lavish. Having seen pictures of the imposing pile of seafood that made up the ultimate seafood on rice, I opted for the wimp's version, the regular seafood on rice (海鮮蓋飯, NT$420), which still managed to blow me away with its ostentatiously large and varied topping of various types of sashimi.
Though the most popular dish, the mixed fish on rice is far from being the only option on what is a very extensive menu. The grilled cod is highly recommended. This is a luscious piece of fish that could barely be recognized as any relation to the usual desiccated teppanyaki version.
The restaurant's interior has the appearance of a diner with pretensions. At the back, a huge glass display case contains raw fish, and resembles something you might find in a fishmongers.
— Ian Bartholomew
DN Innovacion
Address: 93 Songren Rd, Taipei City (台北市松仁路93號)
Telephone: (02) 8780-1155
Open: Lunch is served from noon to 2pm and dinner from 6pm to 10pm
Since chef Daniel Negreira opened DN Innovacion in October 2010, the restaurant has consistently earned kudos for its deft application of molecular gastronomy techniques to traditional Spanish cuisine.
Negreira's resume includes a stint at El Bulli, the restaurant in Catalonia that is regarded as a pioneer in molecular gastronomy. His innovative dishes delight both the eye and palate. Highlights from DN Innovacion's menu this past year include Kumamoto sea urchin topped with "snow" made from Greek yogurt, and Iberian suckling pig roasted at a low temperature to lock all the juices into the meat.
— Catherine Shu
Furinkazan (風林火山)
Address: 16, Ln 77, Zhongshan Rd N Sec 2, Taipei City (台北市中山北路二段77巷16號)
Telephone: (02) 2581-5365
Open: Monday to Saturday from 5:30pm to midnight
Furinkazan is a drinking establishment that has served Japanese-style pub grub for nearly 20 years. The interior exudes an old-school charm with its aged furnishings, yellow lighting and a hearth where fish up is hung to dry. Meanwhile the proprietors, a jovial couple, are always keen to entertain their guests with chitchat and toasts. Furinkazan's grilled dishes are divinely seasoned and rarely fail to hit the spot. Reservations are recommended as the restaurant is popular throughout the workweek and is especially busy at weekends.
— Ho yi
Huamei (華美)
Address: 2, Ln 26, Pucheng St, Taipei City (台北市蒲城街26巷2號)
Telephone: (02) 2368-0986
Open: Daily from 11:30am to 10pm
Walking into Huamei, a noodle and dim sum restaurant close to Shida night market, is like slipping through a time warp into a Qing Dynasty teahouse. Traditional Chinese lanterns emblazoned with butterfly patterns hang from the ceiling and set off the restaurant's stylized wallpaper of bird and floral motifs in soft lavender and aquamarine.
Noodles feature prominently on Huamei's menu, which includes standards such as wonton noodles (NT$100) and beef noodles (NT$130), as well as the more obscure caramelized pig trotter with noodles (NT$140) — all of which are served in large ceramic bowls.
I've eaten at Huamei on a number of occasions and strongly recommend the braised beef noodles (NT$130), whose generous amounts of tender and largely gristle-free meat come with noodles that are cooked to perfection. The spicy, scallion-infused broth is savory without being salty, and the thin layer of oil found on many beef soups is largely absent here.
Huamei's dim sum selection isn't anything to write home about, but the prices are reasonable for what you get.
— Noah Buchan
La Caja de Musica (樂盒子)
Address: 18, Alley 3, Ln 138, Changan W Rd, Taipei City (台北市長安西路138巷3弄18號)
Telephone: 0920-885-996 or 0975-330-741
Open: From 6:30pm to 10:30pm Tuesday to Thursday, and 6:30pm to midnight Friday and Saturday (kitchen closes around 9:30 every night). Open for tapas brunch on Sundays. Closed today through Jan. 5 and on Mondays
A favorite among Spanish-speaking expats, La Caja de Musica nourishes the soul with home-cooked food and live music.
The brainchild of Luis Miguel Hernando Sahagun and Ramses del Cura Nogal, two expat musicians-cum-restaurateurs, La Caja serves authentic tapas and dishes to share.
First-timers should try the tortilla de patata (西班牙蛋餅, NT$120 for a slice, NT$600 for a whole portion), also known as a Spanish omelet. There's no actual flour tortilla — the ingredients merely consist of egg, onion and fried potato. But the result is a scrumptious dish that you won't want to share with your dining companions.
Another favorite is the sepia de la plancha (香煎花枝, NT$220 or NT$320), or pan-seared calamari slices cooked perfectly tender. Del Cura recommends his favorite item from the tapas selection, the tapa pimiento asado con tuna (紅椒船, NT$100 per piece), which is roasted peppers on a slice of crusty baguette, topped with tuna chunks, a rich black olive paste and capers.
The restaurant hosts live music shows every Friday (the schedule is listed on its Web site), and Hernando and Del Cura's band, Jaleo, which plays Spanish folk with a reggae beat, is worth catching for its spirited performance style.
— David Chen
Mindong Restaurant (明洞館)
Address: 4, Alley 5, Ln 107, Fuxing S Rd Sec 1, Taipei City (台北市復興南路一段107巷5弄4號)
Telephone: (02) 2773-6949
Open: Monday to Friday from 5:30pm to midnight, Saturday and Sunday from 11:30am to 2:30pm and 5:30pm to midnight
Mindong Restaurant has been a fixture on the capital's dining scene for more than a decade — foodies come for its long list of Korean staples. The waitstaff is well trained and lightning-fast, quickly covering dining tables with dazzling arrangements of dishes such as kimchi pork rolls, Korean pancakes and dolsot bibimbap, or hot stone bowls of rice topped with vegetables, egg and meat. The Korean fare is rich, hearty and not for the health-conscious. Diners are encouraged to arrive with big appetites.
Mindong operates another branch at 40-2, Ln 223, Zhongxiao E Rd Sec 4, Taipei City (台北市忠孝東路四段223巷40號之2), tel: (02) 8772-3319.
— Ho yi
Sumi Sushi (澄壽司)
Address: 17, Ln 248, Zhongxiao E Rd Sec 4, Taipei City (台北市忠孝東路四段248巷17號)
Telephone: (02) 8771–9986
Open: Monday to Friday from 11:30am to 2:30pm and 5:30pm to 9:30pm, Saturday from noon to 2:30pm and 5:30pm to 9:30pm. Closed Sundays
Restaurants serving "Americanized" sushi are relatively rare in Taiwan. Sumi Sushi fills the gap with a casual atmosphere and reasonable prices for diners craving sushi made with ingredients like cream cheese, smoked salmon and avocado. Sumi's spicy tuna roll (NT$160) is a bit different from the usual version. Instead of being chopped up and mixed with mayonnaise and chili sauce, the restaurant wraps up slices of the tuna in sushi rice, sprinkles on some homemade chili sauce and adds mounds of crispy green onion slices on top. Sumi's delicious spicy scallop roll is made in a similar fashion, but sprinkled with a little tobiko (flying fish roe) instead of the green onion.
— Catherine Shu
Under the Banyan Tree (榕樹下麵店)
Address: 9, Ln 453, Chunghua Rd, Hualien City (花蓮市中華路453巷9號)
Telephone: (03) 852-7758
Open: Daily from 7:30am to 1:30pm
The restaurant widely known as Under the Banyan Tree (榕樹下麵店) does not even have a shop sign. It is, in fact, no more than its name suggests: a shack that is built around and under a massive banyan tree in a side alley off a parking lot in Hualien City. It's opening hours define it as a breakfast and brunch shop, but the kind of breakfast it offers is what might be described as a farmer's breakfast. The signature dish is noodles, of course, but flavored with side dishes such as pig's tail, pig's cheek, blood cake and stewed intestine. Under the Banyan Tree opens at 7:30am and many of its prize dishes are sold out by lunchtime.
Service is fast and furious, and sometimes a little chaotic. But things get done, and for anyone with a taste for unconventional breakfast food, there is much on offer. There are four types of noodles: yimian (意麵), a Fujian-style flat egg noodle that in Taiwan traces its origins to Tainan, and mitaimu (米苔目), a Hakka-style rice noodle, and more conventional Taiwanese-style yellow noodles (油麵) and rice vermicelli (米粉). All are topped with highly seasoned pork.
What makes Under the Banyan Tree special is its range of side dishes. One of its most popular is its wild chicken (土雞), which is both tender and firmly textured at the same time. Other highlights include stewed pig's tail, a lightly soy-scented serving of what is some of the most tender and flavorsome pork you are likely to encounter.
— Ian Bartholomew
Weitzuman (味自慢季節料理)
Address: 118 Jingxing Rd, Taipei City (台北市景興路118號)
Telephone: (02) 8663-3383
Open: Monday through Saturday from 5:30pm to 10:30pm, and 11:30am to 2:30pm and 5:30pm to 9:30pm on Sundays
Fine Japanese cuisine is available all over Taipei, but Weitzuman (味自慢) truly stands out. The restaurant is neither chic nor wholly authentic, but it's full of down-home charm and the food is very good.
Weitzuman is an izakaya, Japan's version of a tapas bar, so the idea is to order a handful of small savory dishes to accompany sake or beer. You can't go wrong with any of the recommended dishes listed on the first page of the menu. (It's in Chinese only, but the waitstaff goes out of its way to help you order).
The homemade sesame tofu (手工胡麻豆腐, NT$100), looks like a ho-hum block of soft tofu, but this house specialty is a must-try. It's made with crushed sesame seeds, which provide a nutty flavor, and the tofu has a creamy, mousse-like consistency. Another dish I always order is the field mushrooms with mountain fern vegetable (野菇山蕨, NT$160), or slices of shitake and golden needle mushrooms stir-fried with shanjuecai (山蕨菜), a vegetable with a crunchy stalk and a mild flavor.
Fresh sashimi (NT$350 for a small plate, NT$480 for a large serving) is available, but save your appetite for grilled items like the top-grade beef steak (特優牛小排, NT$280), which arrives charred on the outside and red on the inside.
The restaurant looks like a traditional Japanese inn — you enter through a sliding wooden door and take a seat either at the bar or on low wooden benches with tatami mats. Unless sitting at the bar, all patrons are requested to take their shoes off.
— David Chen
Comments will be moderated. Keep comments relevant to the article. Remarks containing abusive and obscene language, personal attacks of any kind or promotion will be removed and the user banned. Final decision will be at the discretion of the Taipei Times.