Art exhibition listings
Intimate Views (私房圖景) presents the work of renowned contemporary artists from Taiwan and China, including painting, sculpture and video installation by Chen Chieh-jen (陳界仁), Kuo Wei-kuo (郭維國), Liu Shih-tung (劉時棟), Xia Yang (夏陽) and Hsiao Chin (蕭勤)
■ Lin & Lin Gallery (大未來林舍畫廊), 16 Dongfeng St, Taipei City (台北市東豐街16號), tel: (02) 2700-6866. Open Tuesdays to Sundays from 11am to 7pm
■ Opening reception on Saturday at 4pm. Until Jan. 22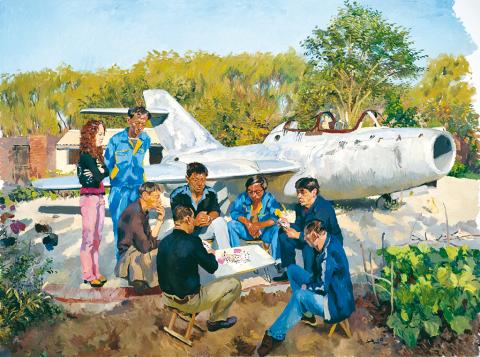 Liu Xiaodong, Jincheng Airport (2010).
Photo Courtesy of Eslite Gallery
Hometown Boy (金城小子), a large-scale solo exhibition of work by Chinese contemporary painter Liu Xiaodong (劉小東), brings together two of the artist's recent preoccupations: those living on the margins of society and his hometown of Jincheng (金城), a small city in China's Liaoning Province. Liu's realist paintings depict the country's momentous changes through images of his family members and childhood friends. In addition to several oil paintings, the exhibit includes close to 40 ceramic pieces, drawings and more than 200 diary entries, providing an in-depth look at the artist's visual style and inner thoughts.
■ Eslite Gallery (誠品畫廊), 5F, 11 Songgao Rd, Taipei City (台北市松高路11號5樓), tel: (02) 8789-3388 X1588. Open Tuesdays to Sundays from 11am to 7pm
■ Until Jan. 15
Disney artist, Snow White With Doves at Wishing Well (1937).
Photo Courtesy of National Museum of History
Japanese filmmaker and composer Takagi Masakatsu fuses electro-acoustic music with surreal videos of regular folks in Ymene, his first solo exhibit in Taiwan. Though some critics have called his work slightly nostalgic, the psychedelic aspect of the videos is far from sentimental.
■ Agora Art Space (藝譔堂), 104, Ln 155, Dunhua N Rd, Taipei City (台北市敦化北路155巷104號), tel: (02) 8712-0178. Open Tuesdays to Saturdays from 11am to 7pm
■ Until Dec. 31
With Christmas just a few days away, there may be no better way to entertain the kids than Dreams Come True: The Art of Disney's Classic Fairy Tales (美夢成真 — 迪士尼經典動畫藝術). The exhibit showcases more than 600 works from Disney's collection. Among the works on display are story sketches, concept art, backgrounds, character designs, maquettes, production notes, movie clips, and an original animator's desk. Dreams Come True includes samples from Disney's early animated shorts, including Three Little Pigs, Ugly Duckling and Mickey and the Beanstalk, as well as feature-length films Snow White and the Seven Dwarfs, Cinderella, Sleeping Beauty, The Little Mermaid and Beauty and the Beast, among others.
■ National Museum of History (國立歷史博物館), 49 Nanhai Rd, Taipei City (台北市南海路49號), tel: (02) 2361-0270. Open Tuesdays to Sundays from 10am to 6pm. Admission for Dreams Come True: NT$220. General admission: NT$30
■ Until March 14
Photon+ (光子+) brings together artists from Taiwan, Japan, France and Canada working in interactive installation. The exhibition focuses on light, in its various forms, and celebrates digital media as a mode of communication among different cultures.
■ Yongan Market MRT Station (永安市場站), 2F, 390 Zhonghe Rd, New Taipei City (新北市中和路390號2樓), tel: (02) 2929-8830. Open daily from 9am to 5pm. Closes at 6pm on weekends. Closed on the first Monday of every month and during the Lunar New Year
■ Until Feb. 12
Being — The Digital Eye: Interactive Media Exhibition (觀自在 — 數位之眼互動藝術展) explores the relationship between humans and machines through interactive installations by five artists. According to the museum's press release, when visitors communicate with the exhibition's "organic machines," their "individual selves are connected" and they will "finally realize the meaning of coexistence."
■ MOCA Studio — Underground (地下實驗‧創意秀場), Exit 6, Zhongshan MRT Station (中山捷運站)
■ Until Jan. 8
Comments will be moderated. Keep comments relevant to the article. Remarks containing abusive and obscene language, personal attacks of any kind or promotion will be removed and the user banned. Final decision will be at the discretion of the Taipei Times.