The Weekender: Top Dogg
As soon as the concert for Snoop Dogg (real name Calvin Broadus) was announced, word spread fast. News that one of the special guests would be none other than Snoop's longtime partner in rhyme, Dr. Dre (birth name Andre Young), was leaked, and anticipation grew.
When Snoop hit the stage at 2am on Friday last week, Luxy erupted. The spaced out funk beats of I Wanna Rock emanated from the speakers and Snoop rushed the stage with his entourage and got the whole crowd chanting his name during the chorus.
"Give me some motherfucking pimp music," Snoop shrieked as he segued into P.I.M.P, a popular 50 Cent song. With his hair pulled back into two tight braids, wearing sunglasses, a We Da Best T-shirt, and holding a jewel-encrusted Dogg microphone, Snoop lived up to his reputation as a party MC.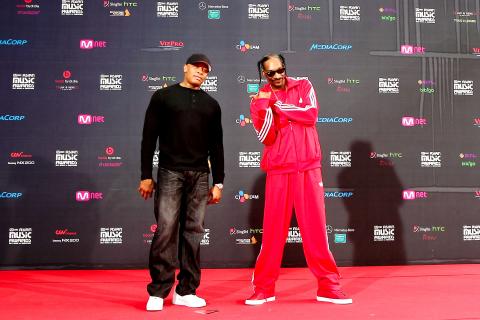 Dr. Dre, left, and Snoop Dogg performed at Luxy early on Friday morning last week.
Photo COURTESY oF LUXY
Snoop has a soft spot in his heart for the medicinal powers of marijuana, and it didn't take him long to talk about it. Snoop asked the crowd, "Can I get a moment of silence for this small chronic break?" as his DJ dropped Mary Jane by Rick James. Snoop then mellowed things out with his verse from Akon's I Wanna Fuck You.
The Next Episode is one of those songs that is recognizable from the very first note. As soon as that beat kicked in, the crowd stating chanting the words, "La di da di da/It's the motherfuckin' D O double G." There was jumping, moshing, screaming, and of lots of cellphones and cameras held high, capturing the moment for posterity.
To add to the madness, during the middle of The Next Episode, Dr. Dre rushed to the stage to recite his verse.
"It was like a childhood dream come true," said Jean-Francis Amadei, an online strategist, who was near the front of the stage the whole show. "They really looked happy to be there."
Dr. Dre and Snoop ran through a short set that included Nuthin' but a G Thang and Gin and Juice, as well as their more recent collaboration Kush. The pair shared the stage for the first time in 11 years on Nov. 29 in Singapore.
"The tour has been going incredible," said Dr. Dre in an interview with the Taipei Times. "The response has been great. We're having a lot of fun. I haven't performed with Snoop in a while and it was just like we performed yesterday."
Dr. Dre was in Taipei with Jimmy Iovine, the chairman of Interscope Geffen A&M Records, to talk about their collaborative project, a new line of headphones released under the label Beats by Dr. Dre.
Iovine thinks Asia is one of the hottest places in the world right now. "It's so progressive. They love music. It's so exciting," he said. "Their love for music and passion for the artist is just incredible. We want to make sure that we come here and explain what we are doing to them."
Beats by Dr. Dre was founded by Dr. Dre and Iovine with the idea of developing high fidelity headphones that would allow users to hear music the way the artist intended. "It's based on fixing the destruction of sound by [the] digital revolution," said Iovine. "Sound was decimated and there are two generations of people that are not hearing music because they were delivered either by a US$1 headphone, or they buy a US$10 headphone."
In August, smartphone company HTC Corp (宏達電) invested US$300 million in Beats by Dr Dre for a strategic partnership aimed at pioneering the future of smartphones.
Dr. Dre said that sound quality was paramount in designing the headphones. "We spent two years before the headphones came out just doing the sound and getting them to look right," said Dr. Dre. "It's another outlet for us to be creative. It's the same type of passion that goes into a record. There's no difference there."
At Luxy, Dr. Dre was on and off in 15 minutes, but he wasn't the evening's only special guest. Even though the rumored appearance of the Black Eyed Peas' frontman will.i.am, didn't happen, Daz and Kurupt of Tha Dogg Pound were the hype men for the show, and even did a few of their songs like Let's Get High and It Ain't No Fun.
Towards the end of the hour-long show, Snoop aimed for the ladies, including Sensual Seduction, as well as Beautiful, in his set. He finished with his more recent club hit, Wet, the product of a collaboration with David Guetta.
As the crowd fist-pumped to the electro beats, Snoop walked off stage and ended the show like only he could, "Smoke weed motherfuckers!"
Comments will be moderated. Keep comments relevant to the article. Remarks containing abusive and obscene language, personal attacks of any kind or promotion will be removed and the user banned. Final decision will be at the discretion of the Taipei Times.