The Vinyl Word
With an impressive array of keyboards, synthesizers and other electronic gear set up on stage, The Chemical Brothers (Tom Rolands and Ed Simons) walked out to thunderous applause on Tuesday night at Taipei Show Hall 2 (台北展演二館). The concert, the first of five shows for Very Aspect's (有象文化) highly ambitious TWinkle Rock Festival, and held in association with Room 18's 10th anniversary, was a doozy.
The Chemical Brothers started their hour-and-a-half set with a few old tunes like Another World, Do It Again and Get Yourself High. While the music was enjoyable, especially the kneecap-rattling bassquakes, people don't just go to a Chemical Brothers show to see DJs — they want visuals. The Brothers delivered right off the bat as a cylindrical tower of lights slowly descended from the ceiling and encircled the producers and their equipment. The electric green lights then danced up and down, side to side and round and round to the cheers of the nearly 6,000 attendees.
The Mad Max Beyond Thunderdome lights were pulled up to unveil a monstrous LED screen as well as lasers shooting in every direction from the stage. Then an evil clown with rotten teeth started floating around the screen mouthing the Freddy Krueger sample ("You are all my children now") from Acid Children. After last summer's feel-good anthem Swoon, 2002's Star Guitar and their first major hit, Hey Boy Hey Girl, the Chemical Brothers were in their groove.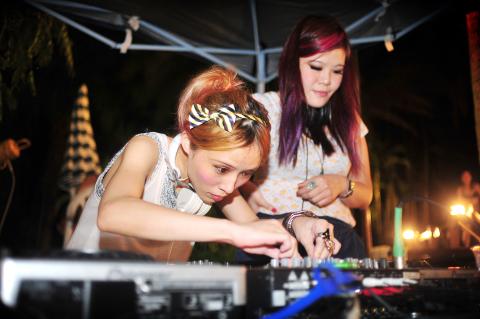 The Bounce Girlz are helping Underworld celebrate its anniversary.
Photo: Steven Vigar
Then they played their most hip-hop song, Galvanize featuring Q-Tip, remixed in a very housy fashion. They blended that into their vivacious closer, Block Rockin' Beats.
The only complaints about the show were that it was hard to see what The Chemical Brothers were doing on stage because of all the lasers, strobes and LED lights, the concert was too short, and there was no encore. But this is festival season and acts need to get on and off stages quickly, and at most festivals encores are frowned upon. The sound quality was top notch, the music was exactly what you'd expect from a Chemical Brothers' show, and the overall visual spectacle was astonishing. The Vinyl Word gives it two thumbs up.
While known for hard house and dubstep, on Saturday last week the Bounce Girlz pulled out all the stops at the Havana pool party in Taipei, playing a set that was very heavy on UK funky. This combination of electro, tribal drums and wispy vocals was made for the poolside, and brought a smile to many people's faces. Tonight, the Bounce Girlz will be bringing more of their freshest tunes to Underworld's 15th anniversary celebrations.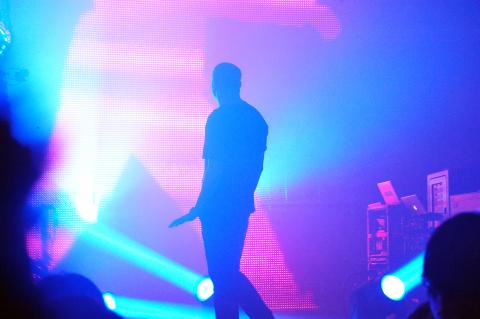 Even Tom Rolands, one half of The Chemical Brothers, seems to be impressed by his visuals.
Photo: Steven Vigar
We Are Young: From NuRave to UK Funky featuring the Bounce Girlz tonight from 10pm to 4am at Underworld (地下社會) B1, 45 Shida Rd, Taipei City (台北市師大路45號B1), tel: (02) 2369-0103. On the Net: www.upsaid.com/underworld. Admission is NT$100.
Comments will be moderated. Keep comments relevant to the article. Remarks containing abusive and obscene language, personal attacks of any kind or promotion will be removed and the user banned. Final decision will be at the discretion of the Taipei Times.