Restaurant review: Dazzling Thai
The Dazzling mini-empire of dessert cafes recently expanded to include Dazzling Thai in the Breeze Center (微風廣場). Like Dazzling Mint, Dazzling Pink and Dazzling Sunshine, which are well known for their massive, elaborate desserts and girlish atmosphere, Dazzling Thai is designed to attract a mostly female clientele. On a recent visit, several tables of guests had their cameras or smartphones at the ready and posed for group portraits as each course arrived at their table. (The restaurant aims to please with its attractively plated, photo-op-ready dishes.)
Dazzling Thai serves up classic dishes like pad Thai, but makes only a token stab at authenticity. In between the curries and papaya salads, the restaurant's very long menu features random options like beef lasagna, fried chicken wings and an "Elvis Burger With Fries."
Our servers were friendly and attentive, but even they seemed overwhelmed by the options. When we asked our waitress for recommendations, she simply replied that items marked with a little cartoon elephant (the same motif is repeated in Dazzling Thai's decor) are the restaurant's "signature dishes."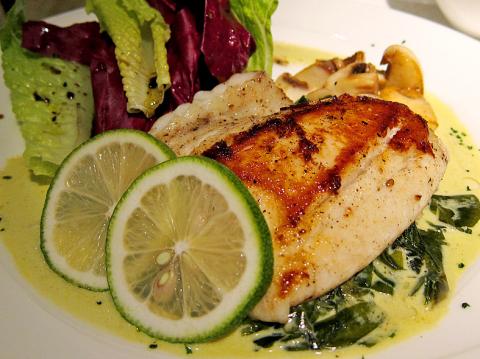 Dazzling Thai's dishes are tasty, but its long menu barely tries to be authentic.
Photo: Catherine Shu, Taipei Times
These include the salmon sashimi in spicy hot sauce (NT$260), an appetizer that sees the fish served in a lime-chili sauce with sliced green onions and sprigs of dill. The dish was an interesting spin on the raw shrimp served in other Thai restaurants, but the other ingredients overwhelmed the sweetness of the thinly sliced salmon.
The restaurant's version of pad Thai (NT$220) was very good, with tender rice noodles stir-fried with fresh shrimp, tiny dried sakura shrimp, bean sprouts, green onions and pork for a pleasing melange of flavors. Out of curiosity, my dining companions and I ordered New England clam chowder (NT$220), one of its more offbeat options. The soup was prepared with the traditional cream, potatoes and onions, but lacked bits of bacon, which meant that the broth was rather sweet. The large serving of fresh plump clams in our tureen, however, gave it a nice briny touch.
Our favorite course was a Dazzling Thai signature — sea bass with seaweed sauce (NT$360). Anyone with an aversion to marine algae will abhor this dish. Not only is the sauce flavored with seaweed, but the fish is served on a bed of seaweed that had an almost slimy texture. The bass itself was excellent, and I liked the extra depth the seaweed added to the savory sauce. If you don't like seaweed, try the grilled sea bass with mashed potato (also NT$360). Dazzling Thai's drink menu is a roster of sweet concoctions, including fruit teas and juices. We ordered Thai iced tea, but our ordinary-tasting drinks weren't worth their NT$90 per glass price. The restaurant's regular roster of desserts is short and includes simple treats like black sticky rice in coconut milk (NT$80) and French-style crepes. If you are a fan of Dazzling's brick-sized honey toast desserts, you will have to hit afternoon tea time (1:30pm to 5pm) or hoof it over to Dazzling Mint or Dazzling Pink a few blocks away near Sun Yat-sen Memorial Hall MRT Station (國父紀念館站).
Publication Notes
Dazzling Thai
Address: Ground floor of Breeze Center, 39, Fuxing S Rd Sec 1, Taipei City (台北市復興南路一段39號GF)
Telephone: (02) 2731-7976
Open: Sunday to Wednesday 11am to 9:30pm, Thursday to Saturday 11am to 10am
Average meal: NT$500
Details: Chinese and English menu, credit cards accepted
On the Net: www.facebook.com/dazzling.thaicafe
Comments will be moderated. Keep comments relevant to the article. Remarks containing abusive and obscene language, personal attacks of any kind or promotion will be removed and the user banned. Final decision will be at the discretion of the Taipei Times.