Festival: It's clay time
This year's International Ceramics Festival (國際陶瓷藝術節), which starts today at the New Taipei City Yingge Ceramics Museum (新北市立鶯歌陶瓷博物館) and runs through Aug. 8, is designed to be a muddy good time.
The event includes a roster of activities that allow kids to get their hands dirty while creating their own masterpieces.
"We want to show people how fun playing with clay is. We don't just focus on ceramic fine art. Anyone can experience pottery-making for themselves," says Chang Wei-tien (張瑋恬), a museum spokeswoman.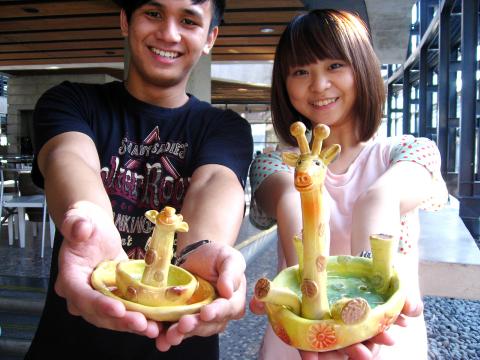 Visitors to the International Ceramics Festival can sculpt all kinds of fun items. The festival gives kids a chance to play with clay, make art and learn English vocabulary at the same time.
Photo courtesy of New Taipei City Yingge Ceramics Museum
On Saturdays and Sundays between now and Aug. 7, ceramic artists Brian Misavage and Elenor Wilson will teach classes for children that combine hands-on clay modeling with simple English language lessons.
"There are a lot of kids who don't like studying English, but they love playing with clay. We've set up the workshop so they can pick up some new vocabulary while having fun with these young, energetic American artists," Chang says.
In different sessions, kids (and their carers) can also paint small ceramic star-shaped candleholders, tiles or even their own bodies with washable pigments. (These classes will take place every day.) One workshop, with times announced on a daily basis, will show participants how to make adorable ceramic giraffe figurines that also double as small bowls.
Artisans will demonstrate how ceramics were manufactured during the early years of Taiwan's ceramic industry. Pottery buffs can also see how Japanese Raku ware, which exerted a major influence on contemporary ceramic art, is glazed and fired.
During the duration of the festival, a giant clay sculpture that resembles a very big chocolate birthday cake will be on display in the museum's plaza. Visitors can make clay decorations to add to the sculpture, turning it into a collaborative art piece.
Grownups have plenty of exhibitions to peruse inside the museum. Galleries pay tribute to influential artist and educator Chen Hui-kun (陳慧坤), who died in February, or focus on ceramic mosaics and sculpture. One space showcases ceramic items made using the latest technologies.
"We want to demonstrate how the ceramics industry continues to be relevant in daily life," Chang says. "Even our cellphones have ceramic components."
Publication Notes
Festival Notes
WHAT: International Ceramics Festival (國際陶瓷藝術節) at the New Taipei City Yingge Ceramics Museum (新北市立鶯歌陶瓷博物館)
WHEN: Today through Aug 8. Museum hours are 9:30am to 6pm on weekdays and 9:30am to 7pm on Saturdays and Sundays
WHERE: 200 Wunhua Rd, New Taipei City (新北市文化路200號), tel: (02) 8677-2727
ADMISSION: Museum admission is free. Festival tickets are NT$50 for 50 points or NT$200 for 220 points that can be redeemed at different workshops. The ceramic and English classes are 200 points per student, while most of the arts and crafts workshops range from 20 to 50 points
ON THE NET: www.ceramics.tpc.gov.tw/Index.ycm
Comments will be moderated. Keep comments relevant to the article. Remarks containing abusive and obscene language, personal attacks of any kind or promotion will be removed and the user banned. Final decision will be at the discretion of the Taipei Times.