Restaurant review:Jingyuan Beiping Vegetarian Restaurant (京園北平素食館)
A recent visit to King Join, an upscale vegetarian restaurant that serves fancy Beijing-style cuisine, (see the Feb. 18, 2011, edition of the Taipei Times), left me thinking: Sure, these quaint, refined recipes of the imperial court were nice and all, but what about some home-cooked grub for the people?
Enter Jingyuan Beiping Vegetarian Restaurant (京園北平素食館), which serves non-meat versions of standard northern dishes, among other favorites.
Located near Hsingtien Temple (行天宮), Jingyuan is the cleaner looking, and perhaps a tad healthier, version of your neighborhood Beijing/Beiping/(choose your favorite old name for the Chinese capital) "palace" or family-style restaurant.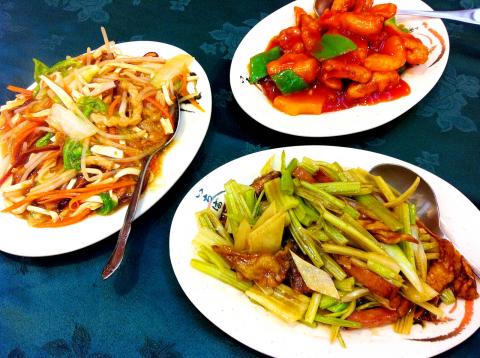 Jingyuan Beiping Vegetarian Restaurant takes the carnivore guilt out of your favorite dishes.
Photo: David Chen, Taipei Times
It's easy to forget you're about to have a vegetarian meal glancing through Jingyuan's nine-page menu. The selection is a long list of familiar dishes: an assortment of dumplings both steamed and fried, zhajiang mian, or fried sauce noodles (炸醬麵, NT$80), mapo tofu (麻婆豆腐, NT$138), kung pao chicken (宮保雞丁, NT$168), sweet and sour pork chops (糖醋排骨, NT$188). There's even the basil-infused sanbeiji, or three cup chicken (三杯雞, NT$208).
Jingyuan uses various kinds of tofu and seitan (which is made out of wheat gluten) as meat substitutes, and like many places in Taiwan that cater to Buddhist vegetarian diets, the restaurant doesn't cook with garlic, onion, shallot or leek.
This fact made the ganbian sijidou, or stir-fried green beans (乾扁四季豆, NT$168), seem even more impressive for its strong and savory flavor. Bits of smoked tofu mimicked minced meat, while zesty notes came from chopped day lily stems (金針筍), also called biyusun, or jade bamboo shoots (碧玉筍), a garlic substitute that looks like green onion. The dish made my dining companion pause after taking her first bite. "Wait. Are you sure this is vegetarian?" she asked.
You won't ask that question about Jingyuan's sweet and sour pork (糖醋里肌, NT$188), but it's still very much worth trying for its sweet and tangy glaze and deep-fried goodness. Another house recommendation is the Hakka stir-fry (客家小炒, NT$188), which has a peppery bite and is chock-full of textures, from the crispness of the julienned celery to the tender bites of tofu.
The combination vegetable stir-fry (炒合菜, NT$168) was much more appetizing than it appeared and turned out to be one of our favorites. It looked like sweet-and-sour soup (酸辣湯), but without the soup. The ingredients were indeed similar: cabbage, carrot, rice noodles and tofu. It was also less greasy than the other stir-fry dishes.
Have the above items with rice or the fried bread (銀絲卷, NT$30 per piece), a mantou with a crispy, slightly sweet golden crust.
Jingyuan's xiaolongbao (小籠包, NT$120 for a basket of 10) is not going to put Din Tai Fung out of business anytime soon, but these dumplings, filled with rice noodles, finely chopped tofu and vegetable greens, were refined in their own way. I had high hopes for the vegetarian potstickers (素食鍋貼, NT$80 for eight pieces), which were cooked to a perfect golden brown on the bottom, but the all-cabbage filling didn't work — they fell apart after the first bite.
A few other northern classics on the menu include the xianbing, or meat pie (餡餅), and the xiangchun rolls (香椿卷餅, NT$60), a vegetarian version of fried scallion roll with beef (牛肉捲餅).
It's hard to beat the real thing, but Jingyuan Beiping Vegetarian Restaurant comes pretty close, and the restaurant offers a nice upscale alternative to Taipei's ubiquitous vegetarian buffets.
Publication Notes
Jingyuan Beiping Vegetarian Restaurant (京園北平素食館)
Address: 22, Ln 330, Songjiang Rd, Taipei City (台北市松江路330巷22號) Telephone: (02) 2543-4309 Hours: 11am to 2pm and 5pm to 9pm
Average meal: NT$150 and NT$300 per person Details: Credit cards accepted, located near Xingtian Temple MRT Station (行天宮捷運站), Exit 4
Comments will be moderated. Keep comments relevant to the article. Remarks containing abusive and obscene language, personal attacks of any kind or promotion will be removed and the user banned. Final decision will be at the discretion of the Taipei Times.