Polish cleaning lady reveals Germany's dirty secrets
Justyna Polanska's 'Under German Beds' recounts the degrading experiences the author faced while working in a country ostensibly obsessed with order
A sharp-tongued Polish cleaning lady is making a splash in Germany with a tell-all memoir revealing the seamy underbelly of Europe's biggest economy and exploding the myth of Germans' penchant for order.
Under German Beds written under the pen name Justyna Polanska shot to No. 4 on online retailer Amazon's best-seller list after its release this month.
It is a cringe-inducing, stomach-churning read for the legions of middle-class Germans who employ a cleaner, exposing the pettiness, hypocrisy, lechery and plain filth behind the tidiest facades in the country.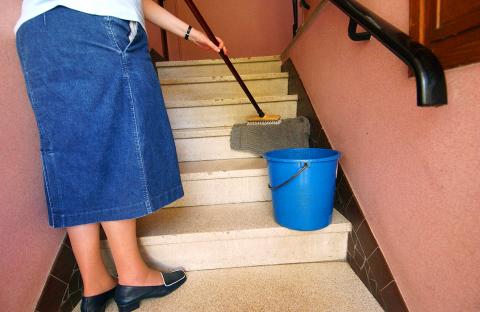 Life's not easy for a Polish cleaning lady working in Europe's biggest economy.
Photo: AFP
"I wrote this book because I'd like to see more humanity and more respect for cleaning women," Polanska told Agence France-Presse.
"Asking during a telephone interview if I have large breasts or am wearing red underwear is rather crass, don't you think?" she asked, recounting just a few of the degrading experiences the German job market has offered her.
Employers have also dropped their trousers in front of her, flaunted luxurious new clothes then failed to pay her in full, and falsely accused her of stealing.
The 31-year-old Polanska is among an estimated 500,000 Polish women who have crossed the border since the Berlin Wall fell in 1989 with the hope of cleaning their way to a better life.
She hastens to say that Germany has been good to her on the whole and she has many German friends. But her hair-raising discoveries behind closed doors may surprise those with the image of Germany as a nation of neat freaks.
Among the grisly items she has discovered under German beds are freshly extracted wisdom teeth, half a roast chicken, bloody tampons, an entire toenail and a dead hamster, as well as loose cash intended to test her honesty.
"When I lived in Poland, I had an image of Germans as clean and orderly," she explained in fluent, lightly accented German. "When I started cleaning here I saw that was not the case — not with everyone but with more than I ever would have thought."
Her eye-opening and often humorous memoir turns a harsh light on aspects of German society that — fortunately — remain hidden from the overwhelming majority.
It comes in a long line of get-the-bosses exposes such as The Nanny Diaries, books by call-center agents, breakdown service staff and secretaries, and the recent international best-seller by French checkout worker Anna Sam, which Polanska cites as an inspiration.
When she felt she had a good story to tell, Polanska shopped the idea to publishing houses until she found one with a German ghostwriter "where the chemistry was right."
"Since it was published, I've had some very nasty feedback on the Internet with people saying 'Stupid cow, Germans are very tidy' and 'She's only after a buck,'" she said.
"And the reaction on Polish Web sites was not much better — some were quite aggressive. I think they just don't get it — I'm not complaining, I want to keep working. But I want respect."
A Polish translation is in the works and several English-language publishers have expressed interest. Flush with success, Polanska said she was considering using her earnings to train as a cosmetologist and leave the world of cleaning behind, not least because she generally works on the black.
A study released in November by the IW institute for economic research in the western city of Cologne said an estimated four million undeclared employees work in German households. By 2050, the number is expected to triple to 12 million, with one in three households paying their help without informing the tax authorities.
Factors driving the rise include an ageing population, more double-income families with children and more people in demanding jobs, all of whom are more likely to need assistance at home.
Germany attempted in 2003 to simplify the so-called "minijob" sector — people doing low-paid or short-term work — by making it in many cases only slightly more expensive for families to register their household help.
An organization pushing for more legal employment in German homes, Minijob-Zentrale, said in December that there were now 211,600 people officially registered as working in private households, a more than 15 percent rise over 2009 and six times more than in 2003.
"The process has really been streamlined," said Susanne Heinrich of the Minijob-Zentrale in the western city of Bochum. "People are afraid there will be lots of red tape and in fact for most cases it is enough to fill out one sheet of paper."
But Polanska said she has never had an employer who did not want her to work on the black. "I don't know a single cleaner — regardless of her nationality — who does not earn at least part of her money illicitly," she writes. "Or any employer who doesn't think it's great because they can get someone to clean, wash, iron and sometimes cook for them for 10 euros [US$14] an hour."
Comments will be moderated. Keep comments relevant to the article. Remarks containing abusive and obscene language, personal attacks of any kind or promotion will be removed and the user banned. Final decision will be at the discretion of the Taipei Times.