The classics as antidote to a modern malaise
Stuck in a maze of nihilistic indecision, Americans need to stop striving for the Truth to find the exit, argues Hubert Dreyfus in 'All Things Shining'
The philosopher Hubert Dreyfus and his former student Sean Dorrance Kelly have a story to tell, and it is not a pretty tale for us moderns. Ours is an age of nihilism, they say, meaning not so much that we have nothing in which to believe, but that we don't know how to choose among the various things to which we might commit ourselves. Looking down from their perches at Berkeley and Harvard, they see the "human indecision that plagues us all." In All Things Shining they offer readings of classic texts to show both how we got into this mess and how we can overcome it.
Though brief, this is an ambitious book, offering insightful readings of authors including Homer, Dante, Descartes and Kant, as well as the novelists Herman Melville and David Foster Wallace. Dreyfus and Kelly believe that great books are the "gathering places" where the major forces of a culture are focused, and so they are able to chart our descent from Homer's gratitude before many gods to Wallace's paralysis before a plethora of choices.
All Things Shining is not a book that asks, though, which Greeks would have been filled with gratitude, or which Americans have so many options that they are overcome by indecision. The philosophers stay very general, so everyday religious practices, poverty and gender dynamics play no role. This is especially unfortunate because it undermines their call to pay attention to, and be grateful for, the ordinary things around us.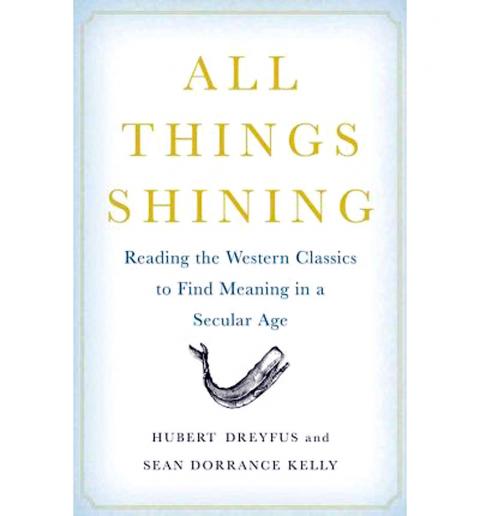 ALL THINGS SHINING: Reading the Western Classics to Find Meaning in a Secular Age
Like Allan Bloom and Harold Bloom, and more recently David Denby and Alain de Botton, Dreyfus and Kelly think that classic texts point the way out of our contemporary malaise. They focus on philosophical issues, relying heavily on a version of Martin Heidegger's narrative of cultivated despair with our technological age. Once upon a time in the West, way before Socrates and Plato kicked off what we now think of as philosophy, people were open to the wonderful variety of things. When we began to look for the Truth, however, we got locked into a cycle of certainty and skepticism.
Our desire for an Essence or a God to anchor the world made us increasingly oblivious to our experience of it. As our monotheistic quest for the foundation of meaning fell short, we slid down the slippery slope toward nihilism, toward the sense that nothing had any sense at all. As we strove to get out of this morass, we only slipped further, since striving was a big part of the problem.
For Heidegger, particularly after his awful alliance with the Nazis, finding a way to listen to great works of art and philosophy, to hear the lessons of the poets and craftsmen, was our only hope for turning away from contemporary emptiness and oblivion. Dreyfus and Kelly provide an Americanized version of Heidegger's narrative: Wallace and Melville play crucial roles, and the book ends by extolling the openness to communal feelings Americans display at sports events.
Dreyfus and Kelly see in the Homeric past a world in which "the highest form of human excellence" is "to recognize, be amazed by, and be grateful for whatever it is that draws you to act at your best."
They say that Homer's heroes were able to open themselves to a variety of gods, to "whatever stands beyond us that requires our gratitude." In the authors' reading of Homer and other texts, they rely heavily on Heidegger's concept of "attunement," which conveys how receptive moods allow us to acknowledge meaning in the world. We get out of tune when we pursue monotheism, the notion that there is a unifying principle at work in the world, because we then try too hard to make the universe reveal its secrets or serve our interests. When we try too hard, we lose touch with the world.
Great books are there to reconnect us. Dreyfus and Kelly admire Dante's focus on the saving power of various forms of desire, but find that his ultimate emphasis on the overwhelming bliss of contemplating God "makes all other earthly joys irrelevant." Dante's achievement turns out to be "not the answer to nihilism but another step in its direction." Similarly, the philosophical focus after Descartes and Kant is on the autonomous self as the basis for knowledge, but the authors explore how the idea of a human subject able to bestow meaning on inert objects winds up undermining our openness to the world.
The reading of Moby-Dick is the most exciting and provocative part of All Things Shining. The authors see Ahab's determination as "the wicked core of his monomaniacal monotheism," and they understand the novel as a stirring critique of the modern search for an existential foundation.
"At the center of Melville's understanding of the whale is the idea that there is no meaning to the universe hidden behind its surface events, that the surface events themselves" are all there is. This is vital and important, but Dreyfus and Kelly undercut their own message by claiming that "a whole pantheon of gods is really there." Why invoke these gods when the surface events are supposed to be enough?
Dreyfus and Kelly invoke these gods because they want us to receive something really deep and powerful, and they give the example of being overwhelmed by emotions in crowds. But then they awkwardly depart from their poems, novels and plays to cite feelings of oneness in a crowd watching Roger Federer play tennis! Can privileged, happy spectators really stand as an antidote for the general affliction of modernity? Is "whooshing" along with a crowd the philosophers' cure for nihilism or just its expression?
In what seems like an afterthought, they try to distinguish between sharing joy at a game and at a Nazi rally. The authors say more than once that they want their readers to be able to recognize "when to rise up as one with the ecstatic crowd and when to turn heel and walk rapidly away." But they fail to show how what they call the "higher-order skill" of reverence will help in this regard, and they don't even consider that fighting the Nazis might be an alternative to either joining or walking away.
Despite its shortcomings, All Things Shining repays attention and reflection. It is a fascinating read and deserves an audience far beyond the borders of academia. Even if you don't agree that we are caught in an age of nihilistic indecision, if you attune yourself to the authors' energetic intelligence and deep engagement with key texts in the West, you will have much to be grateful for.
Michael Roth is the president of Wesleyan University and the author of 'The Ironist's Cage.'
Comments will be moderated. Keep comments relevant to the article. Remarks containing abusive and obscene language, personal attacks of any kind or promotion will be removed and the user banned. Final decision will be at the discretion of the Taipei Times.