Arty farty
Fast-growing lifestyle brand '0416's signature hand-drawn designs mix wacky characters and potty humor with inspirational messages
Lifestyle brand '0416's trademark is a zany mixture of puns, fart jokes and the occasional swear word. T-shirts, stationery and accessories are printed with designer Liao Chen-hung's (廖振宏) pen-and-ink illustrations, which feature characters with gas bubbles emerging from their behinds or whispering "fuck" while hidden behind a row of polka dots.
But '0416 (which is Liao's pen name and birth date) relies on more than an offbeat sense of humor for its success. In just five years, the marketing acumen of Liao and his business partner Robin Chen (陳榮彬), both 34 years old, have taken the brand from stalls at weekend markets to three stores in Taipei, including its flagship location near Zhongshan MRT Station (中山捷運站), which opened last fall.
'0416 was launched as a creative outlet by the two friends, who met while working as advertising designers. In 2005, Liao began silk-screening T-shirts and selling them on his blog (blog.roodo.com/0416/). "I'd been doing commercial work for a while and I wanted to work on my own thing and have some fun," he says.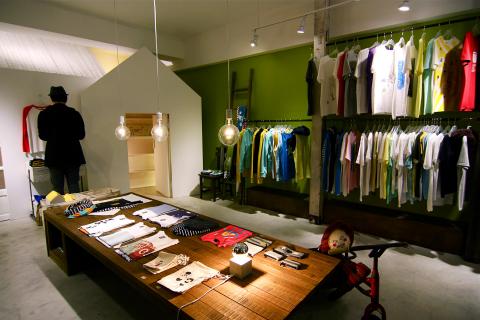 T-shirts and home products designed by Liao Chen-hung and Robin Chen of '0416.
Photo: CATHERINE SHU, TAIPEI TIMES and courtesy of '0416
Liao and Chen's friend, an organizer of Campo Life Arts Festival, suggested that they set up a stall and '0416 became one of the market's regulars. Manning the booth allowed the two to gauge customer reactions to their wackier creations. One series of T-shirts, for example, featured characters with their arms raised to show off tufts of thread sewn on to mimic underarm hair.
"People would see it and freak out. They would start laughing like crazy, feeling the 'hair' and asking us if we were serious," Liao says. "We'd hear people screaming, 'That is so wrong!' as they walked away, but then they'd come back and buy it anyway."
Liao says that the duo's initial investment in '0416 was "one or two thousand" NT dollars for silk screen ink and blank T-shirts. The two built their brand gradually, reinvesting a portion of their profits in new supplies.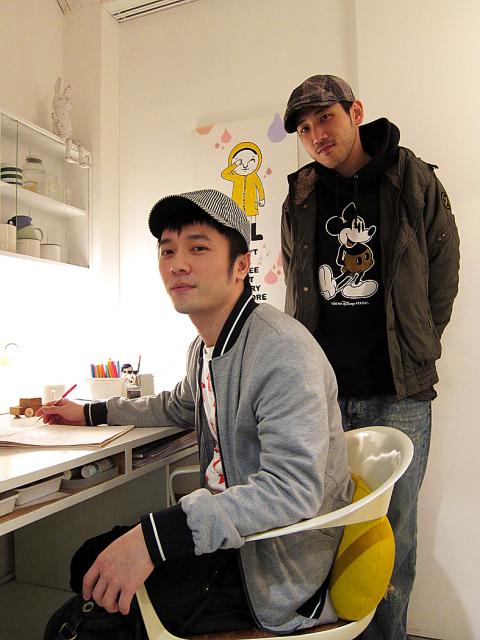 '0416 cofounders and designers Robin Chen (left) and Liao Chen-hung.
Photo: Catherine Shu, Taipei Times
"We always wanted it to last," says Chen, who handles marketing. "Both of us understand the importance of branding and building a reputation." To keep customer interest, the two issue a new series of T-shirt designs every month, along with fashion accessories, stationery and a line of home decor items designed by Chen.
After a year of selling at artists' markets throughout Taiwan, the two rented a tiny space in Ximending's Shinjuku Plaza (西門新宿), a shopping mall. A second store soon followed in Red House's 16 Workshops (16工房).
At the beginning, balancing their advertising careers with '0416 resulted in a grueling schedule and the two sometimes slept just three hours a night. One person would watch the Ximending store while the other printed T-shirts in their Sindian (新店) studio. By 2007 they were able to hire a part-time worker, and '0416 now has 11 employees.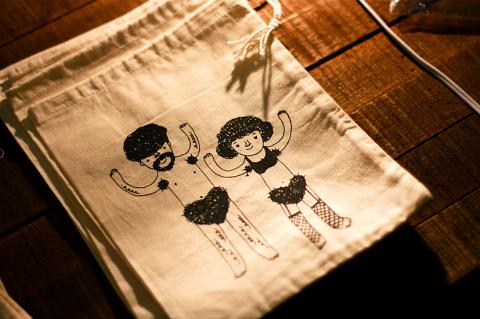 T-shirts and home products designed by Liao Chen-hung and Robin Chen of '0416.
Photo: CATHERINE SHU, TAIPEI TIMES and courtesy of '0416
Chen and Liao still silk-screen many of their T-shirts themselves, in part because it is difficult to convince manufacturers to take on '0416's limited print runs. They also sew seasonal accessories and built most of their flagship store's interior from scratch.
The shop features a dressing room shaped like a tiny house in one corner. A door nearby leads into an equally pint-sized studio filled with art supplies and Liao's paintings. A shelf displays small lamps, vases and soap dishes designed by Chen and hand-sculpted from concrete.
Each of '0416's T-shirts tells a story or carries an inspiring message — even the ones with potty humor. A portly, hairy man wearing fishnet hose and a toilet plunger on his head orders people to "don't worry, be happy." Another T-shirt was designed for introverts, Chen says. It features "Be My Friend" printed in bold letters, but using glossy white ink that blends almost invisibly into the fabric.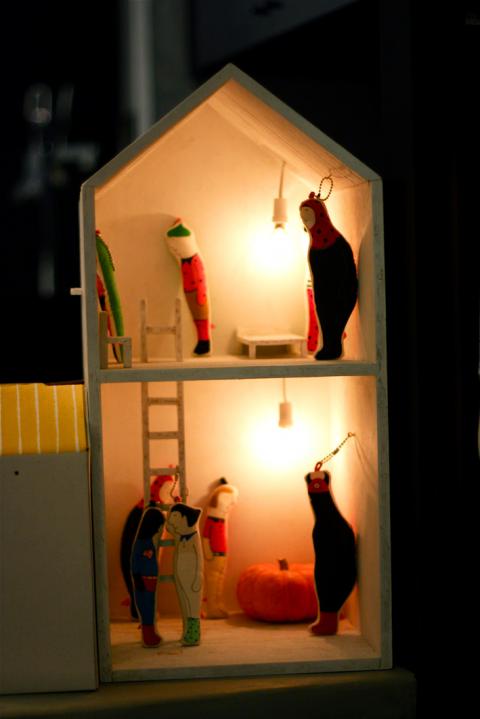 T-shirts and home products designed by Liao Chen-hung and Robin Chen of '0416.
Photo: CATHERINE SHU, TAIPEI TIMES and courtesy of '0416
Another shirt features only a lowercase "a" on the front and a lively cluster of Liao's most cheerful looking characters on the back.
"It's a single lowercase 'a' that represents how lonely people are at times, but they shouldn't forget they always have friends standing behind them," Chen says.
One T-shirt is printed with giant overlapping circles in cheerful citrus shades. It looks innocuous enough — until you notice a man in the corner with a tiny speech bubble that reads "fuck."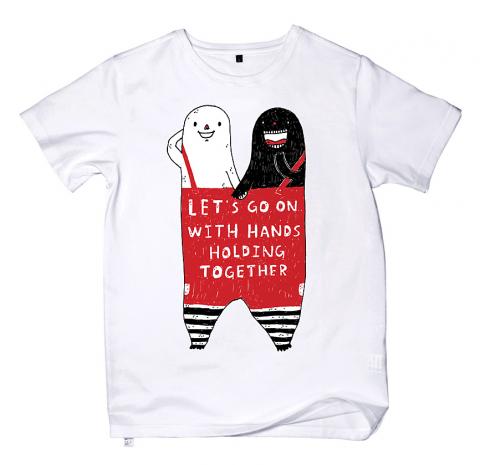 T-shirts and home products designed by Liao Chen-hung and Robin Chen of '0416.
Photo: CATHERINE SHU, TAIPEI TIMES and courtesy of '0416
"Sometimes people don't want to say what they are really feeling, so they'll just secretly mutter 'fuck!" Chen says. "That design sells pretty well."
Other designs derive their humor from puns and interlingual word play, including a shirt printed with the English words "don't cry" over a picture of a coffee cup; the Hoklo (commonly known as Taiwanese) for "don't cry" sounds like "my coffee" in English. A peanut-shaped man is emblazoned on another T-shirt with the phrase "good things happen" in Chinese characters, but the characters for happen (發生) are replaced with the ones for "peanut" (花生); the two sound similar when spoken in accented Mandarin.
Chen and Liao dream about expanding the '0416 brand by opening a coffee shop or bed-and-breakfast on the south coast of Taiwan. Both still take on freelance design work for advertising clients like Nike, Sony and Books.com.tw (博客來, Liao created the online merchant's mascot Okapi), but most of their time is now spent on projects for '0416.
"I hope that when customers look at our designs, they feel moved," Chen says. "Not necessarily a big emotional reaction, but at the same time I want them to laugh or maybe recall a favorite memory."
Publication Notes
STORE NOTES:
WHAT: '0416
WHERE: '0416X1024 Life Shop (Zhongshan flagship store): 18, Ln 20, Zhongshan N Rd Sec 2, Taipei City (台北中山北路二段20巷18號); '0416 T-Shirt Shop at 16 Workshops (16工房): Red House Theater (西門紅樓), 10 Chengdu Rd, Taipei City (台北市成都路10號); '0416 T-Shirt Shop at Shinjuku Plaza (西門新宿): Room 16, 72-1, Xining S Rd, Taipei City (台北市西寧南路72-1號16室)
OPENING HOURS: Zhongshan flagship location is open daily from 1pm to 10pm; 16 Workshops store 2pm to 9:30pm from Sunday to Thursday, 2pm to 10pm from Friday to Saturday and closed Monday; Shinjuku Plaza store daily from 2pm to 10pm
TELEPHONE: Zhongshan flagship store: (02) 2521-4867; 16 Workshops store: (02) 2311-8353; Shinjuku Plaza store: (02) 2389-6170
On the Net: www.hi0416.com
Comments will be moderated. Keep comments relevant to the article. Remarks containing abusive and obscene language, personal attacks of any kind or promotion will be removed and the user banned. Final decision will be at the discretion of the Taipei Times.