THE VINYL WORD
While Armin Van Buuren has occupied the top slot in DJMag's top 100 list for the past four years and David Guetta frolics with hip-hop superstars like Fergie, Rihanna, and Akon, there's no doubt that Tiesto (born Tijs Michiel Verwest) is still the world's biggest DJ.
He brings his Kaleidoscope World Tour to Nangang 101 tonight.
"I appreciate the recognition but I do not pay much attention to rankings or lists," Tiesto said in an e-mail interview with the Taipei Times. "I am focused on making the best music possible and giving the fans a great live experience."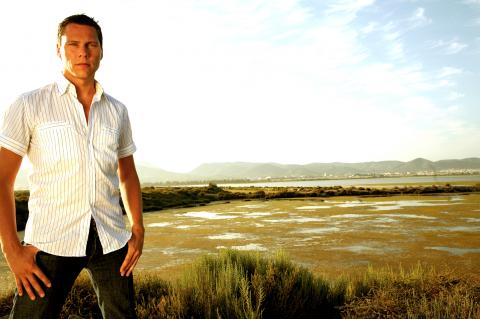 Tiesto, one of the hardest working DJs in the business.
Photo: Courtesy of The Loop
Since starting off on Halloween last year, Tiesto has piloted the Kaleidoscope World Tour through five continents and nearly 150 shows. Fans who expect the swirling musical landscapes and long trance buildups of yesteryear may be disappointed as Tiesto's newest album, Kaleidoscope, has a much more bouncy house music feel.
"Kaleidoscope was a progression for me," he said. "The reaction has been great and the fans really like it. It's been an amazing experience."
Trance lovers and hip-hop heads raised their eyebrows when Tiesto recently collaborated on tracks with Diplo (C'Mon) and Three 6 Mafia (Feel It). But he says he enjoys working with other artists.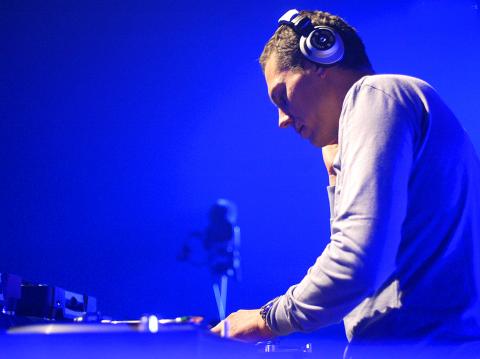 Tiesto, one of the hardest working DJs in the business.
Photo: Courtesy of The Loop
"On Kaleidoscope, I worked with some amazing people such as Nelly Furtado, Tegan & Sara, and Emily Haines," Tiesto said.
And the artist on the top of Tiesto's wish list to collaborate with? "I would love to work with Jay-Z," he said.
Tiesto says he gets a kick out of being on the road so much, and once played a bionic 27 shows in 25 days. With all this travel, he could be forgiven for not wanting to listen to music in his scarce time off, but he still keeps up with emerging and up-and-coming artists.
"Right now I've been listening to Avicii and Dada Life who are really coming up in the scene," he said.
Tonight's party in Taipei's Nangang District is Tiesto's fourth visit to Taiwan. All 5,000 advance tickets are sold out, but 500 tickets will be available when the doors open. Arrive early to get a spot in the line.
■ Tiesto's Kaleidoscope World Tour (萬花筒專輯世界巡迴台北站), tonight from 9pm to 4am at Nangang 101 (南港101), 71 Xingnan St, Taipei City (台北市興南街71號). Tickets are NT$1,800 at the door.
On the opposite end of the musical spectrum, DJs FRESCO, Vicar, Flow (流) and Crrherc will keep it decidedly old school and funk heavy at LaLuz with the ridiculously named Indulge Volume 3: Remind the Old Good Things. Vicar is the standout on that list as he stubbornly refuses to convert his records to MP3s and only deejays with vinyl. The self-proclaimed King of Digging in Taiwan loves to find original samples from popular hip-hop songs and play them to crowds. Expect mellow vibes and cool people all around.
■ Indulge Volume 3: Remind the Old Good Things, tonight from 11pm to 4am at LaLuz, 137, Anhe Rd Sec 1, Taipei City (台北市安和路一段137號). Entrance is free and more information can be found at glp501.blogspot.com/2010/11/indulgevol3-remid-old-goog-things.html
Comments will be moderated. Keep comments relevant to the article. Remarks containing abusive and obscene language, personal attacks of any kind or promotion will be removed and the user banned. Final decision will be at the discretion of the Taipei Times.