Rock candy for trick-or-treaters
From the weirdly fascinating to the downright scary, there are more music gigs than you could shake your bones at this Halloween
UPDATE: Tomorrow's Tribute to the God of Hell free festival at the Dizang Temple, Sinjhuang City (新莊) has been canceled.
With so many religious ceremonies that honor the dead, it is no wonder Taiwan has embraced Halloween.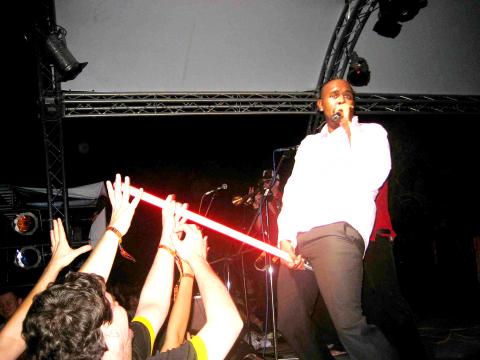 Dooley Chandler of Moneyshot Horns wants to funk the hell out of you this Halloween.
Photo: Alita Rickards
One of the best places to celebrate this year is at tomorrow's Tribute to the God of Hell free festival at the Dizang Temple, Sinjhuang City (新莊).
"The best part of last year's show was seeing such a diverse crowd show up," said organizer Joe Henley. "We had everyone from families with toddlers to curious Xinzhuang octogenarians dressed in ceremonial kimonos to drag queens come out."
Though co-organizer Anthony Medeiros (of Blood Orange and Revilement, formerly of the Deported) says he tried to mix up the lineup "to introduce some new sounds to the audience and not just stick with one genre," the bands form a pretty hard-core group, with bruised and brooding post-rock from Collider, thrash metal from Masquerader, black thrash from Total Disruption, Sad People playing punk rock, Horsemen hoofing out some heavy metal, and Sideffect playing metal core.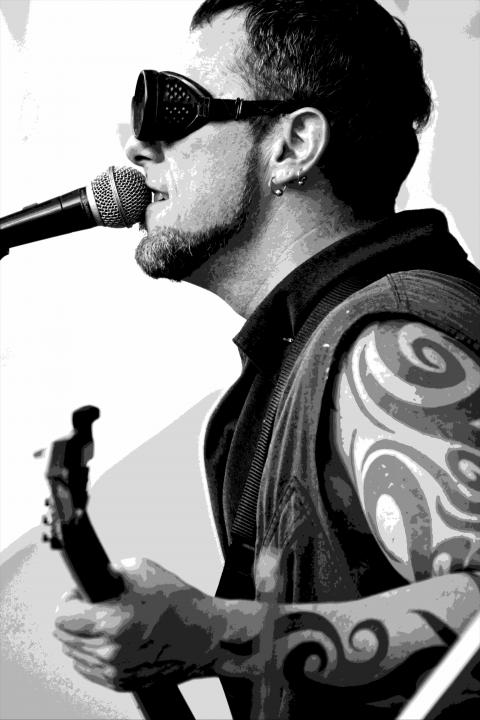 Roughhausen plays at tomorrow's Tribute to the God of Hell.
Photo COURTESY OF Gareth Griffiths
Medeiros is particularly excited to have industrial band Roughhausen at this year's festival. "The singer [Jeff Stoddard] — a former member of Front Line Assembly — is amazing," he said. "He has a great stage presence and atmosphere, and really brings it to the table."
Country/punk group Point 22 sticks out from the rest of the lineup. Is the band planning to go metal for the event?
"Precious metal," said drummer/singer Pete Holmes. "I'm scared I might channel some of the God of Hell's power and rock the panties off all the ladies."
While there are many levels of hell at the temple, there's only one at Underworld, and that's the basement. How so many bands, let alone the crowd, will fit in the tiny venue is anyone's guess.
Go Chic, queens of the electro scene, can pull a crowd of hundreds — add to that American headliner Deathface with his scary hard-core future-rave heavily laced with Satanism and sex.
Deathface is the alter ego of Johnny Love, formerly of techno-electro group Guns N' Bombs. He now operates as a solo artist and producer though he often collaborates with other artists.
Also playing are two groups from Japan, Dream Sound System, a mash-up music project that produces trance, drum 'n' bass and techno, and Aonami, who uses a remodeled retro Nintendo Gameboy to create lowtech electronic music. DJ Deathstar will finish up the night with electronica, hip-hop and breakcore.
Halloween tends to bring out the creative side in people, and the folks behind Brickyard have outdone themselves with a short video by Scott Weatherall promoting their party. It features Moneyshot Horns front man Dooley Chandler as a freaky zombie scaring the funk out of partygoers, chomping them on the necks, and turning them into the undead. A cameo of co-owner Graham Dart showcases some of his really scary dance moves (watch the video at www.youtube.com/watch?v=l44VJxKzdQ0&feature=player_embedded). The Horns play with Liger Attack and DJ RabyFunk at Brickyard's first Halloween party, with NT$12,000 up for grabs in prizes for best costumes.
Meanwhile, Taichung will rock out with a lineup that's guaranteed to get your bones rattling and your skellie shaking at 89K.
The night's sounds include goth-tinged indie by My Skin Against Your Skin, Fullhouse's old-style rockabilly, and the Deadly Vibes' hip-grinding rock 'n' roll.
If you're looking for something to do on the big day itself, check out Wild Zero — Zombies, Trash, and Chaos, a free outdoor screening of rock band Guitar Wolf's zombie movie (check out the trailer at www.youtube.com/watch?v=YQ_D9OjDoQ0) at Treasure Hill.
PERFORMANCE NOTES:
WHAT: Tribute to the God of Hell
WHERE: 84-1 Jhongjheng Rd, Sinjhuang City, Taipei County (台北縣新莊市中正路84之1號)
WHEN: Tomorrow from 1pm to 9pm
ADMISSION: Free
GETTING THERE: Take bus 802 (red or green line) from the stop outside the Family Mart next to Xinpu MRT Station (新埔捷運站) Exit 5, and get off at the first stop
ON THE NET: www.facebook.com/underworldlive?ref=ts#!/pages/A-Tribute-to-the-God-of-Hellde-cang-wang-xian-ji/153701121322567
WHAT: Bounce Girlz Predator Productions Presents Deathface With Go Chic and Guests
WHERE: Underworld (地下社會), B1, 45 Shida Rd, Taipei City (台北市師大路45號B1). Tel: (02) 2369-0103
WHEN: Tomorrow from 10pm
ADMISSION: NT$500
ON THE NET: www.facebook.com/underworldlive?ref=ts#!/event.php?eid=162437627116234
WHAT: Brickyard's First Halloween Party
WHERE: Brickyard, B1, 507, Jhongshan 2nd Rd, Cianjin Dist, Kaohsiung City (高雄市前金區中山二路507號B1)
WHEN: Tomorrow from 11pm to 7am (doors open at 7pm)
ADMISSION: Presale tickets are NT$250 for men and NT$150 for women available from the venue, or NT$500 (men) and NT$300 (women) at the door
ON THE NET: www.brickyard.com.tw/chinese/content/1030-brickyard-halloween-party
WHAT: Halloween Party!
WHERE: 89K, 21 Daguan Rd, Nantun Dist, Taichung City (台中市南屯區大觀路21號)
WHEN: Tomorrow from 10pm to 4:30am
ADMISSION: NT$400
ON THE NET: www.facebook.com/underworldlive?ref=ts#!/event.php?eid=115196315208092
WHAT: Urban Nomad film screening of Wild Zero
WHERE: Treasure Hill Artist Village (寶藏巖國際藝術村), 4-8, Alley 37, Ln 230, Dingzhou Rd Sec 3, Taipei City (台北市汀州路三段230巷37弄4-8號). The entrance to Treasure Hill is located near the corner of Dingzhou and Keelung (基隆) roads. From there it's a five to seven-minute walk to the site
WHEN: Sunday. Film starts at 7:30pm
ADMISSION: Free
ON THE NET: www.urbannomad.tw
Publication Notes
Comments will be moderated. Keep comments relevant to the article. Remarks containing abusive and obscene language, personal attacks of any kind or promotion will be removed and the user banned. Final decision will be at the discretion of the Taipei Times.