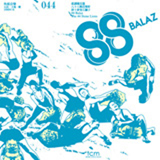 88 Balaz (八十八顆芭樂籽)

The 44 Stone Lions (肆十肆隻石獅子)

Taiwan Colors Music (角頭音樂)
88 Balaz has proven that their unique, high-energy rock holds up well in the studio with The 44 Stone Lions (肆十肆隻石獅子), the band's first full-length album with indie label Taiwan Colors Music (角頭音樂), which will be officially released this Friday.

 This album rocks. 88 Balaz is loud but the songs go down easy — their sound is a mixture of punk, metal and alt-rock droning rhythms, offset by pop elements in the songwriting of lead singer A-chiang (阿強).

 The album also shows thoughtfulness in concept. The overall feel is straightforward rock energy, but it's also dynamic: songs flow seamlessly between different moods and grooves across genres. Instead of starting with a bang, the album leads listeners in, beginning with the acoustic-tinged Cauliflower Song (花椰菜之歌), and eases away with Ode to Ballfield Madness (野球狂之詩). In between, the album moves through a range of distortion-drenched songs, from the spooky and frantic The Hanging (參絞刑) to the punk rock ballad Sweet Pickle (甜蜜的酸黃瓜).

With 44 Stone Lions, A-chiang has displayed his maturing talent as a musician. He screeches and screams a lot, yet still sounds musical. He also has a knack for fun and catchy songwriting — one standout track on the album, Cicada Vitality B (蟬的活力B), is a ska-infused number that has the infectious energy of the Clash's London Calling.

What's most impressive about the album is that 88 Balaz managed to draw from a variety of rock sounds and styles, yet remained focused. They seem to have a good awareness of their strengths, which shows in their highly original sound.

— David Chen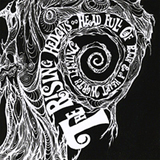 Rising Hedons


Head Full of Rain


www.therisinghedons.com
It's hard not to admire the indie usician ethic of Bradley Tindall and his band the Rising Hedons, who have put together a professional-sounding debut CD. Recorded in various apartments and warehouse in Taichung, Head Full of Rain is a straightforward blues-rock album with some nice twists.

The album starts off with Bad Solution, a blue shuffle with a southern rock flavor, and smoothly flows into different grooves with songs such a s One Night Stand, which has a reggae feel, and Chances on You, a folk-rock tune with an unexpected but pleasing vocal chorus. Tindall sings with a tough but catchy voice, and his vocal delivery is clean.

At first listen one might not guess that the Rising Hedons are based in Taiwan, which serves as inspiration for several of the band's tunes: Tindall wrote 1973 after hearing stories of the past "wild days" of long-term expats and his fellow musicians, and Kenting Sunset is an introspective ode to Taiwan's popular coastal vacation spot.

Acoustic and electric guitars are the defining sounds of the album, and Tindall uses them to great effect. On many of the tracks, he plays 12-string acoustic slide guitar, which provides a droning, hypnotic feel. Tindall also laces the album with tasteful electric guitar solos that add a soulful touch to the songs.

The band skips the normal drum kit for hand drums, with tablas and a djembe providing the backbeat. The djembe has a distinctive sound that can dominate a song, but it blends in well with the album's mixes, which were done by renowned recording engineer Bruce Miller.

The overall groove on Head Full of Rain is mellow but driving, and the band arrangements are tight, which makes for pleasurable listening for both blues and rock fans.— David Chen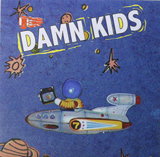 Telephone Booth (電話亭)

Damn Kids

www.wretch.cc/blog/telephone2
If you're curious about electronic music but wary of the stereotypical "thumping" that techno is notorious for (justified or not,) give Telephone Booth's (電話亭) latest EP, Damn Kids, a try. In the liner notes, the group writes that their music is a blend of "electronic melodies and IDM [intelligent dance music] with the emerging sounds of Taiwanese indie-rock" — which is an apt description.

Damn Kids is short, sweet and interesting. The first track, also the title track of the EP, is a workout of electronic sounds based on a light-hearted melodic theme with a couple of human sighs thrown in. The song sounds like music for a video game but it has a "human" touch with its quirky rhythm changes.

In terms of beats, the EP is about variety. Adult vs Child (大人 vs. 小孩) has a steady electronic rock beat with repeating electric guitar riffs, while Gossip (八卦) has a trip-hop rhythm, adorned with distorted guitar, space age sounds, and nice vocals by the group's singer, Barbie. Ok Go! is an IDM tune with robotic, cutesy vocals and the final track, Nice to Meet You Again, a simple electronic keyboard tune, has an odd charm as the singer bids the listener farewell.

The lyrics of the EP, which on first listen appear to celebrate child-like optimism and youth, might come across to some as self-absorbed and oblique. Overall, though, Telephone Booth's music is for adventurous listeners in the mood for something both familiar and offbeat.

— David Chen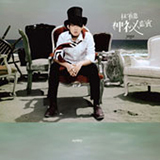 YogaLin (林宥嘉)

Mystery Guest (神秘嘉賓)

HIM Inc
From the early stages of CTV's first season One Million Star (超級星光大道) reality talent show, Yoga Lin (林宥嘉) was favored to make the finals. He did far more than that, taking home the first prize and going on to stage Yoga's Trick Concert Tour (迷宮巡迴演唱會) last month, the youngest singer ever in Taiwan to stage a major solo concert tour. He pulled in more than 120,000 fans over three days of concerts at the NTU Sports Center (台大綜合體育館), and his album, which he had been working on even during the hectic run-up to the concert tour, came in as a strong number one on most local pop charts and also became the most popular track on online music services ezPeer and KK Box.

These are no mean feats for the 21-year-old Taitung native and National Dong Hwa University (國立東華大學) student. But despite the considerable talent and money that have been thrown at the album, it lacks cohesion and soul. Lin is clearly just being put through his paces.

It is tempting to dismiss Lin as a pretty boy who has been picked up by the movers and shakers of Mando-pop for his charm and good looks, but this album shows that he has considerable talent and enormous versatility. If given the chance to be something more than a show pony, he might make something of it.— Ian Bartholomew