A child's view of the 'Great Leap'
Moying Li's new memoir details her experiences growing up during China's Cultural Revolution, which she says gave her a hunger for education
Once upon a time in faraway China, a little girl lived with her father and grandparents in a house with a courtyard in Beijing. She was happy, playing with her schoolmates and little brother. Then hard times came. She lived through them safely, grew up, and came to the US to study. Now she lives happily with her husband in a house with a courtyard on Beacon Hill, in Boston.
That's the story of Moying Li, 53, author of the just-published Snow Falling in Spring: Coming of Age in China During the Cultural Revolution. Published in the young-adult category, the book is written in a style that could appeal as readily to adult readers. It begins with China's disastrous Great Leap Forward in 1958 and ends in 1977, with the 26-year-old English student crossing the Luohu Bridge into Hong Kong en route to a flight that will take her to a new life in the US.
There are many accounts of the Cultural Revolution, which ravaged Chinese society from 1966 to 1976. What sets Li's witness and memory apart is its simplicity, lack of clutter or moralizing. It is almost entirely about relationships, with little of politics or history. She does not look back in anger. "I see it in a Taoist way," she said in an interview at her home. "The good and the bad are part of each other, somehow. Even though I and my generation went though hard times, without it I wonder if we would have gained maturity and reflection. In one sense, the experience of the Cultural Revolution has become to me a strength."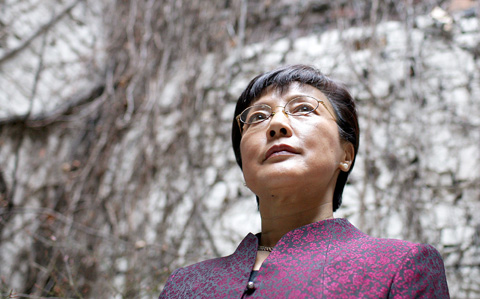 Li's mother, assigned to teach in another city, was often absent, so the key adults in the child's life were her father, who was a screenwriter for an army film bureau and a book lover, and her dynamic grandmother. Both lavished warmth on the two children, and encouraged them to be students and readers. But they were not immune from the troubles around them. In the late 1950s, the family built a backyard furnace, part of a delusional national campaign to build a steel industry that would overtake the productivity of the West. That and other policies of national mismanagement led to failure and famine.
In 1966, when Li was 12, the Cultural Revolution burst over her school as it swept the country. Groups of fanatical students, called Red Guards, engaged in a witch hunt, seeking to root out perceived enemies holding back the communist revolution. Students, teachers, and administrators were denounced and attacked. In one incident, an older girl who had previously befriended Li presided over a kangaroo court where a 7-year-old child was forced to beat her father, the assistant headmaster, with a stick. After similar attacks, the headmaster hanged himself, and one of Li's uncles likewise committed suicide. A squad of Red Guards burst into her house, destroyed her father's record collection, and took away his books. A group of thugs threatened Li's widowed grandmother.
Over the following years, most schools and colleges were closed, and those that remained open concentrated on the thought of party chairman Mao Zedong (毛澤東). Li's mother was confined to her school, and her father was arrested and sentenced to a prison camp. Determined that his children not miss their education, he smuggled a letter to Li from the camp, telling her where she could borrow English books, including Shakespeare, Tolstoy, Jack London, and Mark Twain. She sought out the books, read them hungrily, and shared them secretly with a few friends.
In 1973 Li was sent to a school for high-school language teachers. Though the hysteria had lessened, students still were forced to denounce friends accused of errant thinking, at public meetings. Mao Zedong died in 1976, and later that year the Cultural Revolution finally ended with the arrest of the clique known as the Gang of Four. Li was admitted to college, where she continued her English studies. She was fascinated to read the Declaration of Independence, the Gettysburg Address, and the speeches of Winston Churchill. In 1980 she was part of a small group chosen to study at Swarthmore College, among the first students from China to study in the US since 1949.
After a decade of scratching for bits of learning, Li was dazzled by the intellectual riches of Swarthmore. Her former faculty adviser, Alfred H. Bloom, now president, described in an e-mail her "remarkable ability, as one of the first wave of students to come to the US from a China that had been closed to the West for almost 30 years, to embrace rapidly and with subtlest understanding, the intellectual frameworks and cultural assumptions and behaviors of what was for her a new world. She was so impressive that we created a master's program individualized for her, likely unique in Swarthmore's history."
Li said, "They gave me a scholarship to study anything I wanted, so I took four classes each semester that were required, and audited three more. People would say, 'Isn't this hard for you?' and I would answer, 'You call this hard? I have a full scholarship and the best teachers in the world.' I was in heaven. The biggest gift America gave me was this multidisciplinary education, to fill in the gaps in my previous life. But again, without those gaps, I might not have had the sense of urgency, the hunger to learn."
She earned a master's degree in psychology in two years, then in 1990 added a PhD in American studies from Boston University, and three years later a master's in business. At Boston University, she met her husband, Paul Marcus. They settled on Beacon Hill 14 years ago, about the time that she became a US citizen, and together they manage Marcus Capital Management. They invest in the US and China, and divide their time between the two countries.
In 2002 Li published her first book, Beacon Hill: The Life & Times of a Neighborhood. She was hesitant to write about her early life, but her husband encouraged her, and she began to compose a memoir as a sort of diary. With a draft in hand, she was referred to Boston literary agent Wendy Strothman. "I was struck by the remarkable stories in the book," Strothman said, "this innocent young girl who keeps her equanimity while the world around her is going mad. She has a powerful, quiet self-assurance."
Moying Li is deeply rooted in her adopted neighborhood. In the back of her unprepossessing home, a door opens into a jewel-like courtyard with ivy-covered walls, flowers, and a small Asian maple tree. Her sun-splashed writing room overlooks the street. Meeting her and hearing her story, one has an image of a plant dug up in China and transplanted to Beacon Hill, where it thrives as if it belonged there.
She shows no bitterness about the cruelty and thuggery that oppressed her childhood and family. "I wouldn't even use the word 'traumatized,'" she said. "I never felt lonely, because Grandma was always there, friends were there, family tightened their connections. It's only when you are deprived of love that trauma develops. Whenever I encountered difficulty, there was always someone I could go to. It's that confidence of love that I never missed in my life."
Comments will be moderated. Keep comments relevant to the article. Remarks containing abusive and obscene language, personal attacks of any kind or promotion will be removed and the user banned. Final decision will be at the discretion of the Taipei Times.