Animals Taiwan shares the love
Foreigners who started out saving the occasional dog off the street have now moved on to running an officially recognized charity that attracts Taiwanese volunteers with its emphasis on improving animal welfare through education
The two-story house down a rough turnoff from a side road in Taipei's Shilin District looks ordinary enough, until you take in the tall wire fence and double gate with a clearing area in between. The sound of dogs barking announces that I have arrived at the right place — the Animals Taiwan rescue center.
When I'd called to make an appointment, Sean McCormack, the founder of this animal rescue operation, said I would not find their address posted on their otherwise highly informative Web site. "If we did that, we would find people dumping unwanted dogs here," he said.
Earlier this month, Animals Taiwan was granted NPO, or non-profit organization, status by Taiwan's government. Becoming an officially recognized charity opens many doors that had been closed to the organization before, and considerably enhances its ability to raise funds. But it will also bring its share of challenges.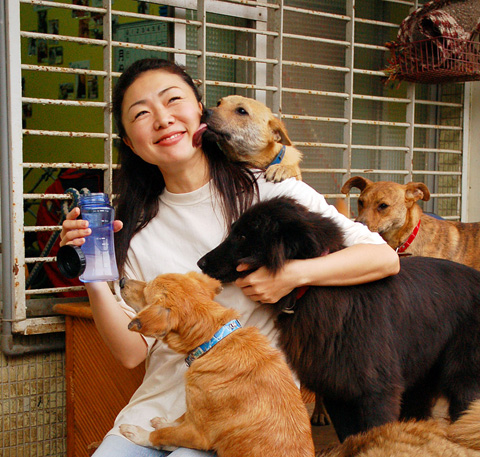 Scenes from Animal Taiwan's rescue center in Shilin. The charity's volunteers believe education is the best way toward creating a better environment for animals in Taiwan.
PHOTO: COURTESY OF ANIMALS TAIWAN
Speaking to the Taipei Times in the weeks before the situation became official, Lisa Milne, an English teacher who also acts as treasurer to the organization, said: "It will make a lot of difference — for one thing, everything will have to be done by the book. There may be some things that we won't be able to do [anymore]."
The point of departure for Animals Taiwan, as with other animal rescue organizations around Taiwan such as Taichung Paws and Bark, a group based in Kaohsiung, is a love of animals and a desire to not see them destroyed. This has sometimes put them outside official sanction, especially in their emphasis on CNR (catch, neuter, return), in which animals are neutered and put back onto the street. This idea is only gradually catching on among Taiwan's official animal welfare organizations. (CNR is now accepted practice for stray cats, but is technically illegal for stray dogs.)
For many years, foreigners, either as individuals or groups, have sought to contribute to animal welfare in Taiwan without stepping on too many toes. Animals Taiwan is the first of these organizations, notable because they have significant foreigner participation, to seek and receive NPO status. As McCormack and other foreigners interviewed for this story were all keen to emphasize, they constitute only a tiny fraction of people, both among government organizations and private individuals, who care deeply about animal welfare in Taiwan.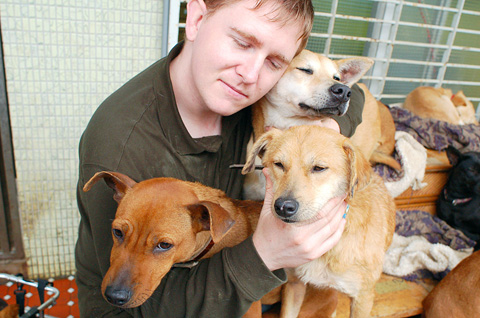 PHOTO: COURTESY OF ANIMALS TAIWAN
"But we know from speaking with other organizations here that we still need to raise standards here [in Taiwan]. Many of the people involved in animal welfare here haven't got an international perspective, an idea of what they could be achieving. ... They know they've got a problem and they are trying to fix it the best way they know how, but there are better ways of doing it. We are able to get more international interest because we are half expat, half local, and we know the [international] standards we should be aiming for," McCormack said.
"A lot of us come from countries [where] the stray population isn't what it is in Taiwan, and a lot of us have worked for organizations outside Taiwan, and so we can say, look, this has been done in this country or that country, and it worked, so we want to bring it in and help this country," Milne said.
Taiwan has received a lot of bad press over the years because of its problem with abandoned pets, but now a considerable network of shelters has been established around the country. Unfortunately, the environment of these shelters is often less than ideal.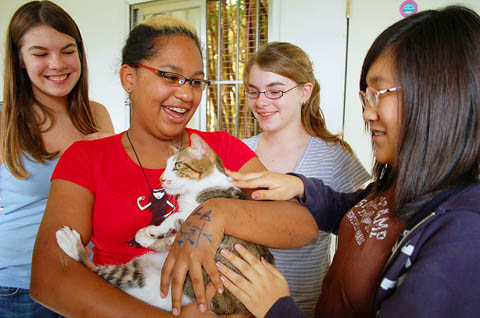 PHOTO: COURTESY OF ANIMALS TAIWAN
The Taipei Municipal Animal Shelter (台北市立動物之家) in Neihu is a fine example of what the government is trying to achieve. Here, a great effort is made to find homes for strays. But its very location — between the Neihu garbage incinerator and a garbage dump — speaks volumes about a lingering attitude in government toward unwanted animals.
Signs describing the various animals in glowing terms hang above the cages in this huge hanger-like shelter. Many of the cages are in poor repair, with badly rusted fittings. Chinese-language animal-adoption blogs warn of the high incidence of disease in animals taken from the shelters because of the confined environment, an issue echoed by McCormack. Above all, there is the death-row atmosphere, for many of these animals only have a small window of opportunity before they are destroyed to make room for new arrivals.
This is part of the reason why from its inception, McCormack has rejected the idea of Animals Taiwan as an animal shelter and insists on its role as a rescue center. The center only takes in animals who are likely to die without intervention.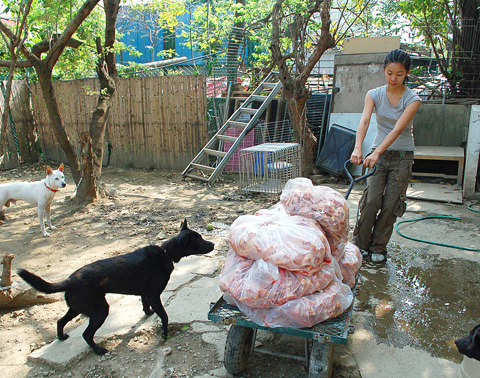 PHOTO: COURTESY OF ANIMALS TAIWAN
McCormack has been quoted in numerous interviews talking about the leaky pipe phenomenon of animal care in Taiwan. He referred to the "loving mothers" (愛心媽媽) who do wonderful work in housing stray dogs. "The stray problem is like a leaky pipe," he said. "Drip, drip, drip. If you build a shelter under this drip, great, you'll catch a lot of drips. But sooner or later it's going to fill up and then it's going to overflow. You have exactly the same problem, and all your resources are tied up in this shelter."
Compared to what these "loving mothers" can do, McCormack said that Animals Taiwan had taken in and re-homed roughly 450 animals since it was established. Currently, he said, Animals Taiwan manages to re-home about nine animals a month. Of the animals it has taken in, most of whom have been in dire physical condition, only six have had to be put down.
This is just a drop in the bucket of Taiwan's 2,768,086 strays that were estimated to be on the streets in 2004, according to figures compiled by the Bureau of Animal and Plant Health Inspection and Quarantine (動植物防疫檢疫局). McCormack recognizes this and says that now that the organization has government recognition, he hopes it can shift direction and play a larger role in public education.
Fei Chang-yung (費昌勇), a professor of veterinary science at National Taiwan University and an authority on animal rights, said in a telephone interview in April that any shift in Taiwan's animal welfare policy will be driven by education. "At the current time, if we want to promote animal welfare [in Taiwan], the concept of animal rights and animal welfare must be present among ordinary people. ... The government is not able to change the way people think. It will follow mainstream opinion. ... If an organization like Animals Taiwan is able to change the way people think, then they will be taking a step to changing government policy," he said.
"Now that we have become legal, we are not going to expand into more rescues," McCormack said. "We are going to buy a new place; it's going to be called an education center. It will be similar to what we have now, with around 50 dogs ... we will continue with rescuing, because that's a very big publicity thing, and we love doing it, because we can't just ignore the ones that we see ... but it will primarily be an education center, so people can come to a nice classroom to take part in events on different topics such as responsible pet care or how to behave around a stray dog."
McCormack said Animals Taiwan has plans to find a more visible location, though he recognized this would lead to problems with the dumping of unwanted animals, something that organization has avoided until now through its relatively low profile.
"Even here, we've had people dumping their dogs thinking it is our responsibility. We have to make a very brave decision not to take them in, because if we did the floodgates would open. ... We do not want to encourage people to give up responsibility for their animals. ... If we relieve people of their responsibility, we have not helped the animal, and we are not helping other animals," McCormack said.
Publication Notes
On the Net
Animals Taiwan: animalstaiwan.org
Taichung Paws: www.taichungpaws.org
Bark: www.atkaohsiung.org
Taipei Municipal Animal Shelter: www.tapv.org.tw
Comments will be moderated. Keep comments relevant to the article. Remarks containing abusive and obscene language, personal attacks of any kind or promotion will be removed and the user banned. Final decision will be at the discretion of the Taipei Times.