[ BOOK REVIEW ] From Nepal, a Himalayan pastoral
'Mountains Painted With Turmeric' is the English version of a popular tale, in which a beautiful countryside is used as a plaintive backdrop for tragedy
You wouldn't imagine there were many novels written in Nepali, but there appear to be quite a few. This one, however, originally known as Basain (meaning something like "location"), is apparently known to every man, woman and child in Nepal. It was first published in 1958, and Michael J. Hutt has given his translation a colorful new title to launch the work in English on the international market.
It's a short novel, fleshed out with some black-and-white photos of Nepal's landscapes, including its steep and terraced foothills. The book tells a sad story of social displacement, a family forced to leave their ancestral village by the combined maneuverings of a greedy moneylender and an imperious local landlord. The story is set against the changing Himalayan seasons, thereby evoking many European narratives in which a beautiful countryside is used as a plaintive backdrop for tragic human lives. The rural novels of Thomas Hardy and Marcel Pagnol immediately come to mind, but there are many more examples.
Given Nepal's extraordinary history over the last 20 years, with running battles between Maoists and forces loyal to the crown, not to mention the scarcely believable events in the royal palace in 2001, it isn't surprising that Nepal's Marxists have been quick to demand an interpretation to Mountains Painted with Turmeric that conforms to their party line. The author, though, writes only that he had "heard of" Marx and Marxism at the time he wrote the book, and that this acquaintance may have contributed to his "impassioned" tone as the story draws to a close.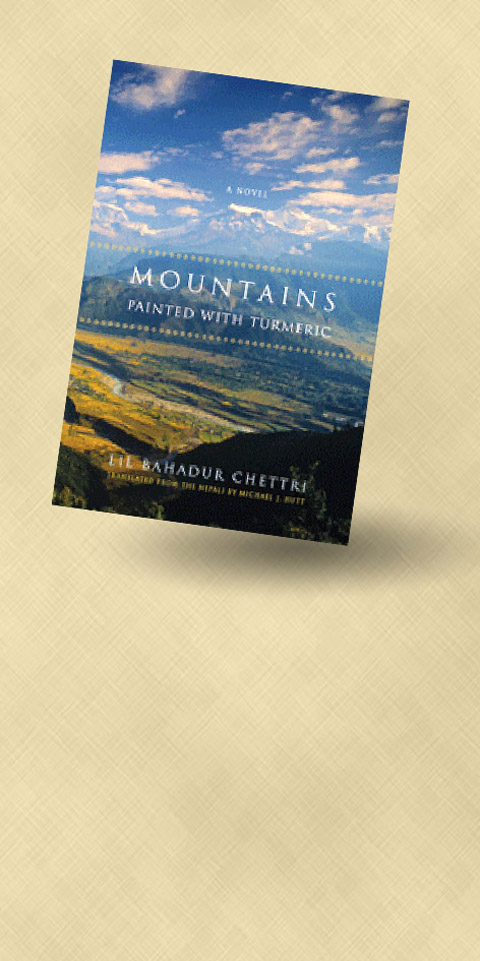 MOUNTAINS PAINTED WITH TURMERIC By Lil Bahadur Chettri 123 pages Columbia University Press
But, as the translator points out, and various critics in Nepal have commented, the villains of the piece don't in any way suffer for their cruelty. This, then, is a book that resembles classical tragedy in that the desirability of a change in a social order is remote from the author's real concerns. What Lil Bahadur Chettri appears to be concerned to demonstrate is that the events he depicts simply show life is it is, and that this can no more be changed than can the seasons that form the stupendous setting for the events.
Even an English 18th century Tory like Samuel Johnson criticized Shakespeare for not bothering to punish his villains and reward the virtuous sufficiently systematically. There are exceptions, of course, but artists seem to have a near-universal hostility to ideologies of every color, preferring to present the world in all its complexity and cruelty rather than supporting various schemes to change it.
Such concerns, though, are unlikely to bother the reader of what is essentially a simple tale, and something that can easily be read at a sitting. The characters are economically depicted, too - Dhane, the peasant, his wife Maina, his beautiful young sister Jhuma, and the unnamed soldier who seduces her, referred to throughout simply as Rikute (from the English word "recruit") when he isn't being disdainfully called "that corpse."
An interesting aspect of this book is that the author, though of Nepali descent, has lived almost his entire life in Assam, India. He learned about the social life in the hill villages of eastern Nepal from migrant workers he encountered in India, having only a vague memory of it himself. This distance from his or her subject matter is probably an advantage for an author as it allows the imagination to evoke something that has already been simplified by the mind, and all artistic visions are inevitably simplified versions of reality.
It's also fascinating to read how this short novel came to be written. When the author first sat down, nothing whatsoever came to him for days on end. He then wrote it in dribs and drabs, adding another page, then putting the book side for often months at a time. In the original Nepali it was only 70 pages long, yet it took Chettri three years to complete. Prospective authors should be encouraged by this reminder that not all creative personalities are necessarily prolific.
The story reaches its climax when Dhane kills a pregnant buffalo (and hence an especially valuable one) owned by his landlord. What prompts this act of folly is that the landlord's dissolute son, having nothing better to do, has told his father's plowman to let the animal into Danhe's seedbed to trample over the seedlings. When the village court rules that Dahne must pay a fine far in excess of his means, his fate is sealed.
Shortly before this Jhuma has yielded to the soldier's entreaties and as a result become pregnant. In a Nepali context this means total ostracism, and the stage is hence set for the enactment of a double tragedy. One of the potential victims is saved, however, giving the impression that fate is arbitrary as well as unideological.
The translator, Michael J. Hutt, thanks one Larry Hartsell for sending him a copy of his earlier translation of the novel, but this appears never to have been published. Hutt himself is a professor at the School of Oriental and African Studies in London, and also the editor of Modern Literary Nepali: An Introductory Reader.
There are naturally thousands of better novels than Mountains Painted With Turmeric in existence, and if it appeals it will largely be because of its unusual setting. The translation is engaging and accessible, while remaining poised uneasily between the popular and the academic. There are many footnotes, for example, and months are referred to by their Nepali rather than their Western names. This is eminently correct, of course. But had the translator had the courage to disregard his academic standing, and go instead for a more thorough popularization, he might have had a miniature bestseller on his hands.
Comments will be moderated. Keep comments relevant to the article. Remarks containing abusive and obscene language, personal attacks of any kind or promotion will be removed and the user banned. Final decision will be at the discretion of the Taipei Times.