THE VINYL WORD
Swank manager and DJ Gareth Jones, a seven-year veteran of the Taichung house scene, got his claws into Taipei on Saturday and, playing alongside some of the city's best-known local talents, Saucey, Victor Cheng and Hooker, threw down a massive set at Luxy.
The Vinyl Word caught up with Jones, 31, to discuss his growth from a CD-playing knob-twiddler, how he assumed control of Taichung's most successful house music promotion team and his plans for moving north and rocking the capital.
"Ever since I can remember I was the guy in control of music ... parked in front of the stereo at house parties, fading the sounds in and out. I didn't want to simply go to parties anymore, I wanted to make them," Jones said. "I did basically anything I could do to get involved ... promoting, designing flyers, making video visuals and coordinating as much as possible for every party I'm involved in."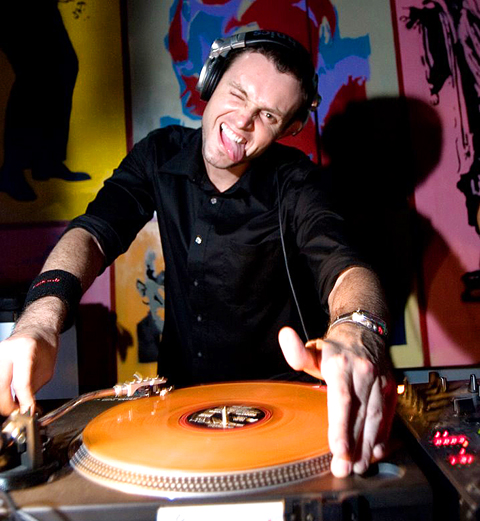 He came, he saw, he turned up the volume.
PHOTO COURTESY OF DEREK MCGUINESS
Jones is ecstatic that contemporary dance music is a fusion of different genres. "My taste in music is somewhat ephemeral," he said. "I love new sounds."
"Lately I've been playing more tech house and funky electro stuff but I'll never venture far from songs with huge basslines, simple melodies, slutty female vocals, quick change-ups and lots of builds," he said. "I'll definitely get a hard-on if there's a wicked guitar riff in a house track, and a cow bell. Gotta love that shit!"
Swank is six years old and has more than 50 parties under its belt. The crew's first party attracted 30 people and the biggest, at the now-closed Sparc, drew 600 three years ago. Since moving to the intimate Liquid Lounge in 2003, Swank bashes average some 300 partygoers.
"Although we have a solid group of four DJs in Taichung [Jones, Matty D, Kriz and 3b], I gotta keep things fresh with an influx of new sounds, new DJs ... stuff people haven't had the chance to hear," Jones said. "A clothing line is also in the works [and] a Swank condom brand."
As king of the castle in Taichung, why did Jones make the decision to move to Taipei, which has a very different scene?
"I've been here for a while and it's time to make a change. There are six million people in Taipei and only one million in Taichung … . It's time to expand our horizons and give Taipei a taste of our own brand of party and DJs," Jones said.
With its established roster of DJs and limited number of venues, Taipei presents more of a challenge.
"We are lucky as we have more to choose from and there is room for the electronica scene to grow," Jones said. "The DJs that are playing regularly are still playing some kick-ass tunes."
This was true on Saturday night at Luxy. Saucey, who has been laid up in the hospital, sneaked out to play an awesome back-to-back set with Jones. "I still had the IV tubes in my arm!" he said. "Needless to say I was really pumped to play."
Taipei resident Donovan Scott had this to say of the night: "The music had me energized. There were three things I could not stop doing: dancing, smiling and cheering wildly."
So what innovations does Jones plan to bring to Taipei?
"More integration of technology, more live elements [such as] drums, singing, sampling, even veejaying while playing … just mixing songs together is not gonna cut it in the future ... . More eye candy, visuals and dancers. A party experience has to invigorate all the senses, right?"
Catch Jones and rest of the Swank crew tomorrow at Reset, at Liquid Lounge, 98 Chungming S Road, Taichung City (台中市忠明南路98號), from 10pm until 6am. Admission is NT$300 and includes one drink. On the Net: www.myspace.com/djgarethjones.— TOM LEEMING
Comments will be moderated. Keep comments relevant to the article. Remarks containing abusive and obscene language, personal attacks of any kind or promotion will be removed and the user banned. Final decision will be at the discretion of the Taipei Times.