Tropical pursuit of love, coins and no tan lines
Kate Hudson and Matthew McConaughey didn't impress in 'How to Lose a Guy in 10 Days.' Here, same thing again, but this time the plot is more complicated
In Fool's Gold Kate Hudson and Matthew McConaughey, as golden as a pair of rotisserie chickens, squabble and cavort in a tropical paradise. How nice for them, and for those in the audience who want nothing more from a midwinter trip to the movies than to gaze upon the tawny limbs and perfect belly-buttons of the stars.
Not that there isn't a lot of other stuff going on in Fool's Gold, a hectic action-romance-comedy directed by Andy Tennant from a script credited to him, John Claflin and Daniel Zelman. There is Alexis Dziena's bellybutton, for instance, winking in solidarity (and perhaps in friendly competition) with Hudson's. And if plot is what you want, there is plenty of incident, including underwater fights and high-speed shenanigans involving motor scooters, Jet Skis and prop planes.
There is also quite a crowd of stock supporting characters. I suppose the filmmakers can claim some originality in assembling, within a single movie, a rich old guy in an ascot (Donald Sutherland), a crusty boat captain (Ray Winstone) and a murderous, greedy rap star (Kevin Hart), along with a loving, sharp-tongued gay couple and a pair of hapless criminal minions.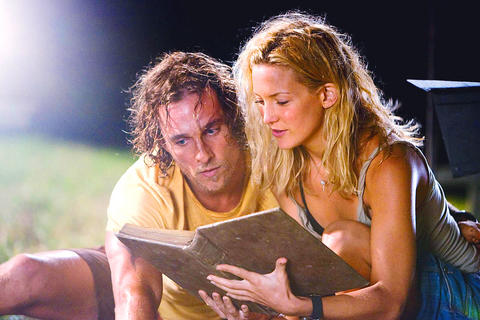 Midwinter movies often inject a bit of sunshine into audiences lives. This effort ends up being a bit dull though.
PHOTO COURTESY OF LONG SHONG
If only this hodgepodge offered more fun and less of the kind of frantic creative desperation that tries to pass itself off as giddy comic exuberance. McConaughey and Hudson, who were less than electrifying in How to Lose a Guy in 10 Days, appear to be suffering through a class in remedial chemistry, which they barely pass. Their characters, Finn and Tess, are on the verge of divorce.
Finn is a feckless treasure hunter whose irresponsible ways have finally driven Tess, even though she still loves him, to dump him and return to graduate school. First, however, she finds work on a yacht belonging to Nigel Honeycutt (Sutherland), whose jet-setting daughter, Gemma (Dziena), drops in for some text messaging and bikini modeling.
For a time Fool's Gold holds out a vague promise of romantic farce, since it seems possible that either Gemma or her dad, or perhaps both, might become an obstacle to Tess and Finn's inevitable reconciliation. Instead the film stages a melodrama of father-daughter estrangement between Nigel and Gemma and abruptly shelves the dumb bimbo jokes, though not the leering camerawork aimed at Dziena.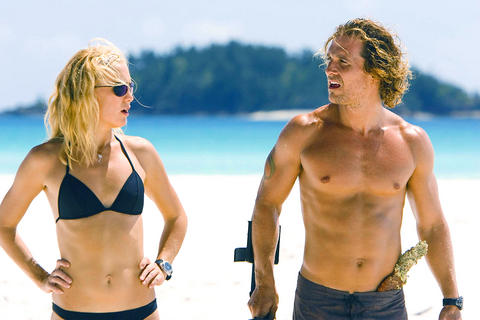 Midwinter movies often inject a bit of sunshine into audiences lives. This effort ends up being a bit dull though.
PHOTO COURTESY OF LONG SHONG
And so the prospect of fireworks between Finn and Tess is quickly dampened, and the movie turns into a dull, noisy pursuit of old Spanish coins, aided by maps and letters and enough pseudo-historical explanation to round out the next episode in the National Treasure franchise.
Will Finn and Tess find the treasure before the bad guys? Will they put aside their differences and rekindle their love? Yes to both questions! I haven't spoiled anything, by the way. But perhaps I've saved you some trouble.
Publication Notes
Film Notes
Fool's Gold
Directed By: Andy Tennant
Starring: Matthew Mcconaughey (Finn), Kate Hudson (Tess), Donald Sutherland (Nigel Honeycutt), Ewen Bremner (Alfonz), Alexis Dziena (Gemma Honeycutt), Kevin Hart (Bigg Bunny), Ray Winstone (Moe Fitch)
Running Time: 112 Minutes
Taiwan Release: Now Showing
Comments will be moderated. Keep comments relevant to the article. Remarks containing abusive and obscene language, personal attacks of any kind or promotion will be removed and the user banned. Final decision will be at the discretion of the Taipei Times.