Songs for sensitive souls from hardened musicians
When Pat Reid took to the stage at Bliss late last year to play a set of acoustic folk, he faced a tough crowd. Most people in the audience were there to see the Originals, a rock 'n' roll cover band that plays rowdy mashups of pop songs and always brings a lot of friends to its shows. When the band left the group's friends seemed to leave with them, as did anyone else who was there to hear loud rawk, not the kind of earnest sentimental ballads Reid specializes in. The people who stayed, however, seemed pretty into it, and before long more had arrived and Reid found himself playing to a decent-sized audience - not a packed house, but a more intimate crowd of couples and individuals who seemed to hang on every word he sang.
"It was challenging going on after a party band," he said in an e-mail after the show. "It seems like all of the 'get drunk' people and 'I wanna pick up chicks' people left, and the people who wanted to hear music stayed."
That won't be an issue tonight when Reid returns to Bliss for an extended set, this time as part of Black Lung Inner City Choir. The band's music is a bit different than the kind he plays solo under the stage name Reider, but it appeals to the same kind of crowd. Reid and his bandmates play straight-up acoustic music that exudes intimacy with a warm sound. Their songs are grounded and forthright and sung in breathy, sensitive voices augmented by skillful fretwork on blended guitars and two-part vocal harmonies.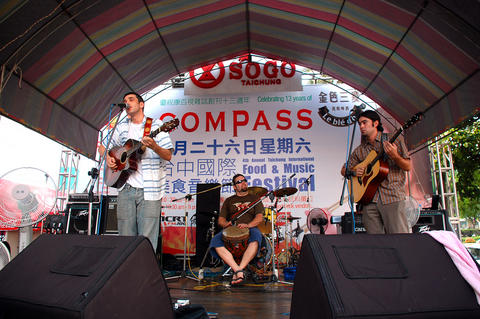 PHOTO COURTESY OF BLACK LUNG CITY CHOIR
The members of this incredibly named folk trio - Reid, Nick Fothergill and Brad Whitmore - were born and bred in Canada, where they have attained some measure of success by playing at clubs across the country, including Toronto folk and roots venue Hughs Room. During one of their three Canadian tours, they caught a big break when they landed an interview on CBC radio.
"I just called them up and figured we had a really cool story for them. We're three Canadians from different regions in Canada who all met in Taiwan and started playing music in Taiwan together," says Fothergill, talking on the phone about how Black Lung landed airtime on the CBC's Fresh Air program, which led to the band's songs being distributed to and played by the station's local affiliates.
The songs on Black Lung's debut album, If I Leave for Home, explore familiar young-man territory about life and love, with handsome, high-flying melodies augmented by special contributions from Taichung-area musicians Roger Smith, on trumpet, Patrick Byrne, on saxophone, and Trevor Lehoux, on didgeridoo, in addition to an Amis singer from Taitung named Doss. Think of Simon and Garfunkle with a bit of a jam band sound and vocals sung by Dave Matthews (Reid) and a young Gordon Lightfoot (Fothergill), and you get a rough idea of what some of the songs sound like.
Black Lung's show tonight will last two-and-a-half hours, including a half-hour break. Both Fothergill and Reid will sing and play acoustic guitar. The set will include songs from If I Leave for Home as well as new material. Since Whitmore, the band's drummer, now lives in Canada and will not be joining the band at Bliss, Reid will sometimes play hand drums.
Whitmore will be with the band later this year for Spring Scream and a planned tour of several Asian countries. Fothergill says they also plan on touring Canada again later this year, and even making a foray into New York.
"But mostly," he says, "I think that we just want to keep writing songs and playing songs for people."
Publication Notes
Performance notes
What: Black Lung Inner City Choir
Where: 148, Xinyi Rd Sec 4, Taipei City (台北市信義路四段148號). Call Bliss at (02) 2702-1855 or log on at www.bliss-taipei.com for more information about the venue. Go to www.myspace.com/blisslivehouse to learn about upcoming shows at Bliss
When: Tonight at 10pm
Tickets: NT$200 admission
Comments will be moderated. Keep comments relevant to the article. Remarks containing abusive and obscene language, personal attacks of any kind or promotion will be removed and the user banned. Final decision will be at the discretion of the Taipei Times.